Have you ever wondered what the Bible says about forgiving yourself?
We know that the Lord has forgiven us through the blood of Jesus Christ. In John 3:16:
For God so loved the world, that he gave his only begotten Son, that whosoever believeth in him should not perish, but have [eternal] life.
But sometimes in Christian living, it's hard to forgive ourselves for our past mistakes. Life changes so quickly but we have a hard time moving on.
God's forgiveness is infinite. If we are to live like Jesus Christ, we need to forgive ourselves like God has forgiven us.
If the Holy Spirit resides with us, we should forgive ourselves like we forgive others. God in Christ already answered for our sin, and we should live in faith and answered prayers.
In today's Bible study, you will learn about Scriptures on forgiving yourself. No matter what your background is, or what you have done, God has already forgiven you.
Read more: Bible Verses About Forgiving Others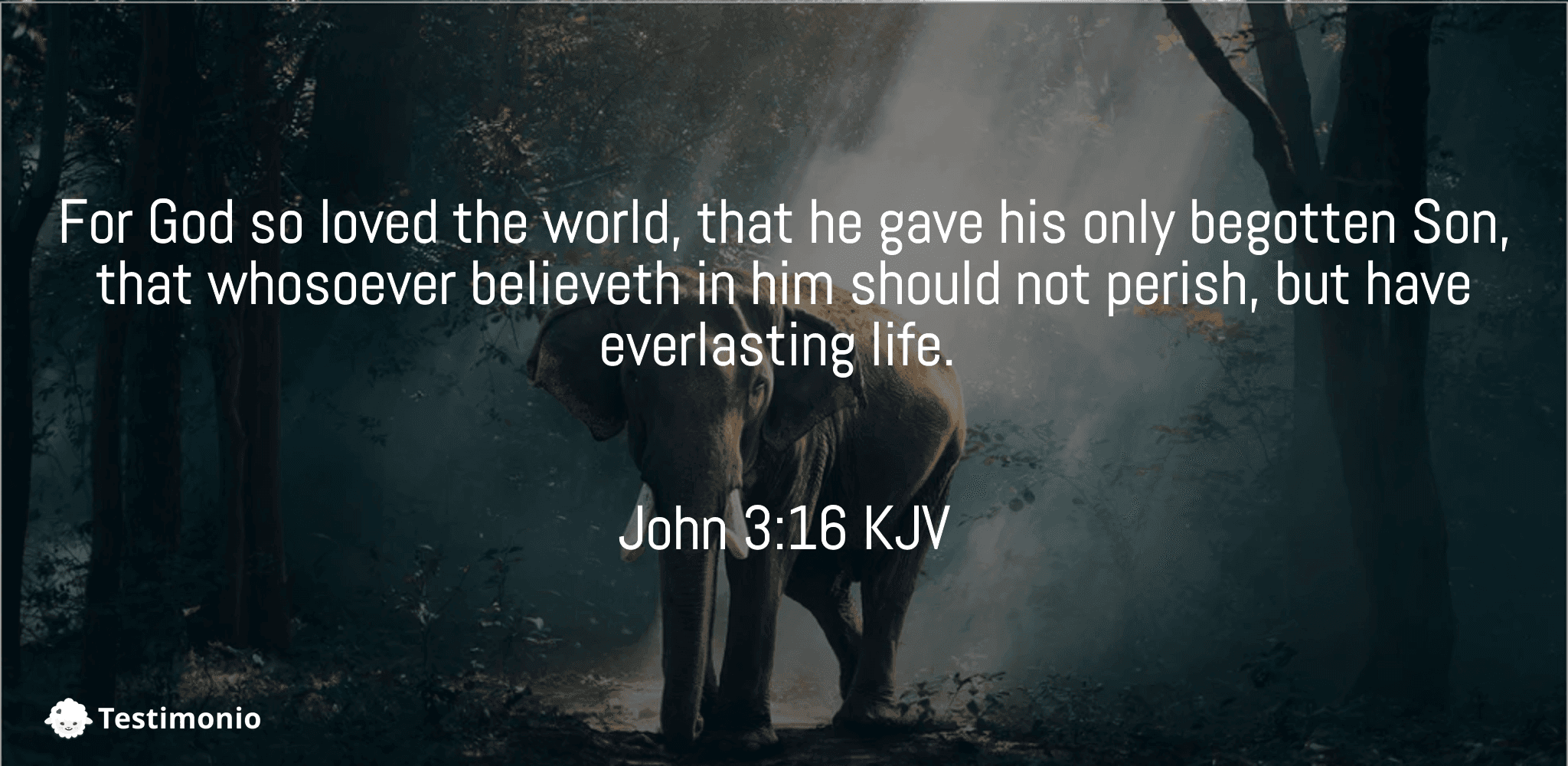 For God so loved the world, that he gave his only begotten Son, that whosoever believeth in him should not perish, but have everlasting life.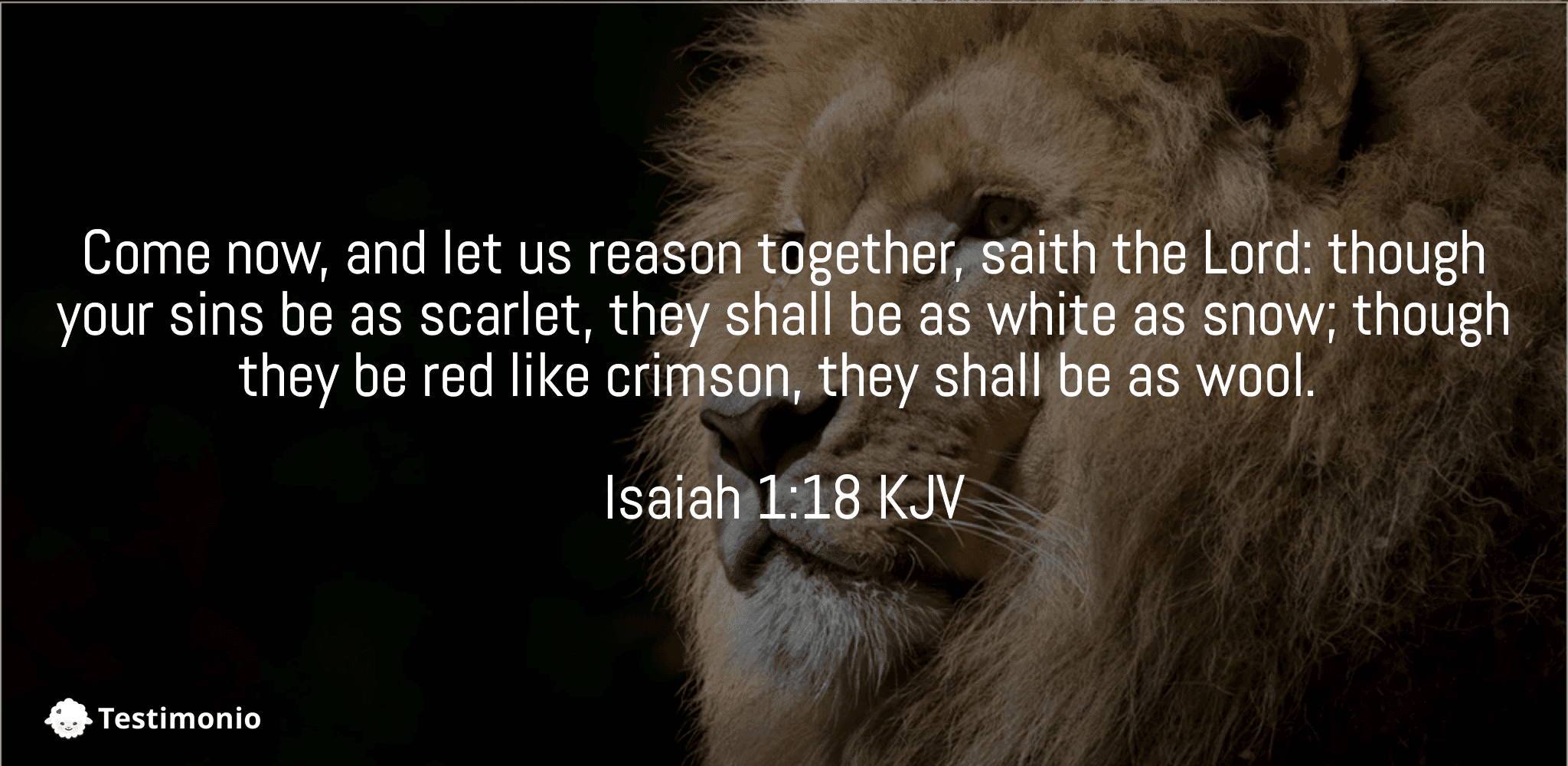 Come now, and let us reason together, saith the Lord: though your sins be as scarlet, they shall be as white as snow; though they be red like crimson, they shall be as wool.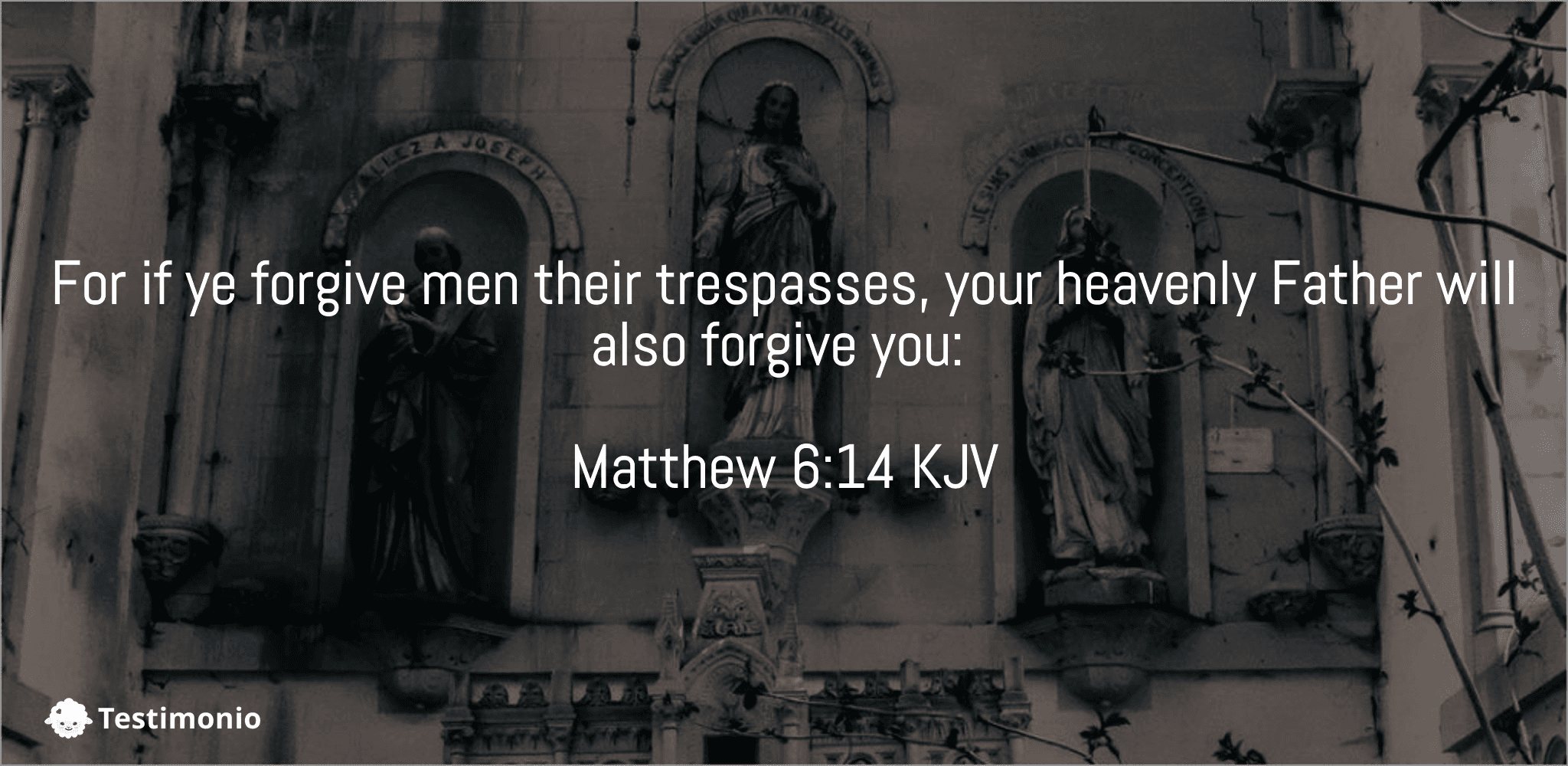 For if ye forgive men their trespasses, your heavenly Father will also forgive you: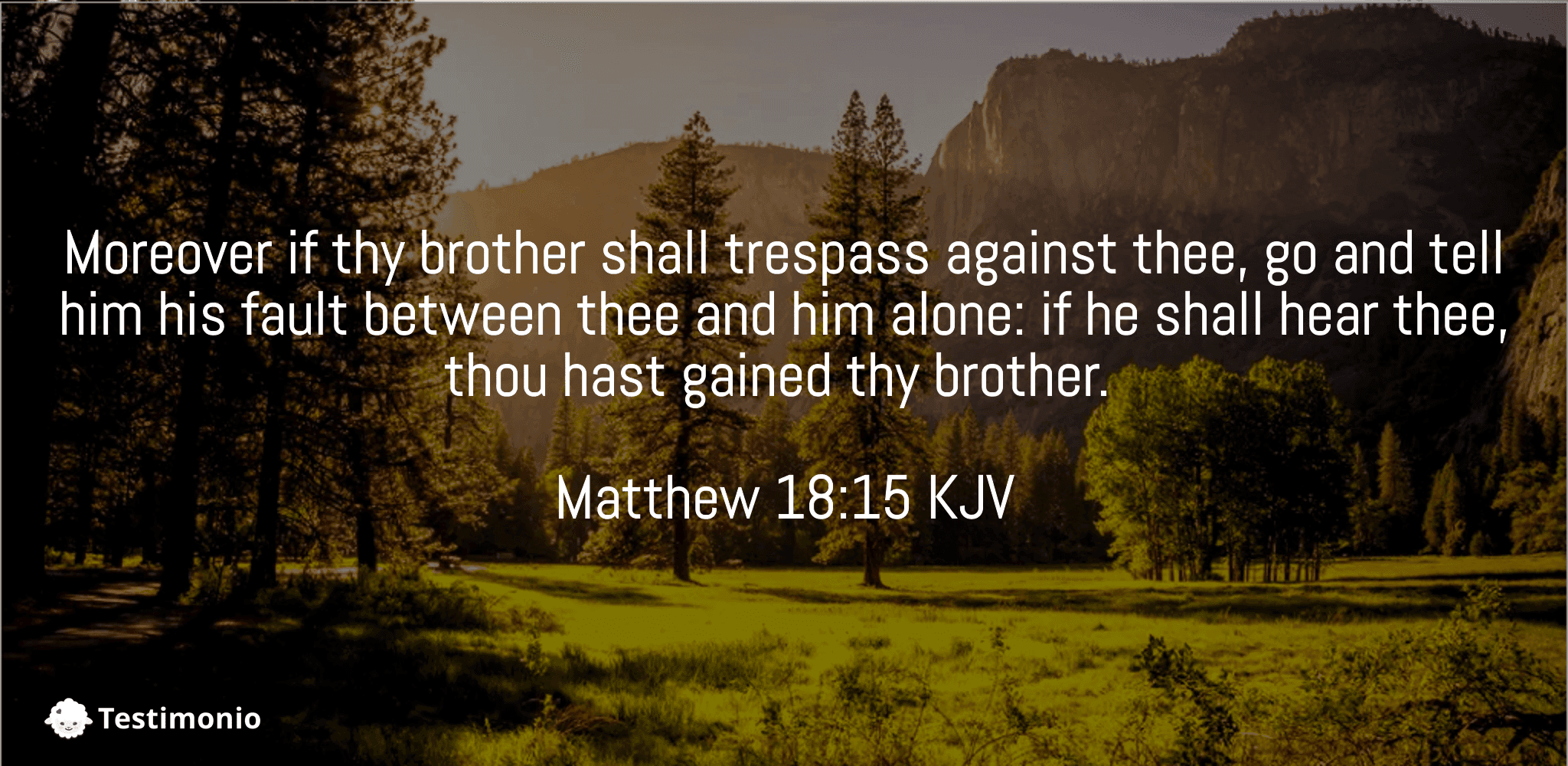 Moreover if thy brother shall trespass against thee, go and tell him his fault between thee and him alone: if he shall hear thee, thou hast gained thy brother.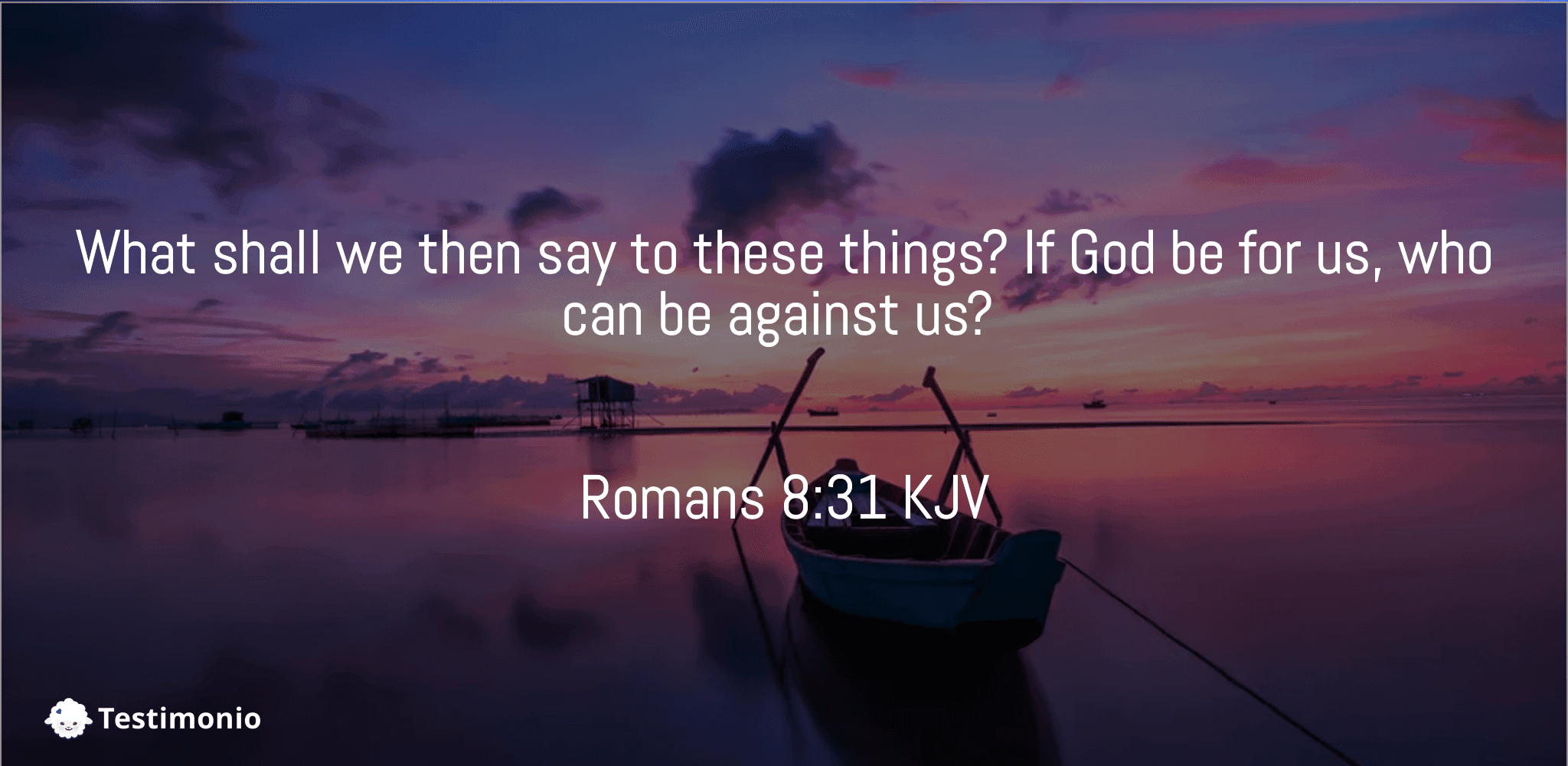 What shall we then say to these things? If God be for us, who can be against us?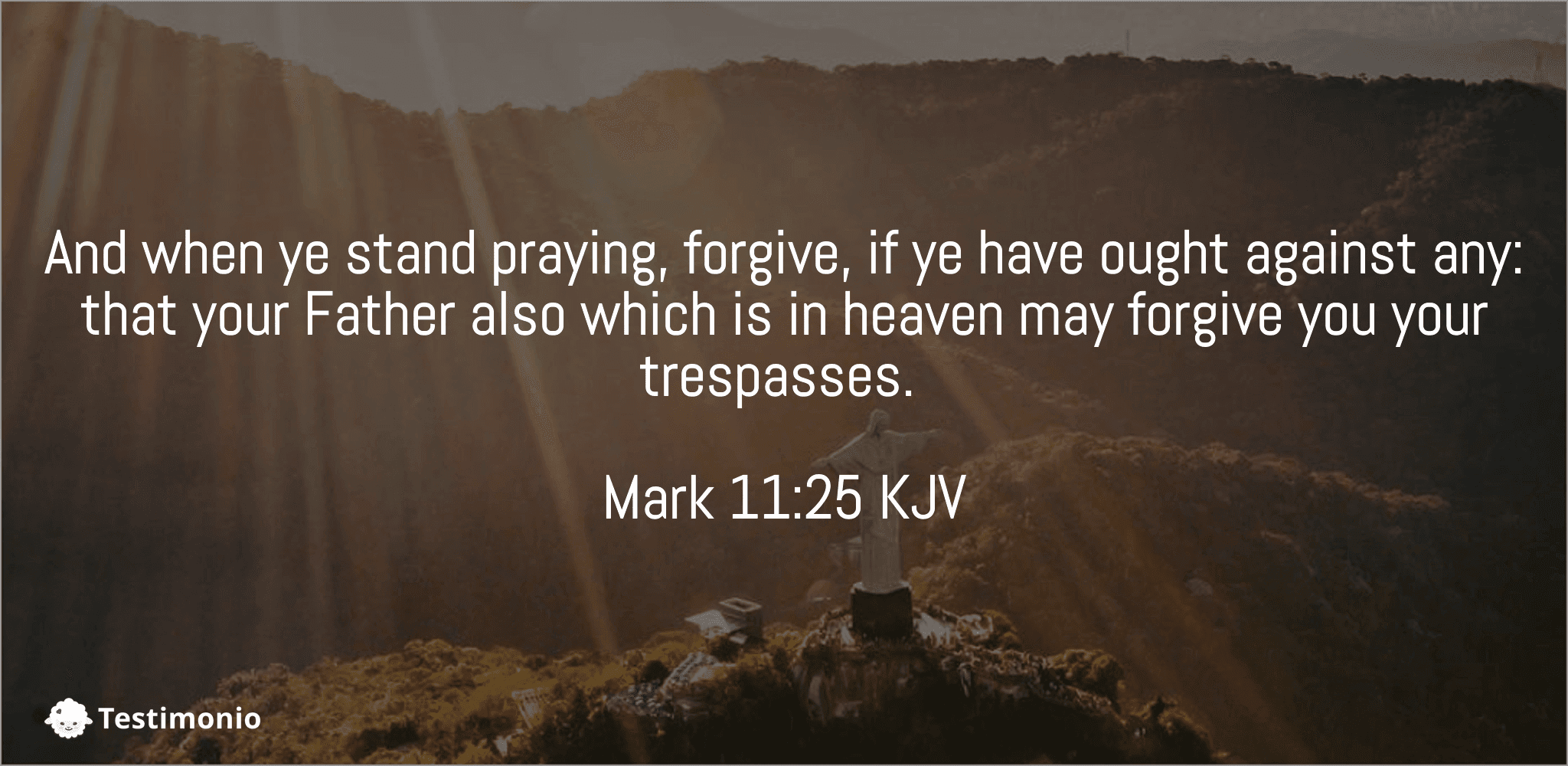 And when ye stand praying, forgive, if ye have ought against any: that your Father also which is in heaven may forgive you your trespasses.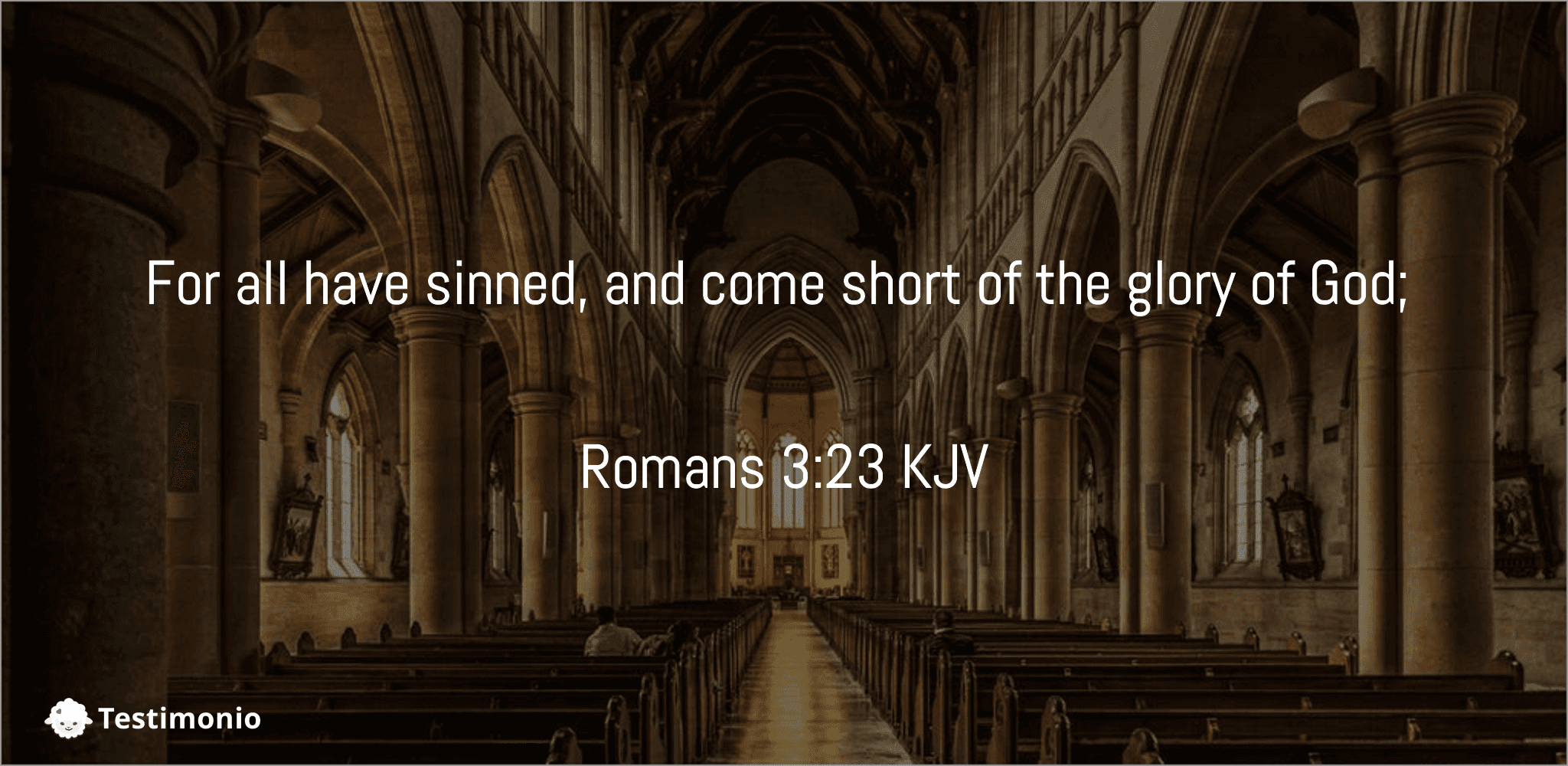 For all have sinned, and come short of the glory of God;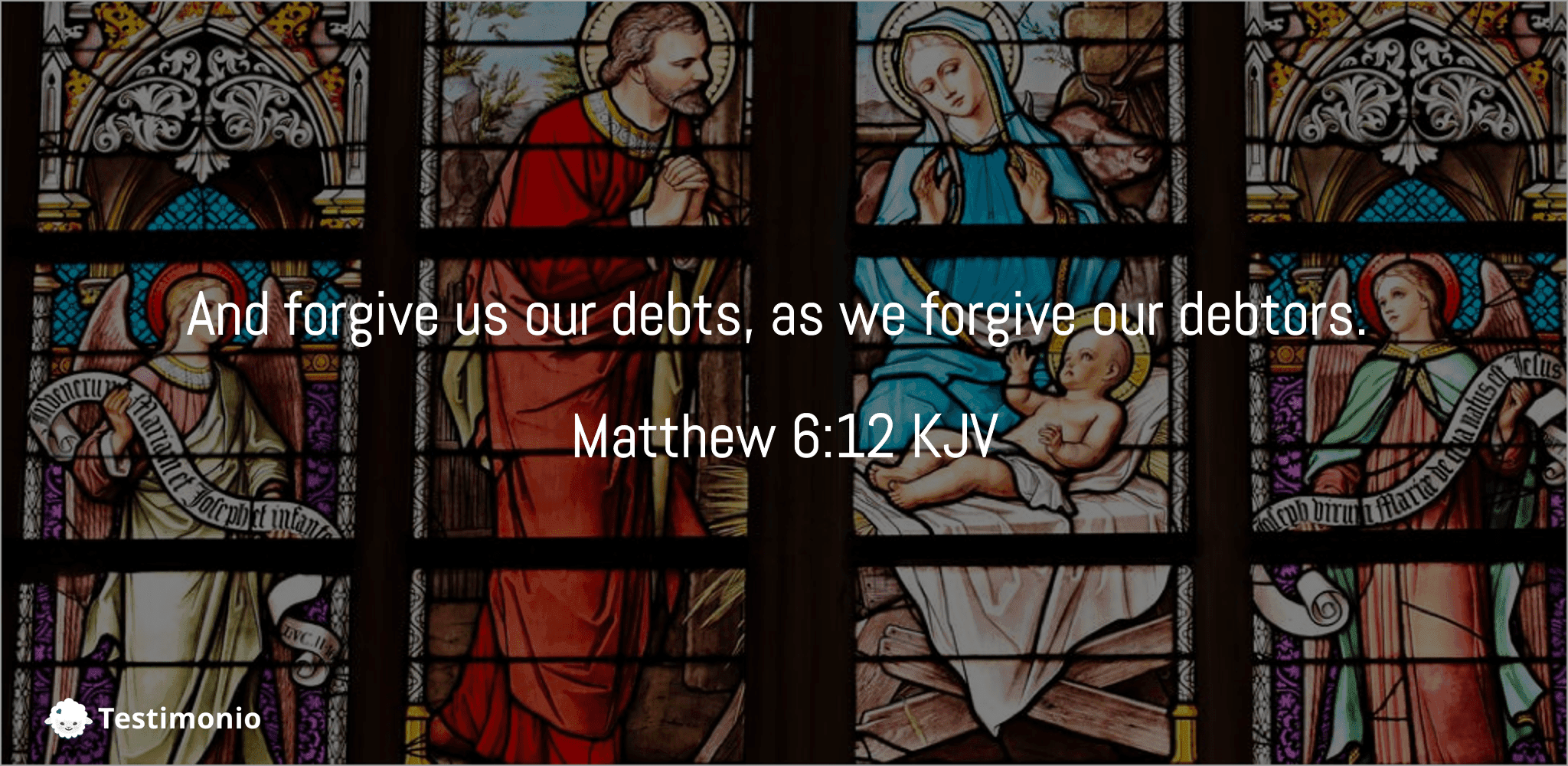 And forgive us our debts, as we forgive our debtors.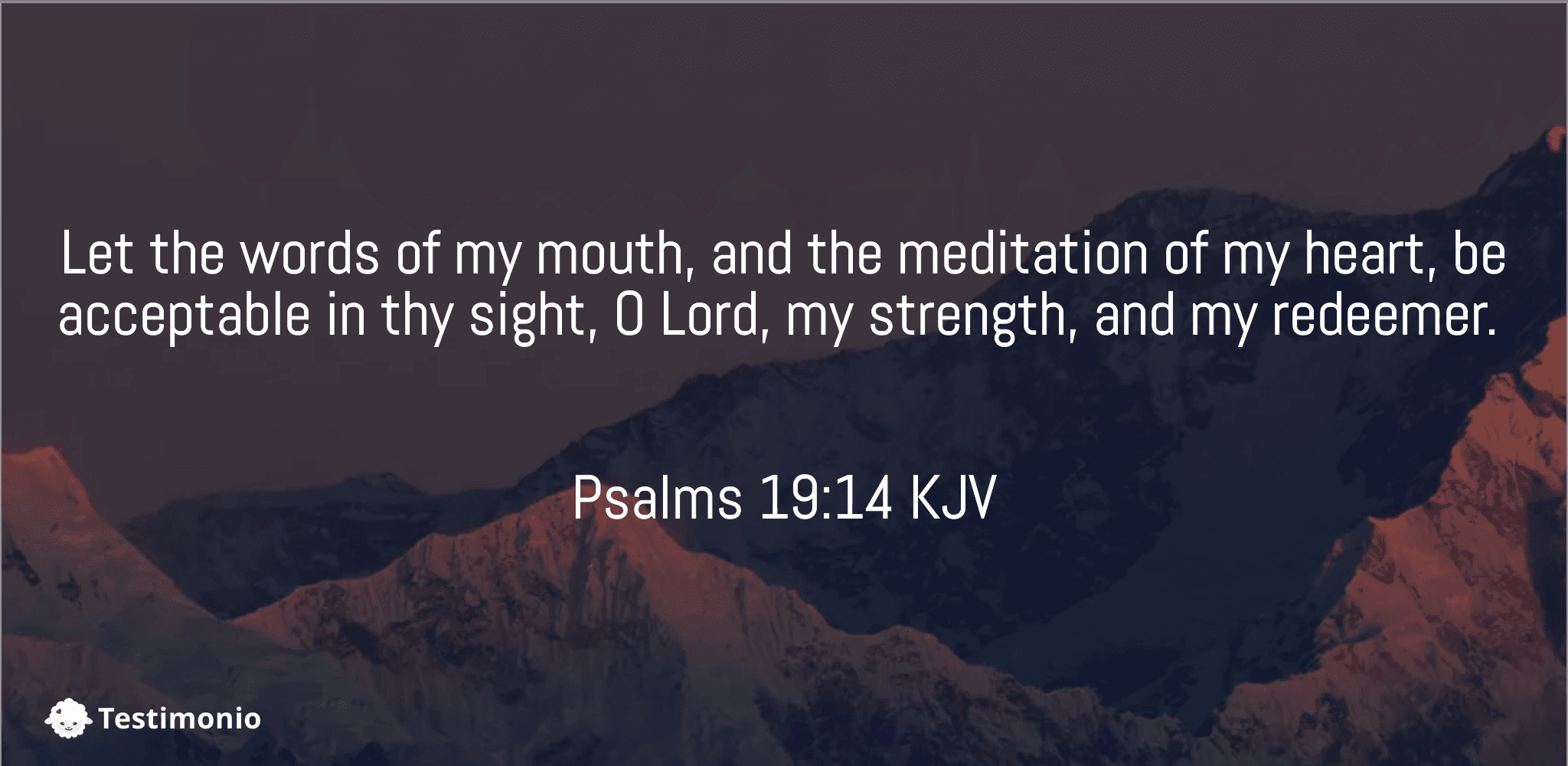 Let the words of my mouth, and the meditation of my heart, be acceptable in thy sight, O Lord, my strength, and my redeemer.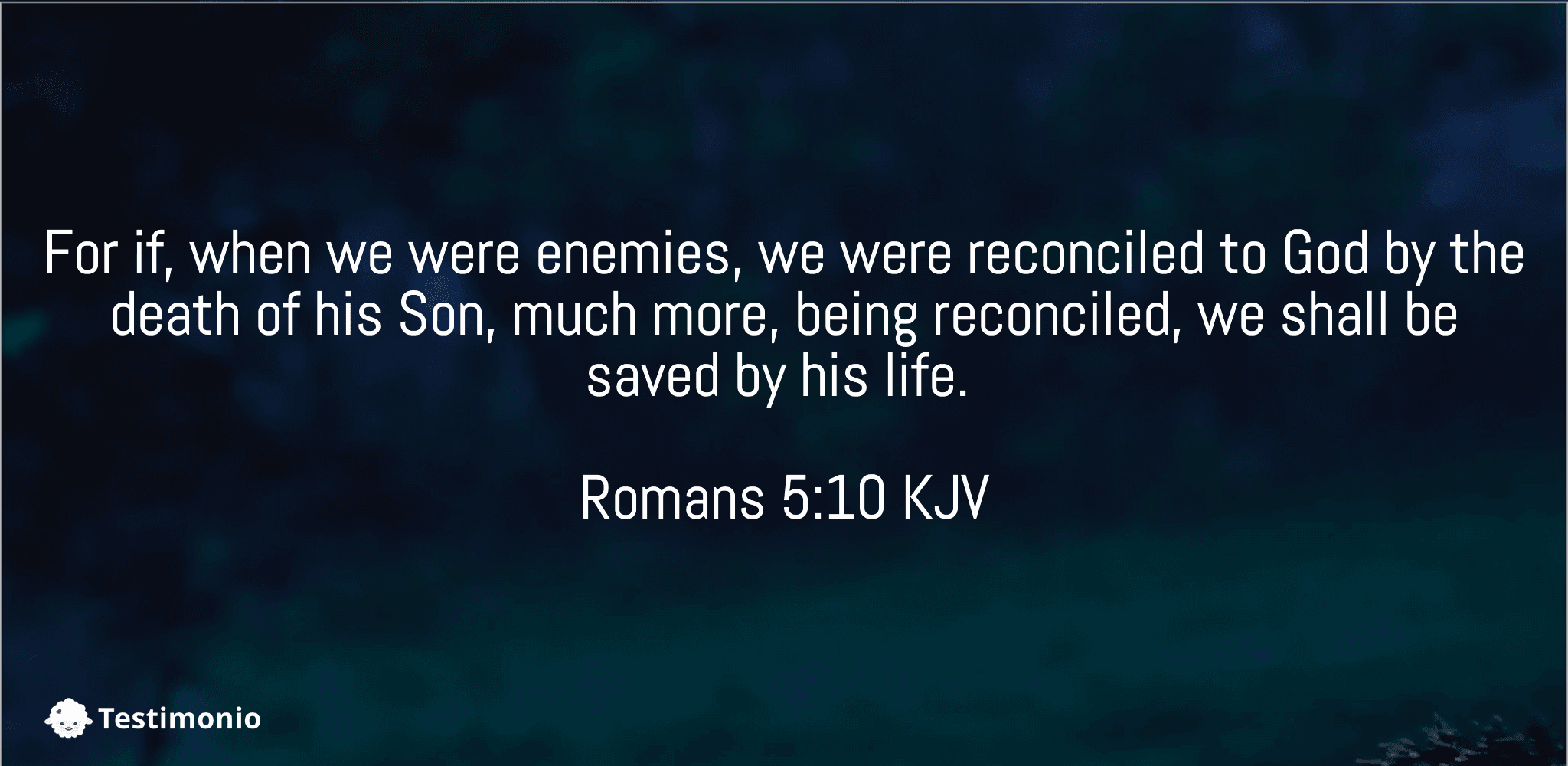 For if, when we were enemies, we were reconciled to God by the death of his Son, much more, being reconciled, we shall be saved by his life.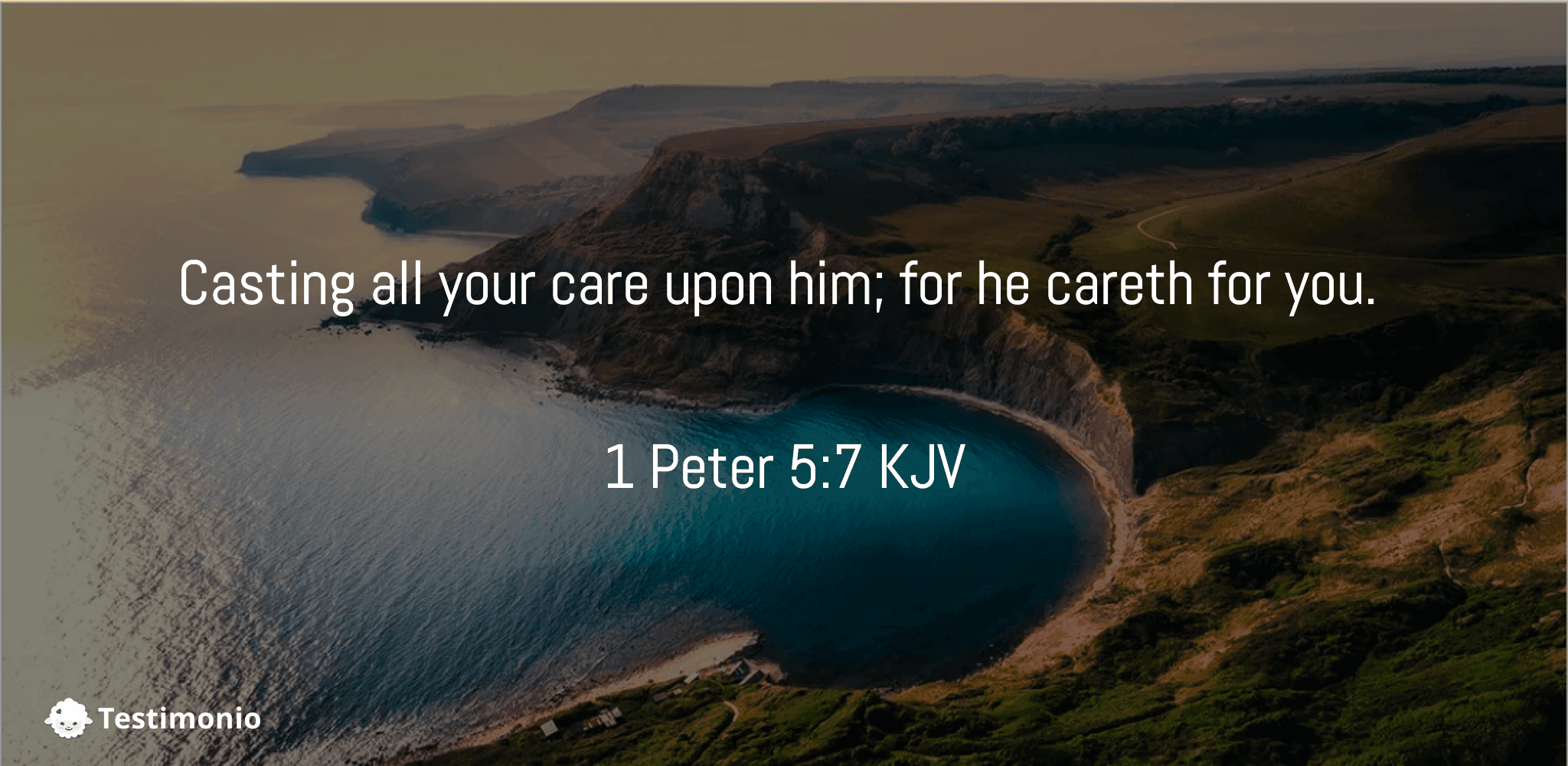 Casting all your care upon him; for he careth for you.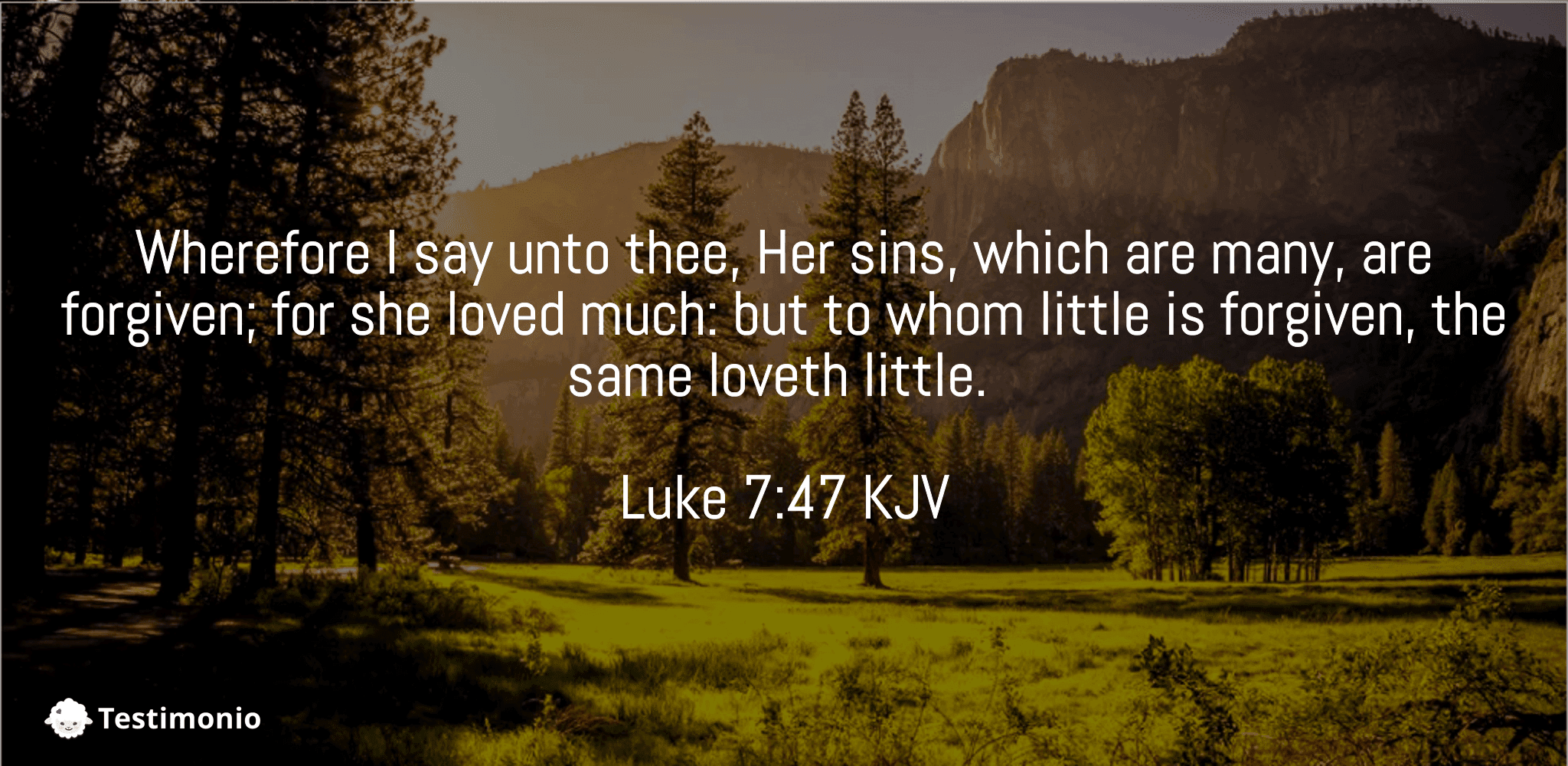 Wherefore I say unto thee, Her sins, which are many, are forgiven; for she loved much: but to whom little is forgiven, the same loveth little.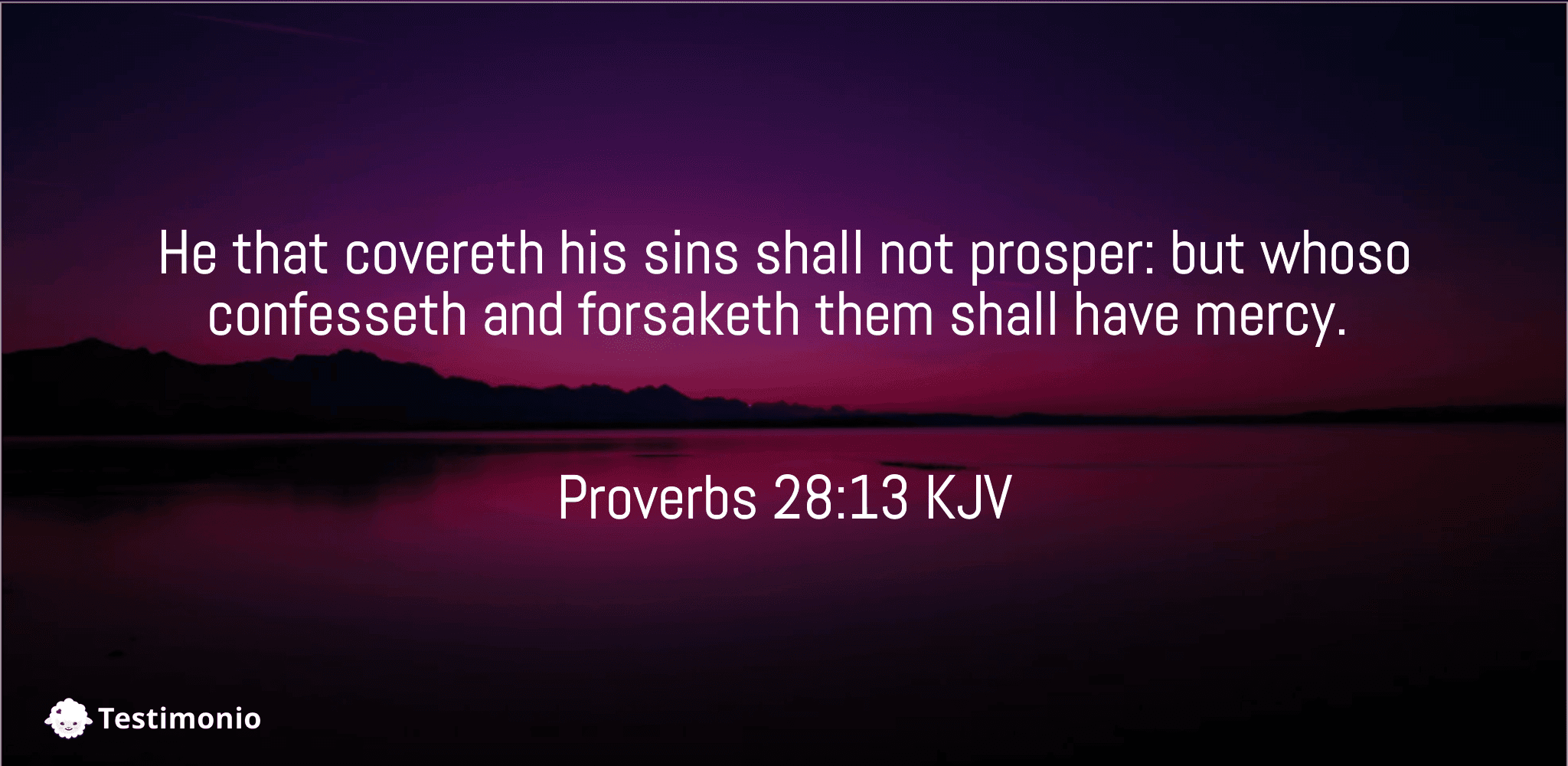 He that covereth his sins shall not prosper: but whoso confesseth and forsaketh them shall have mercy.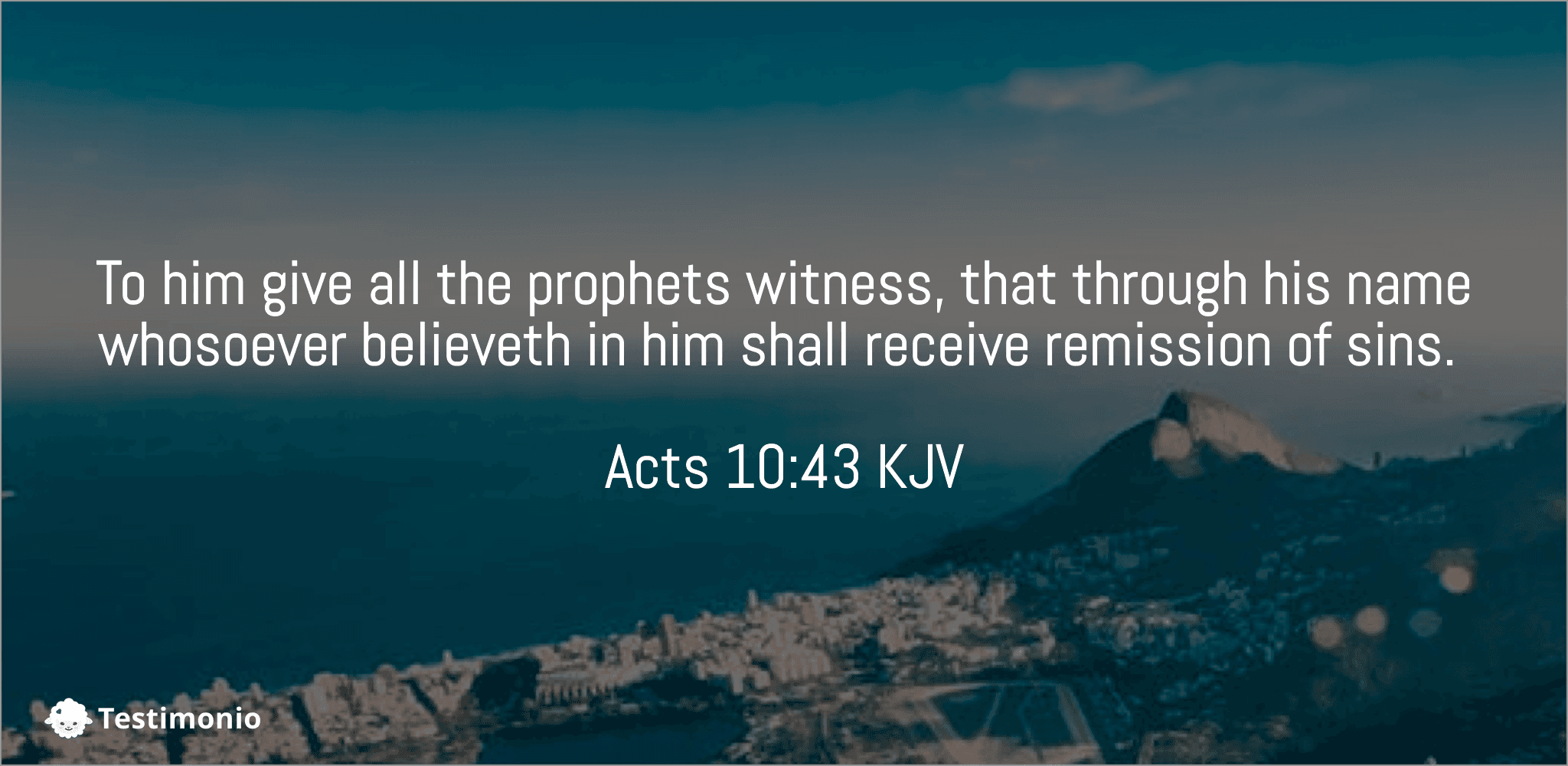 To him give all the prophets witness, that through his name whosoever believeth in him shall receive remission of sins.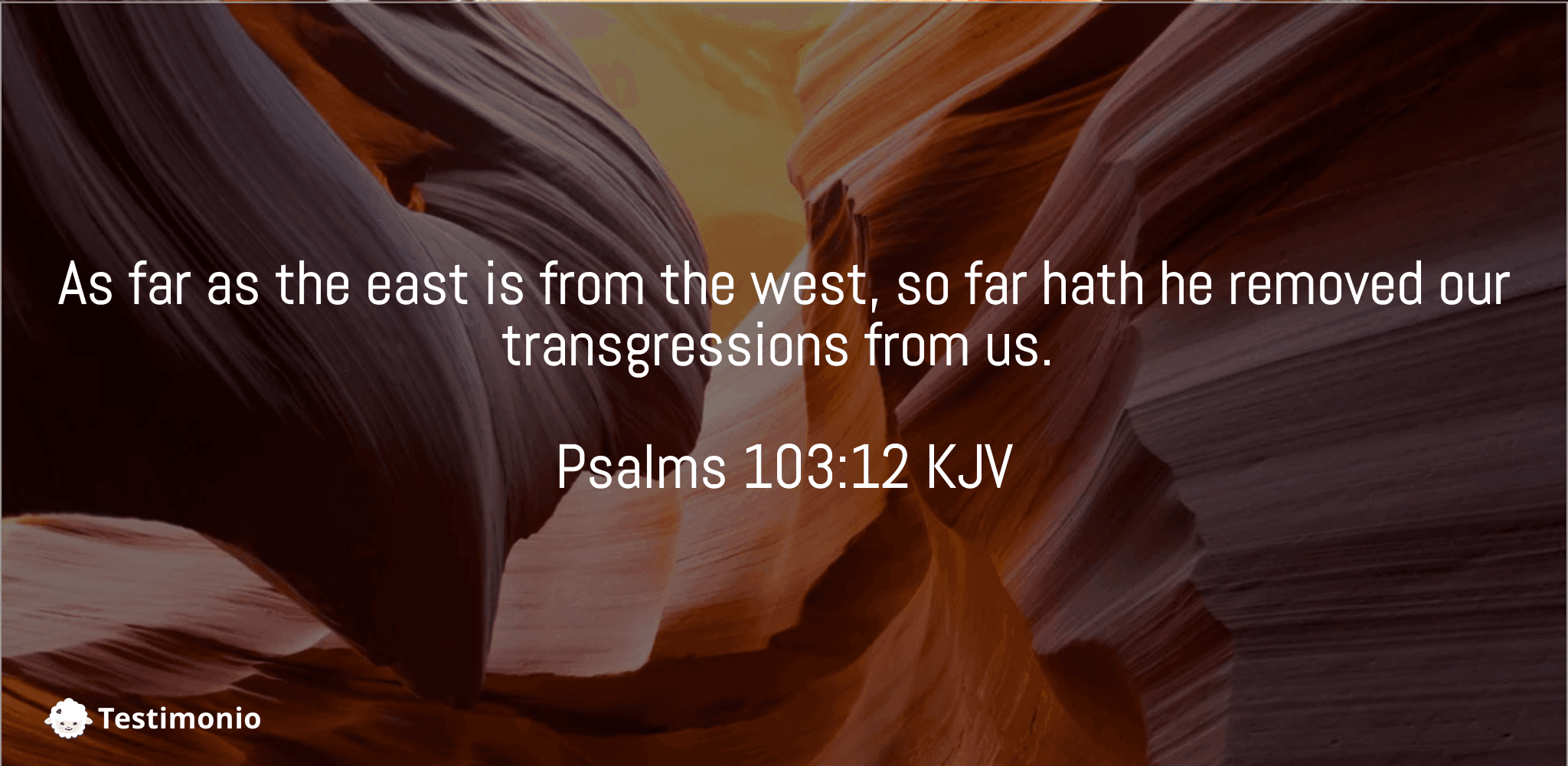 As far as the east is from the west, so far hath he removed our transgressions from us.
So when they continued asking him, he lifted up himself, and said unto them, He that is without sin among you, let him first cast a stone at her.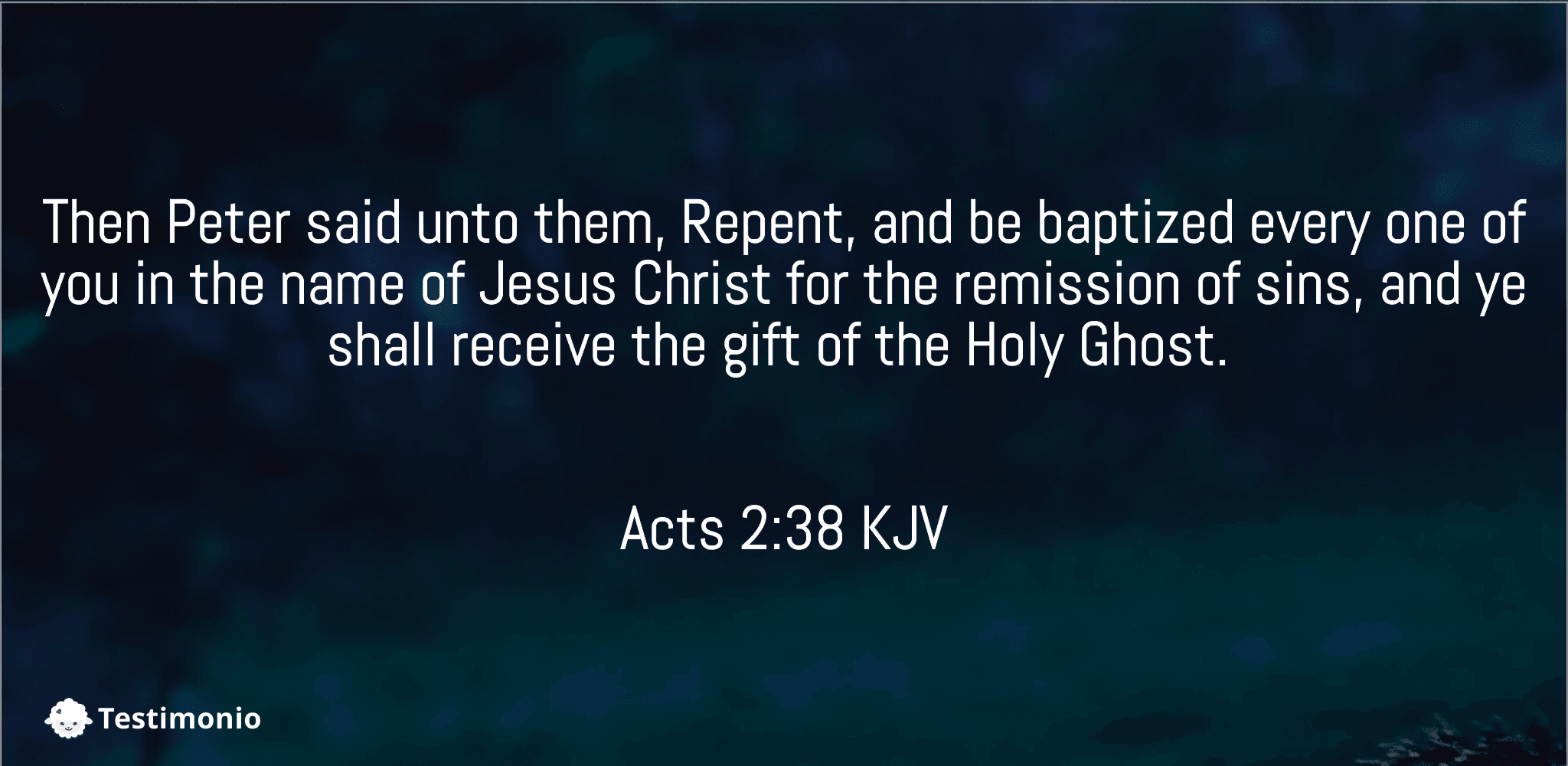 Then Peter said unto them, Repent, and be baptized every one of you in the name of Jesus Christ for the remission of sins, and ye shall receive the gift of the Holy Ghost.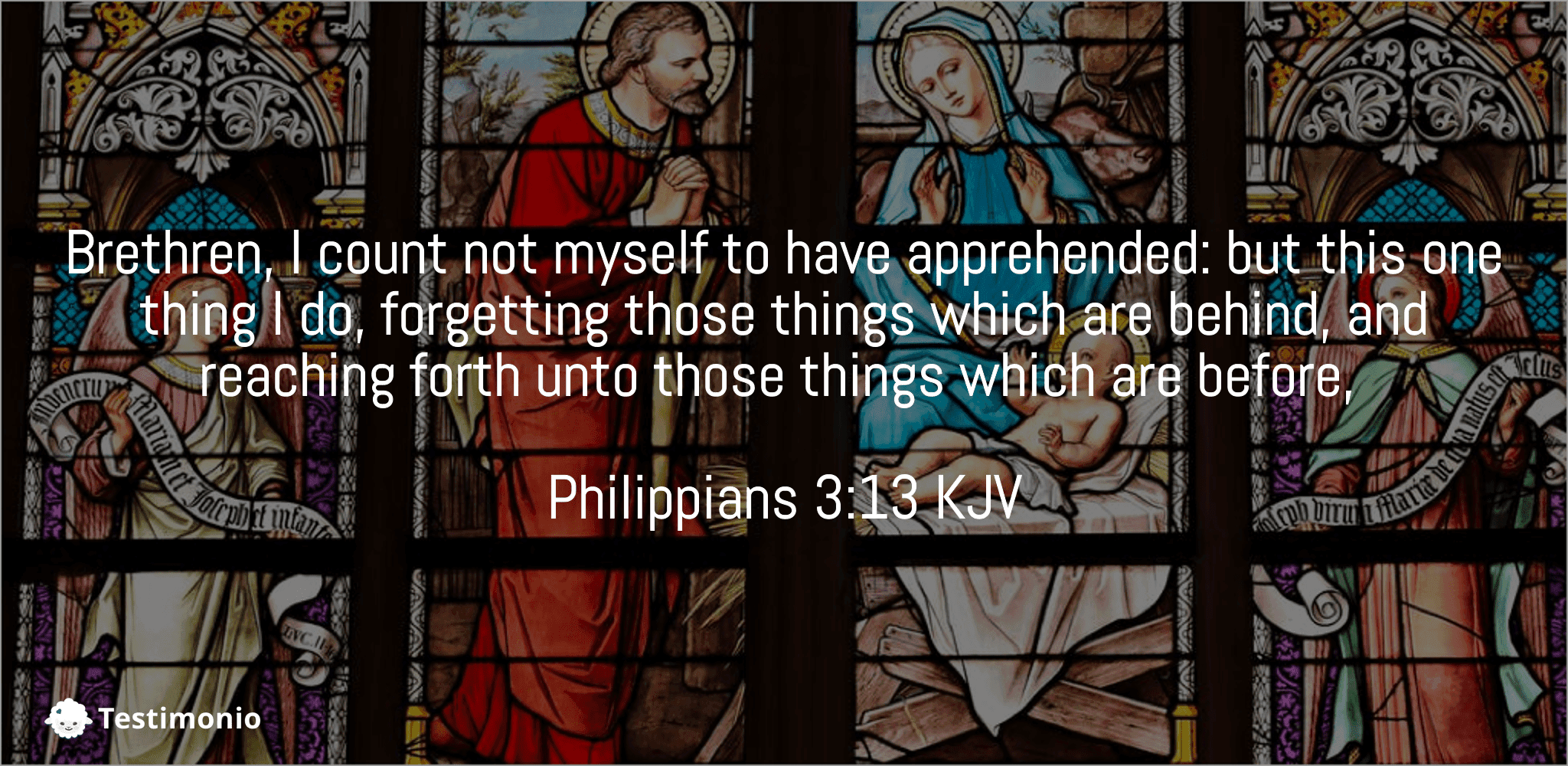 Brethren, I count not myself to have apprehended: but this one thing I do, forgetting those things which are behind, and reaching forth unto those things which are before,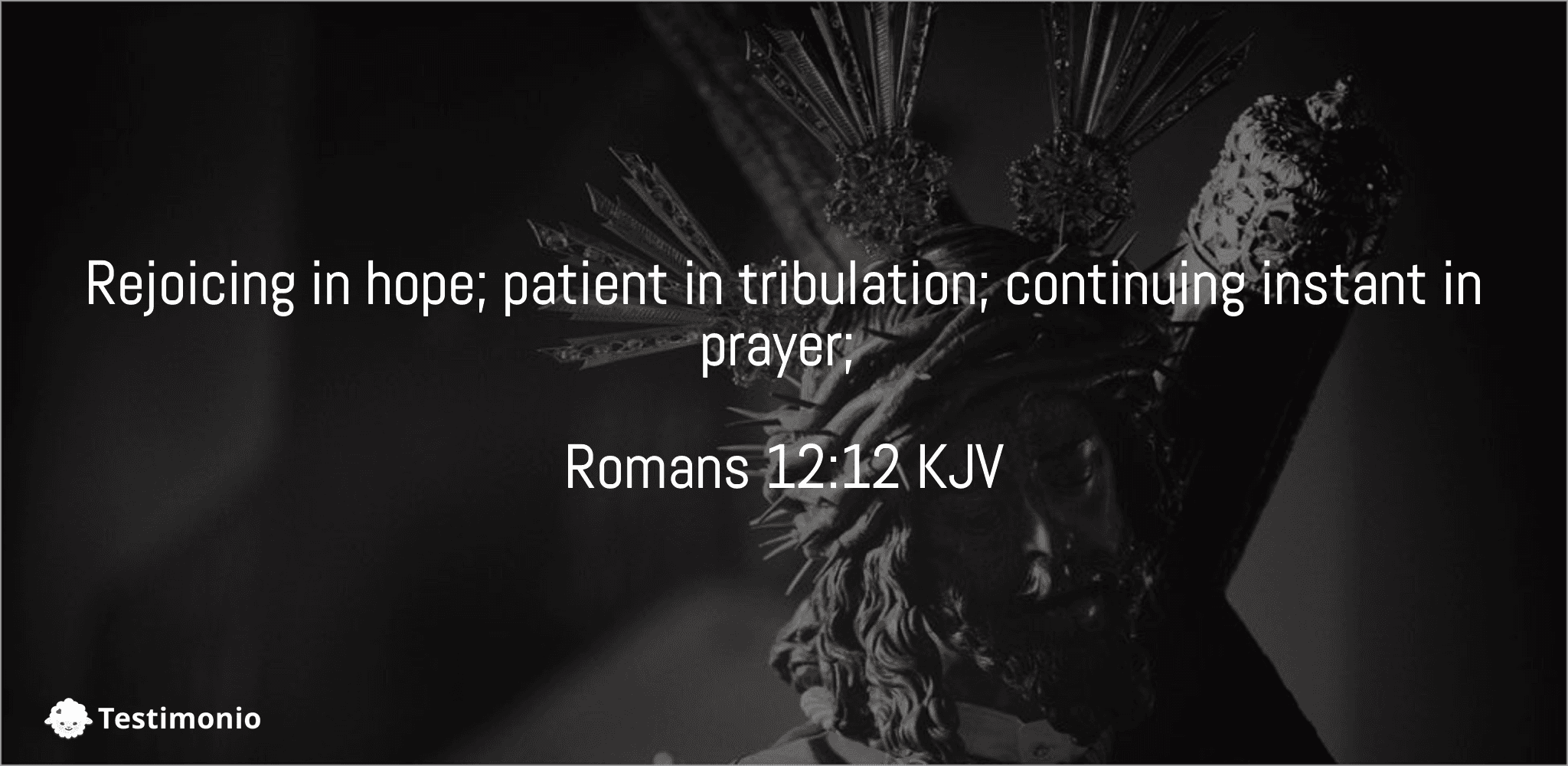 Rejoicing in hope; patient in tribulation; continuing instant in prayer;
Therefore if any man be in Christ, he is a new creature: old things are passed away; behold, all things are become new.
Finally, brethren, whatsoever things are true, whatsoever things are honest, whatsoever things are just, whatsoever things are pure, whatsoever things are lovely, whatsoever things are of good report; if there be any virtue, and if there be any praise, think on these things.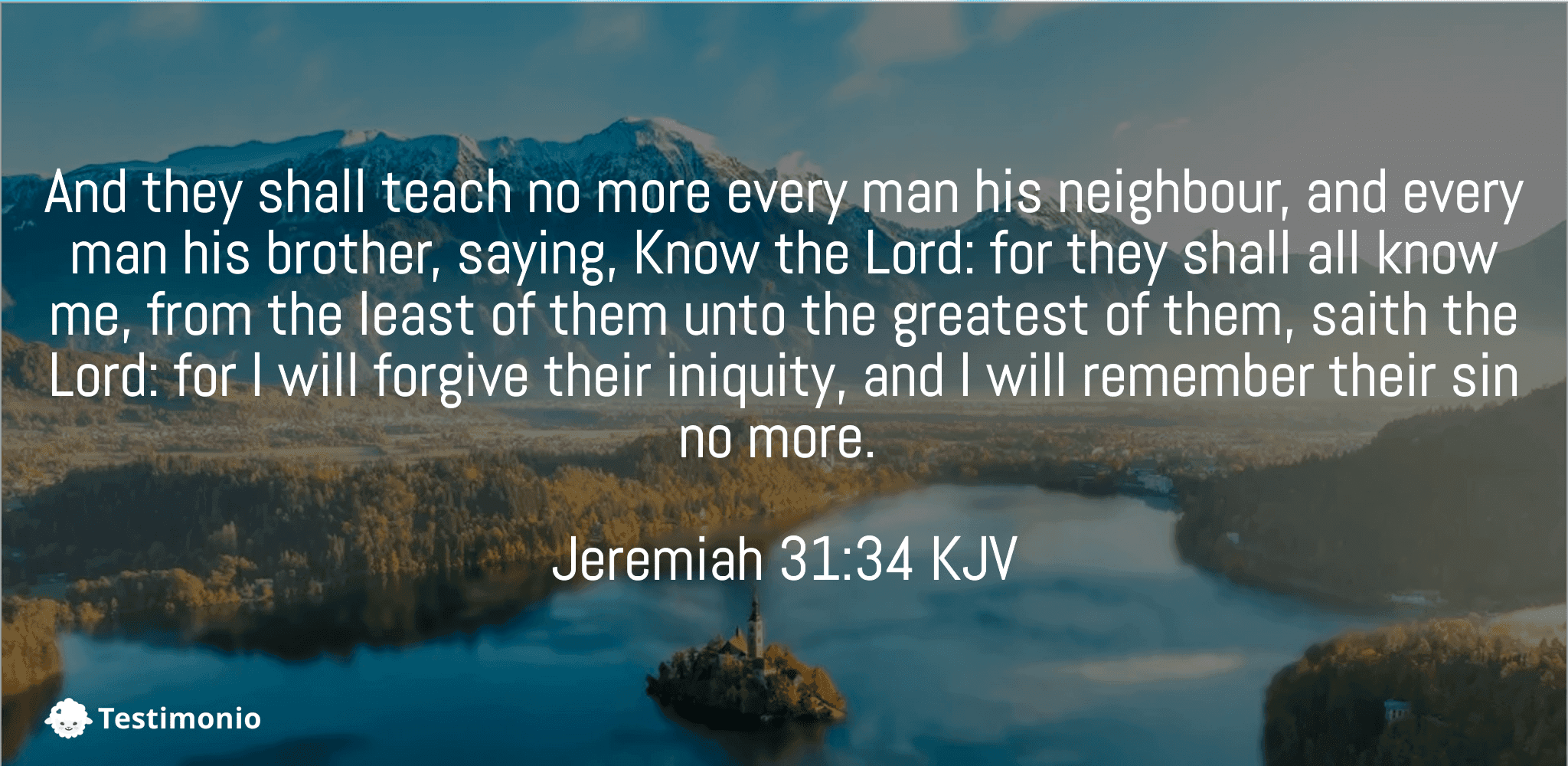 And they shall teach no more every man his neighbour, and every man his brother, saying, Know the Lord: for they shall all know me, from the least of them unto the greatest of them, saith the Lord: for I will forgive their iniquity, and I will remember their sin no more.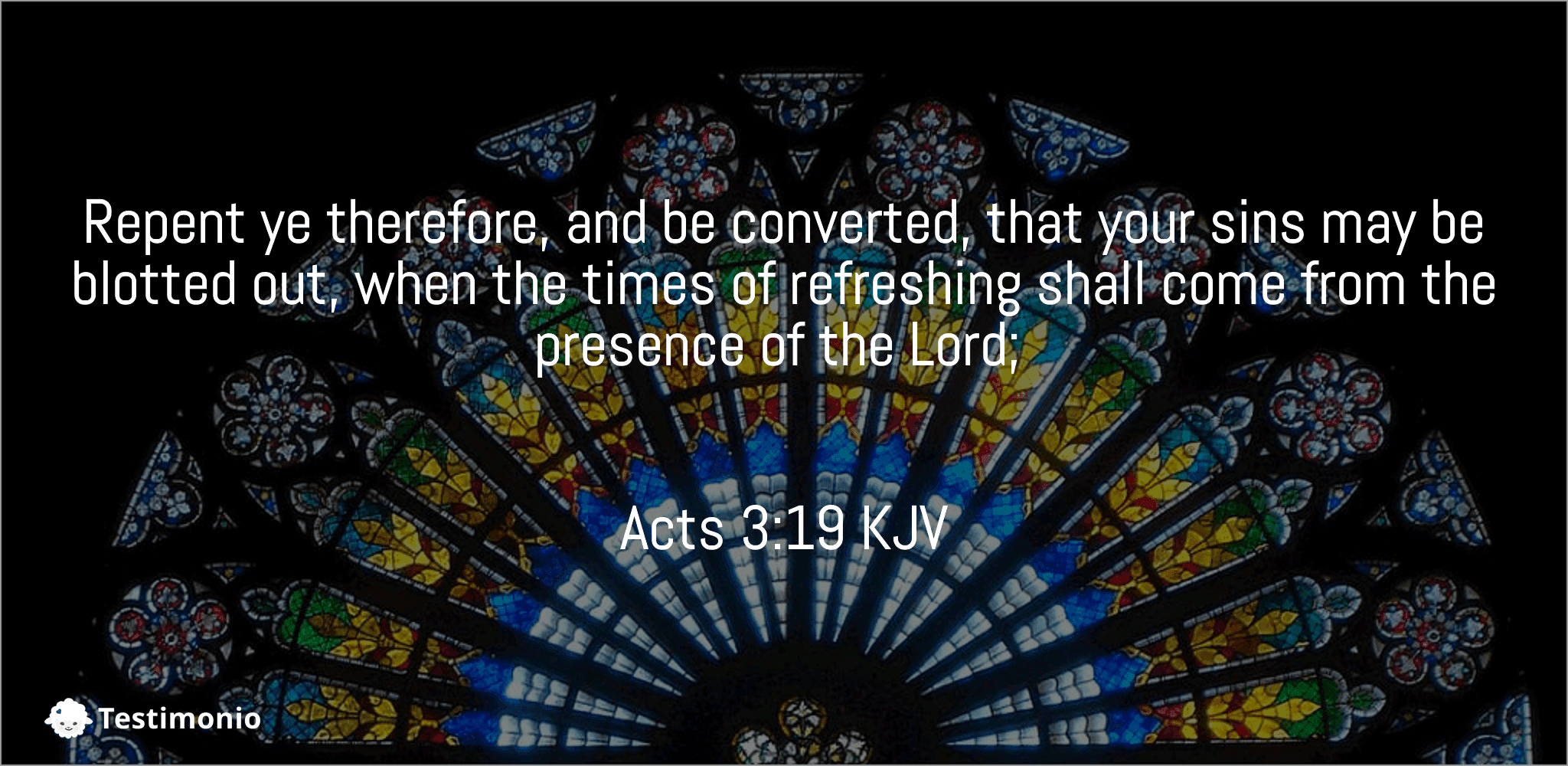 Repent ye therefore, and be converted, that your sins may be blotted out, when the times of refreshing shall come from the presence of the Lord;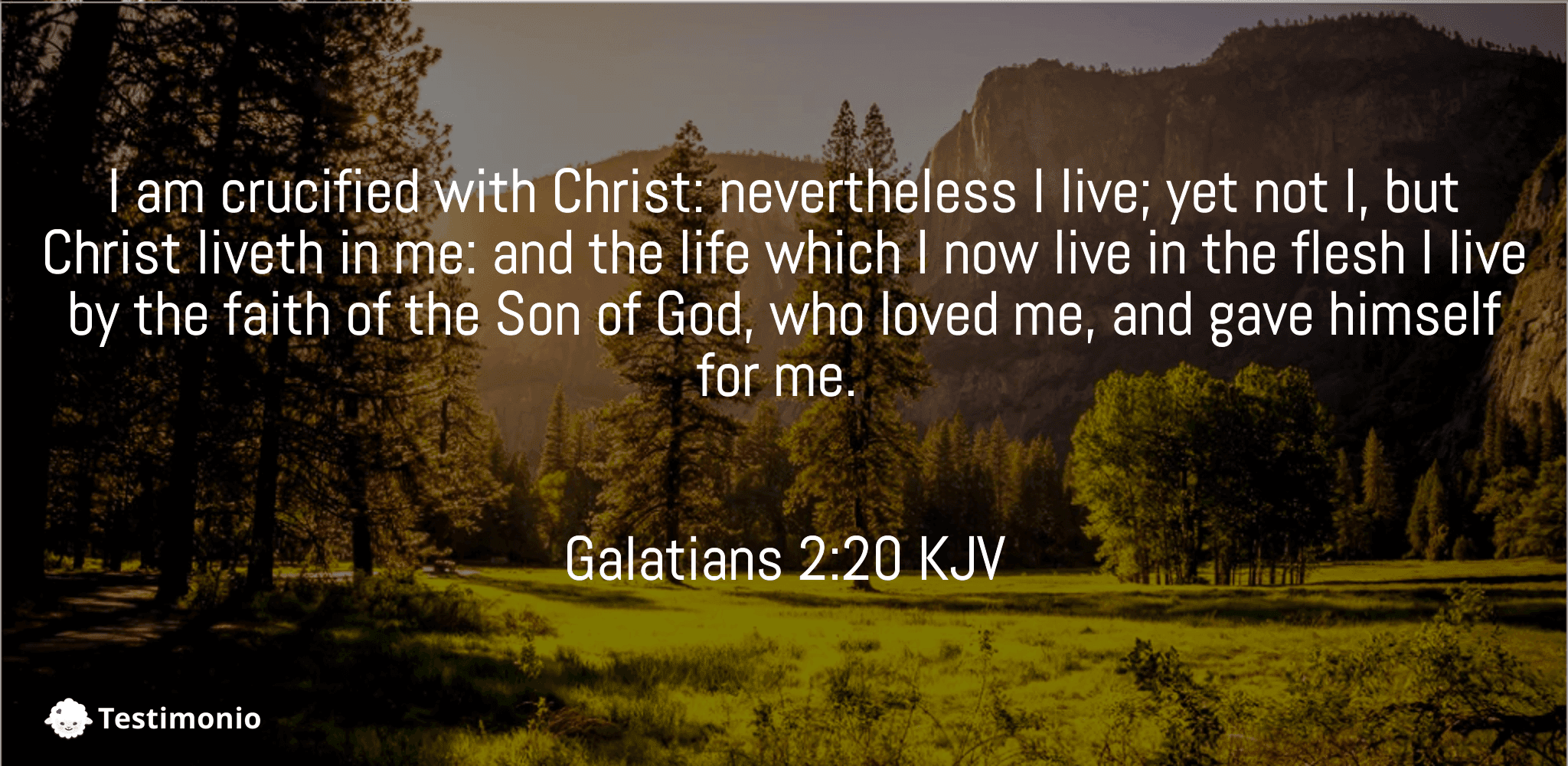 I am crucified with Christ: nevertheless I live; yet not I, but Christ liveth in me: and the life which I now live in the flesh I live by the faith of the Son of God, who loved me, and gave himself for me.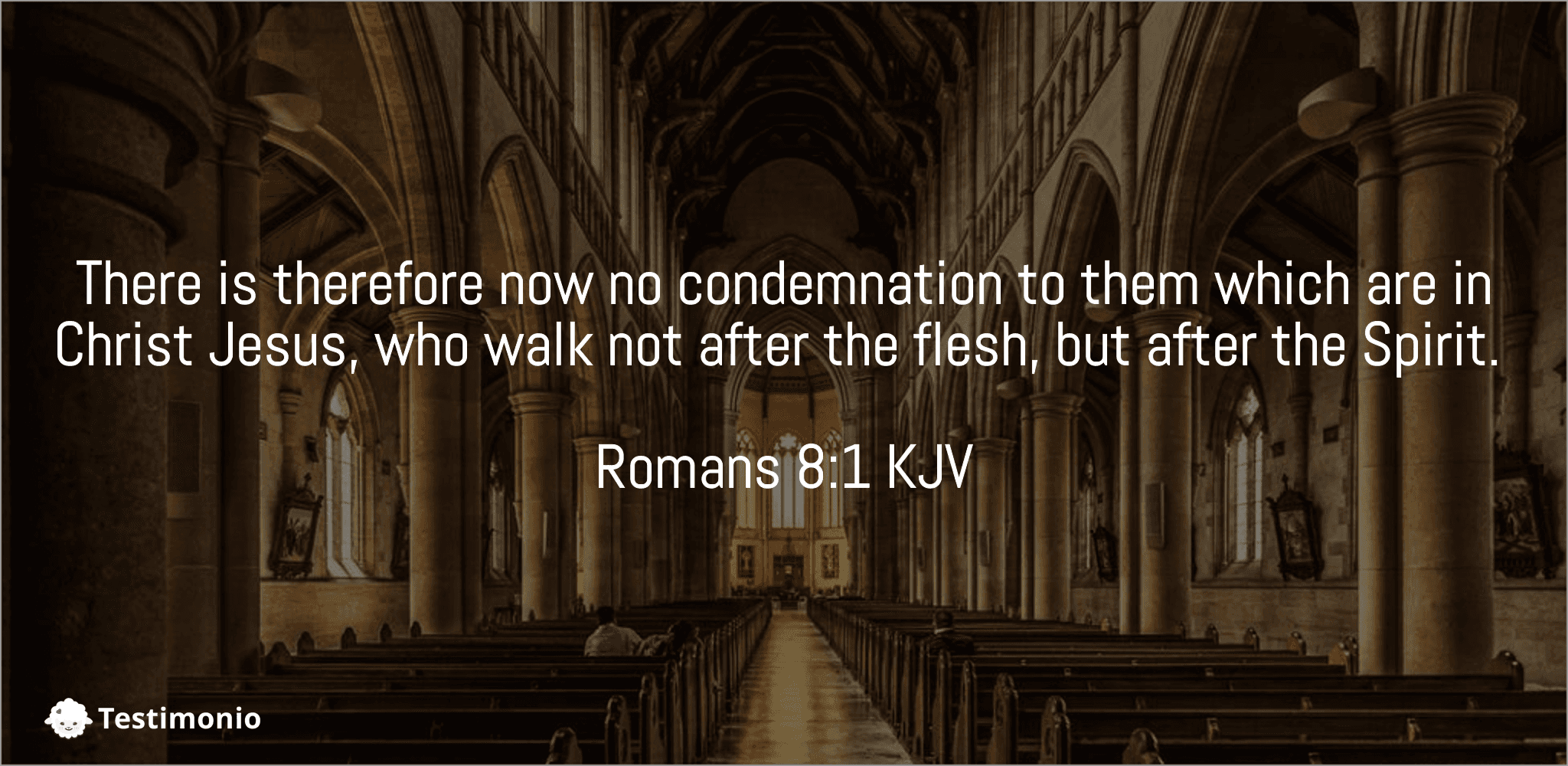 There is therefore now no condemnation to them which are in Christ Jesus, who walk not after the flesh, but after the Spirit.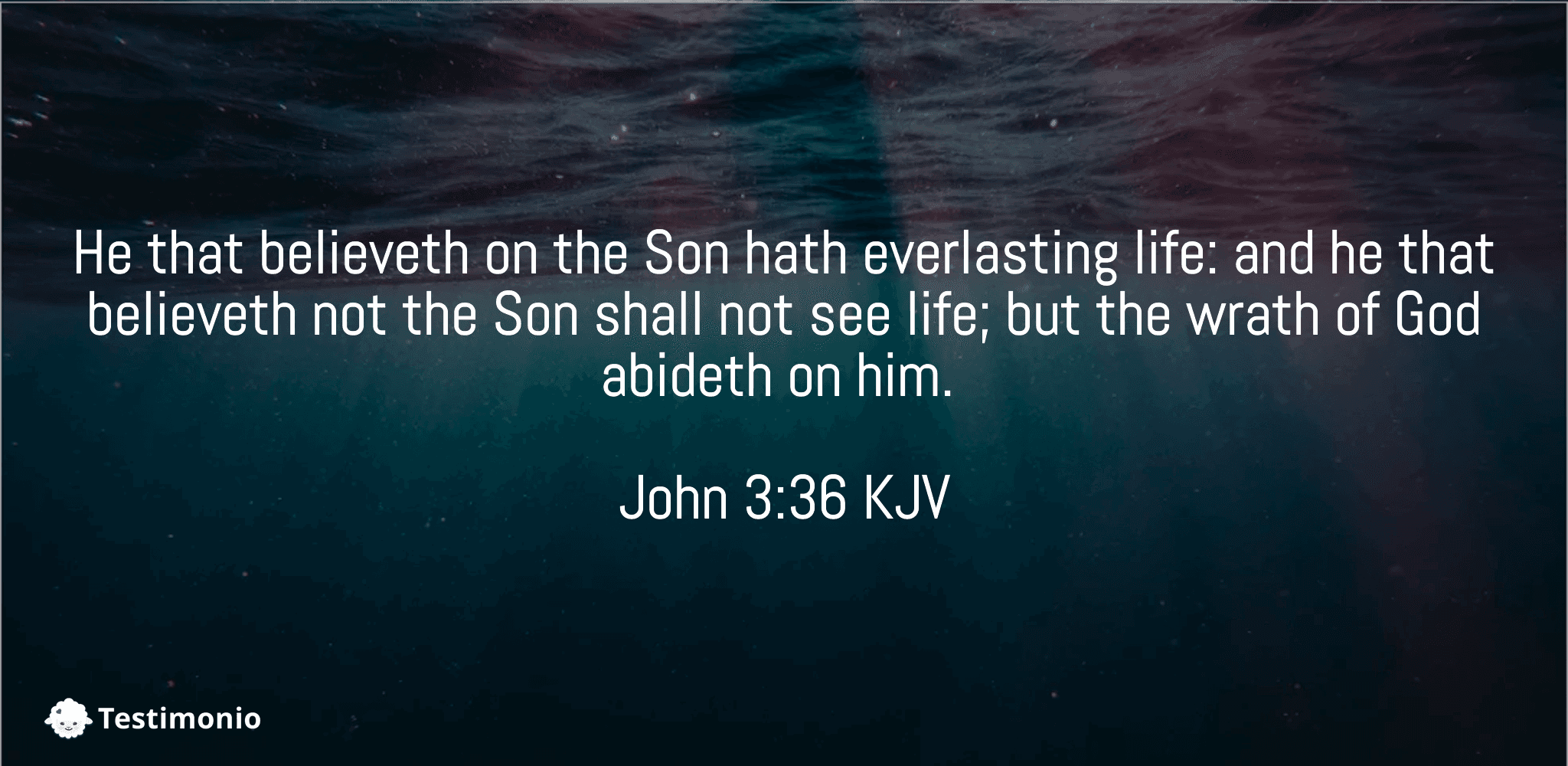 He that believeth on the Son hath everlasting life: and he that believeth not the Son shall not see life; but the wrath of God abideth on him.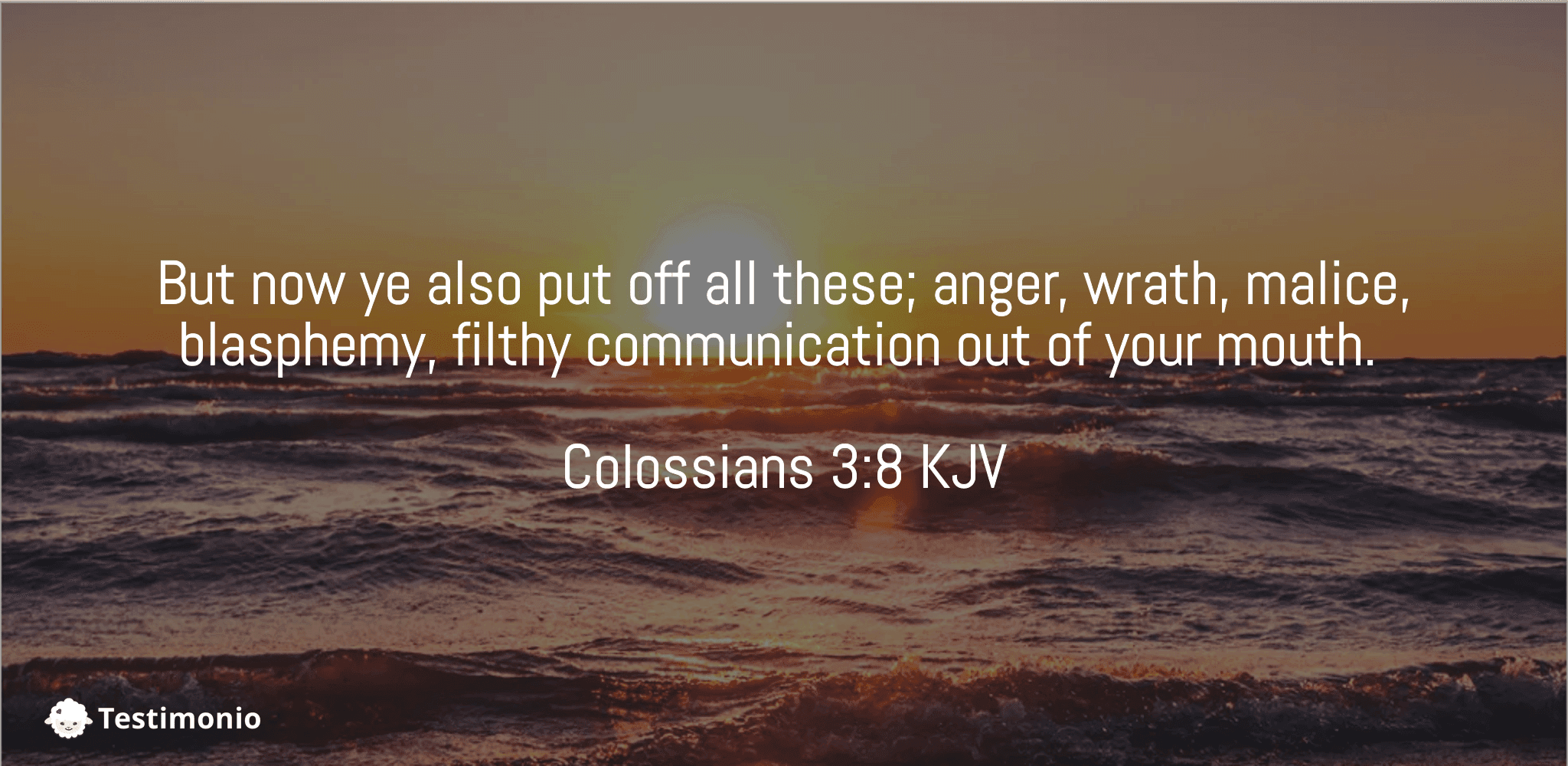 But now ye also put off all these; anger, wrath, malice, blasphemy, filthy communication out of your mouth.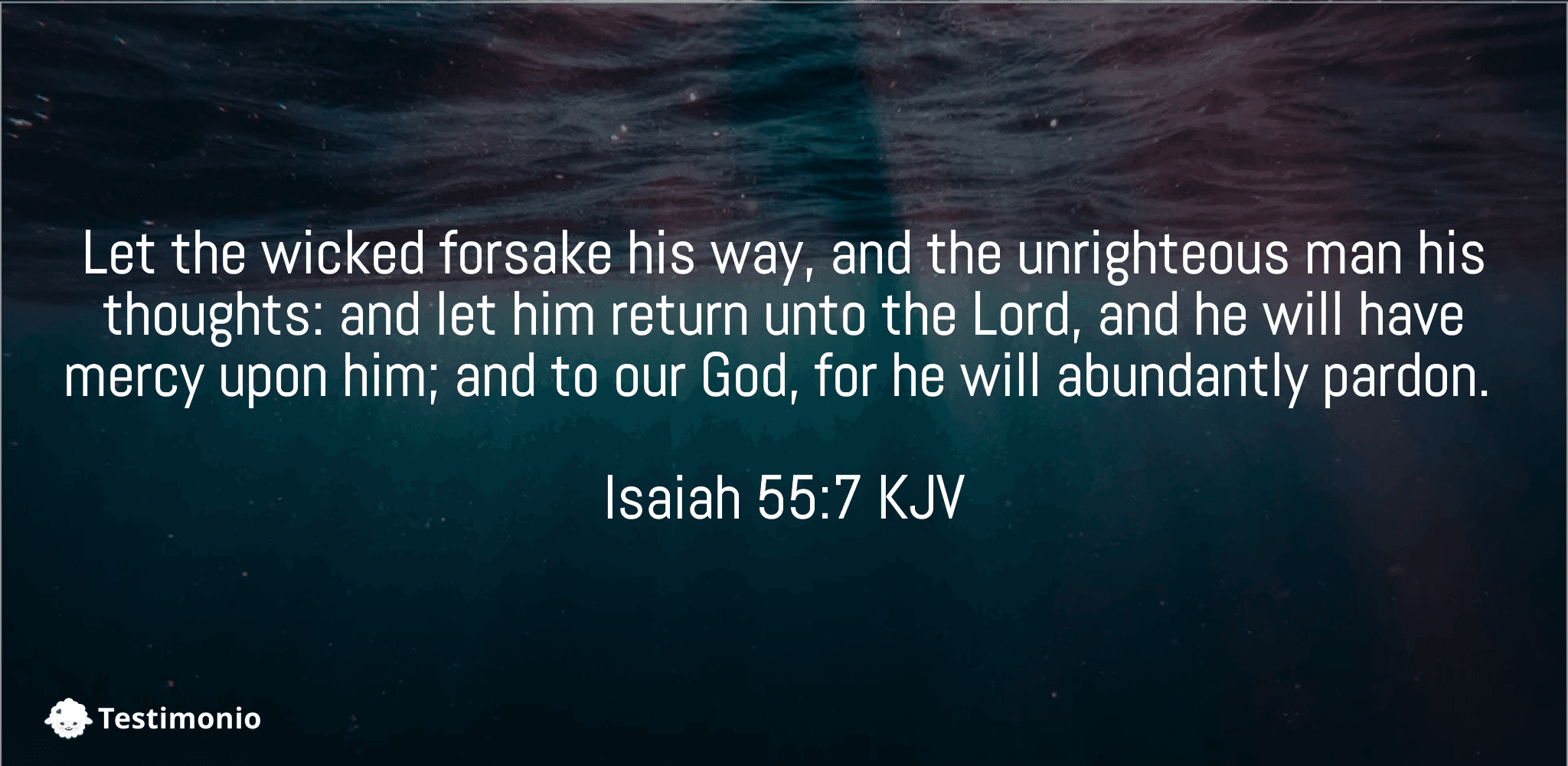 Let the wicked forsake his way, and the unrighteous man his thoughts: and let him return unto the Lord, and he will have mercy upon him; and to our God, for he will abundantly pardon.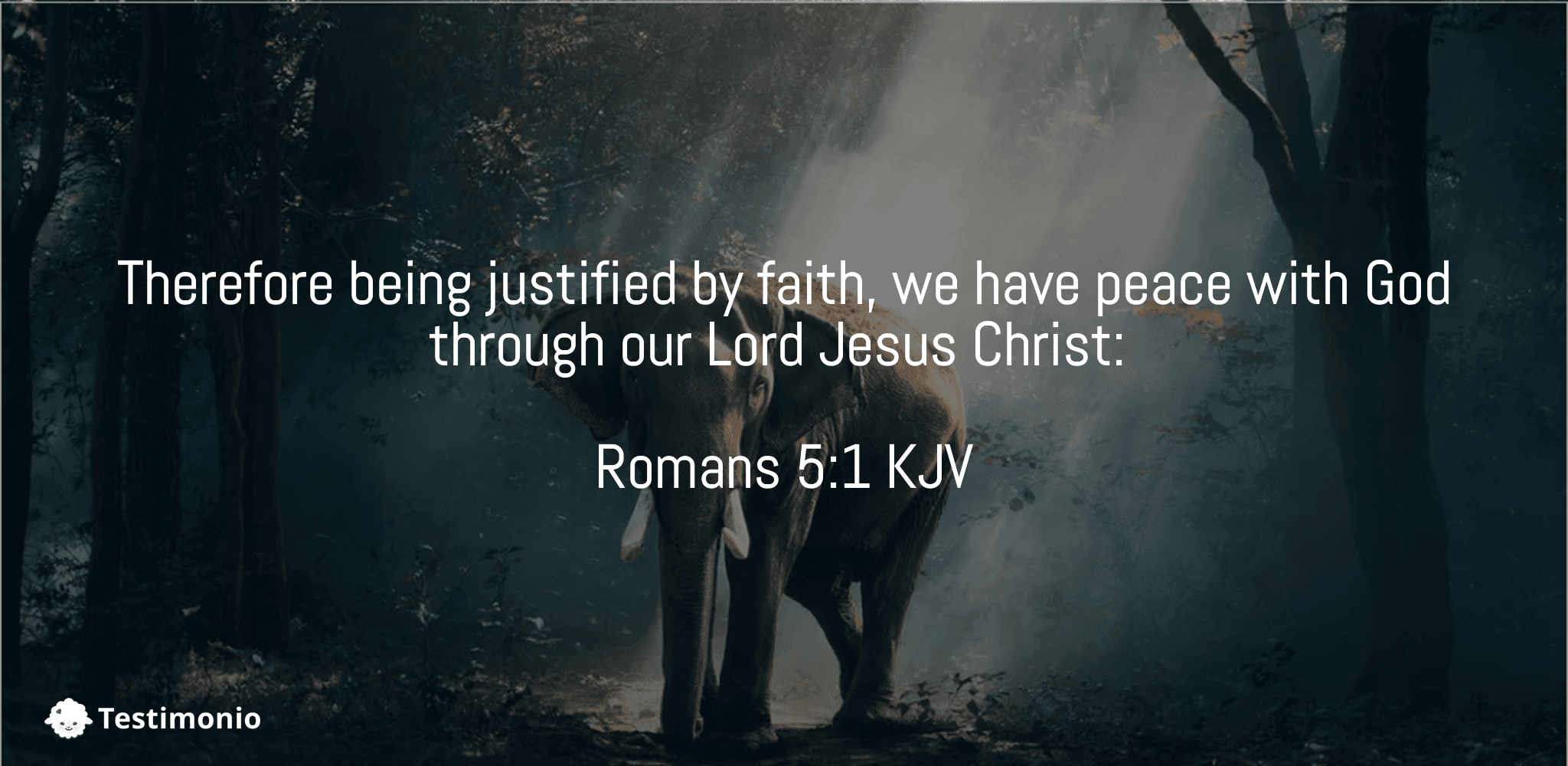 Therefore being justified by faith, we have peace with God through our Lord Jesus Christ: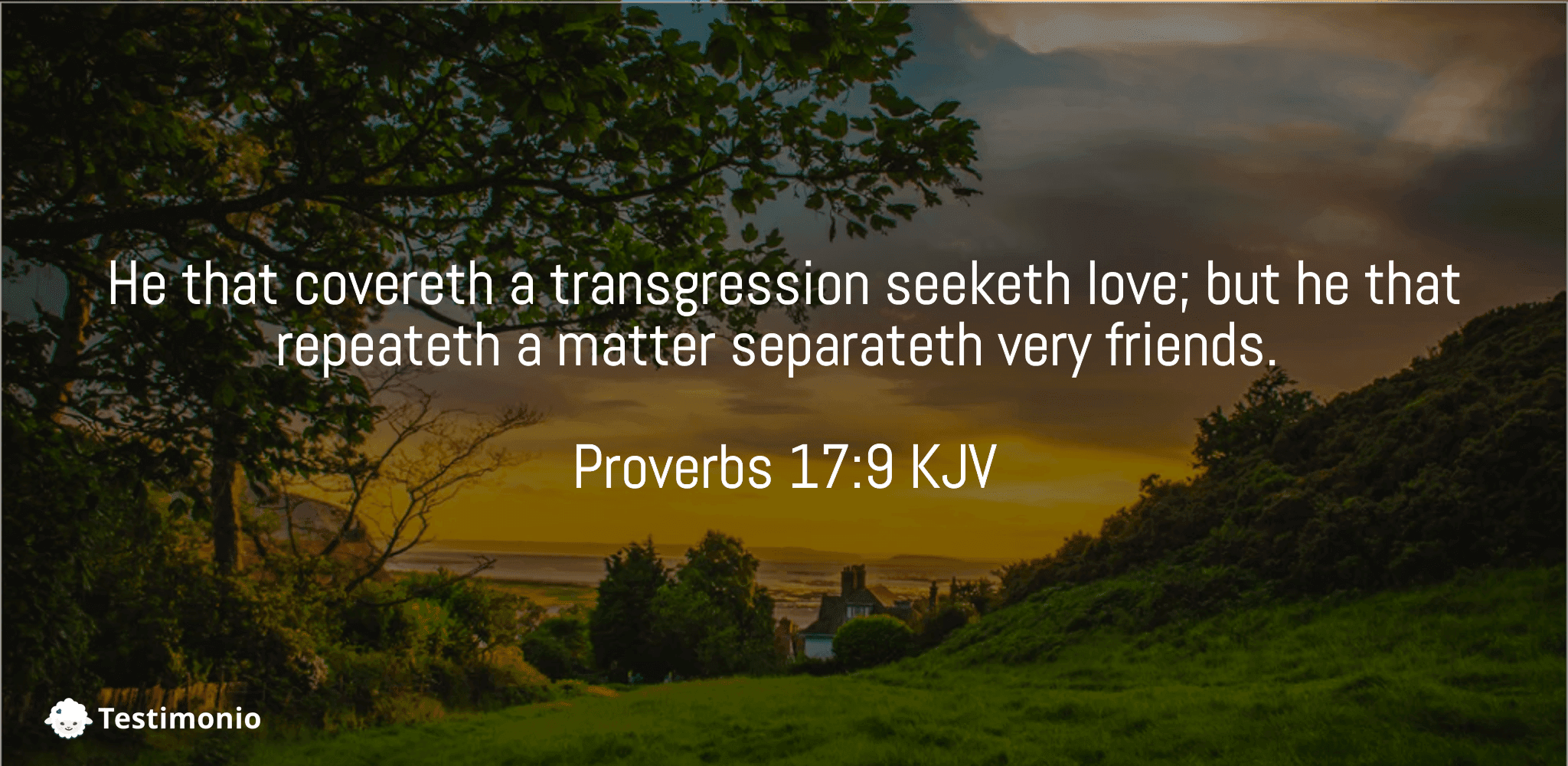 He that covereth a transgression seeketh love; but he that repeateth a matter separateth very friends.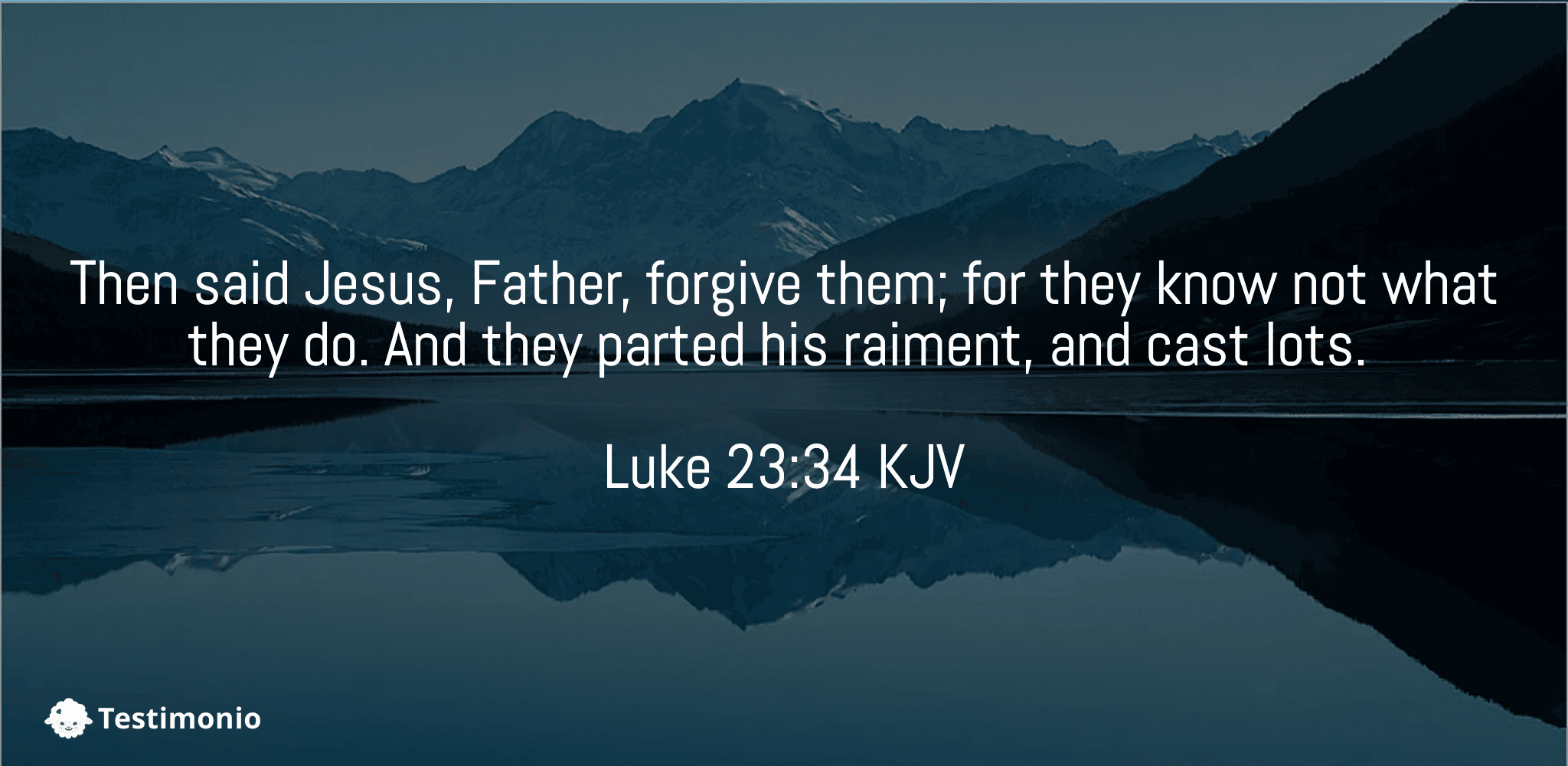 Then said Jesus, Father, forgive them; for they know not what they do. And they parted his raiment, and cast lots.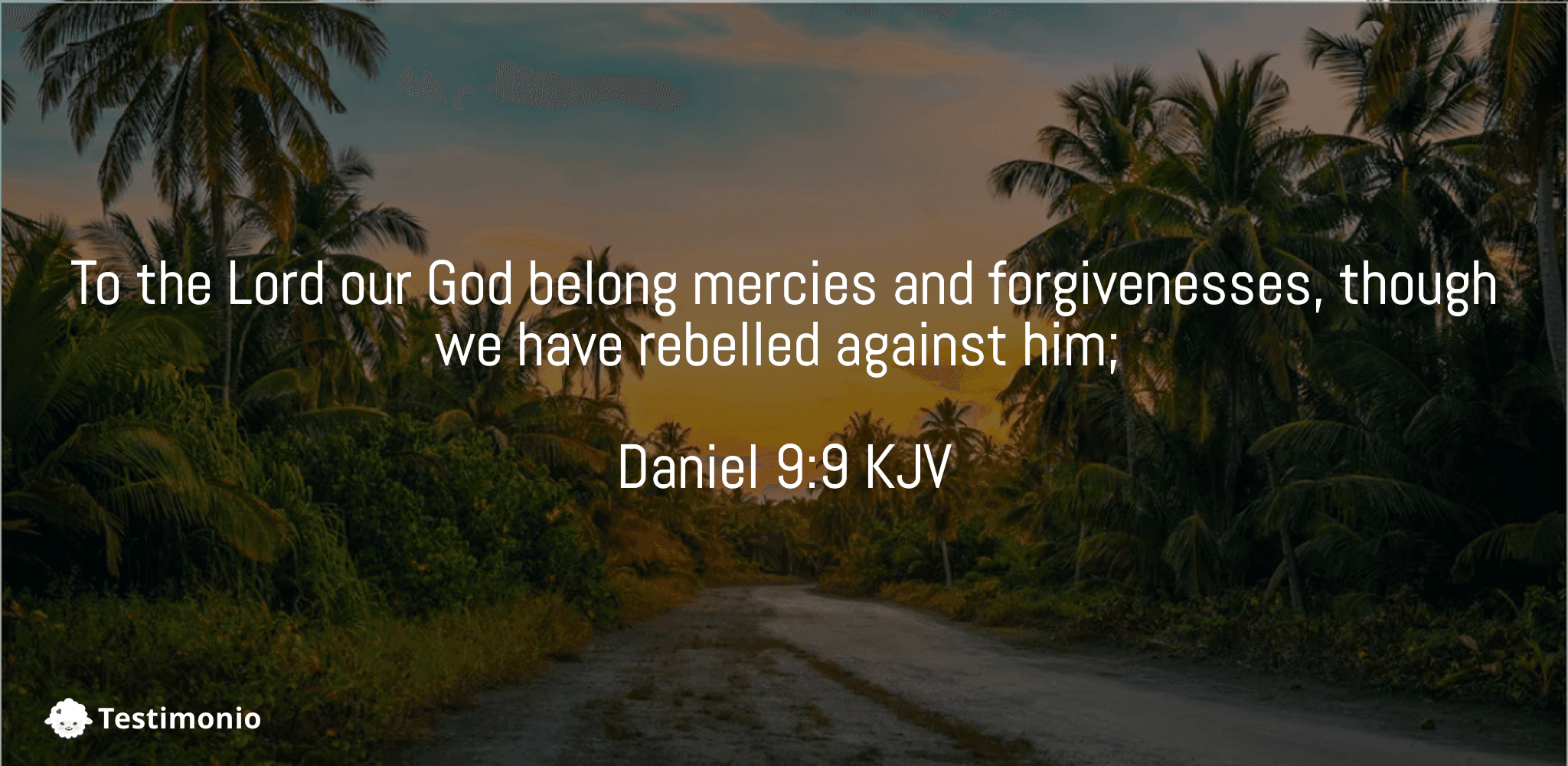 To the Lord our God belong mercies and forgivenesses, though we have rebelled against him;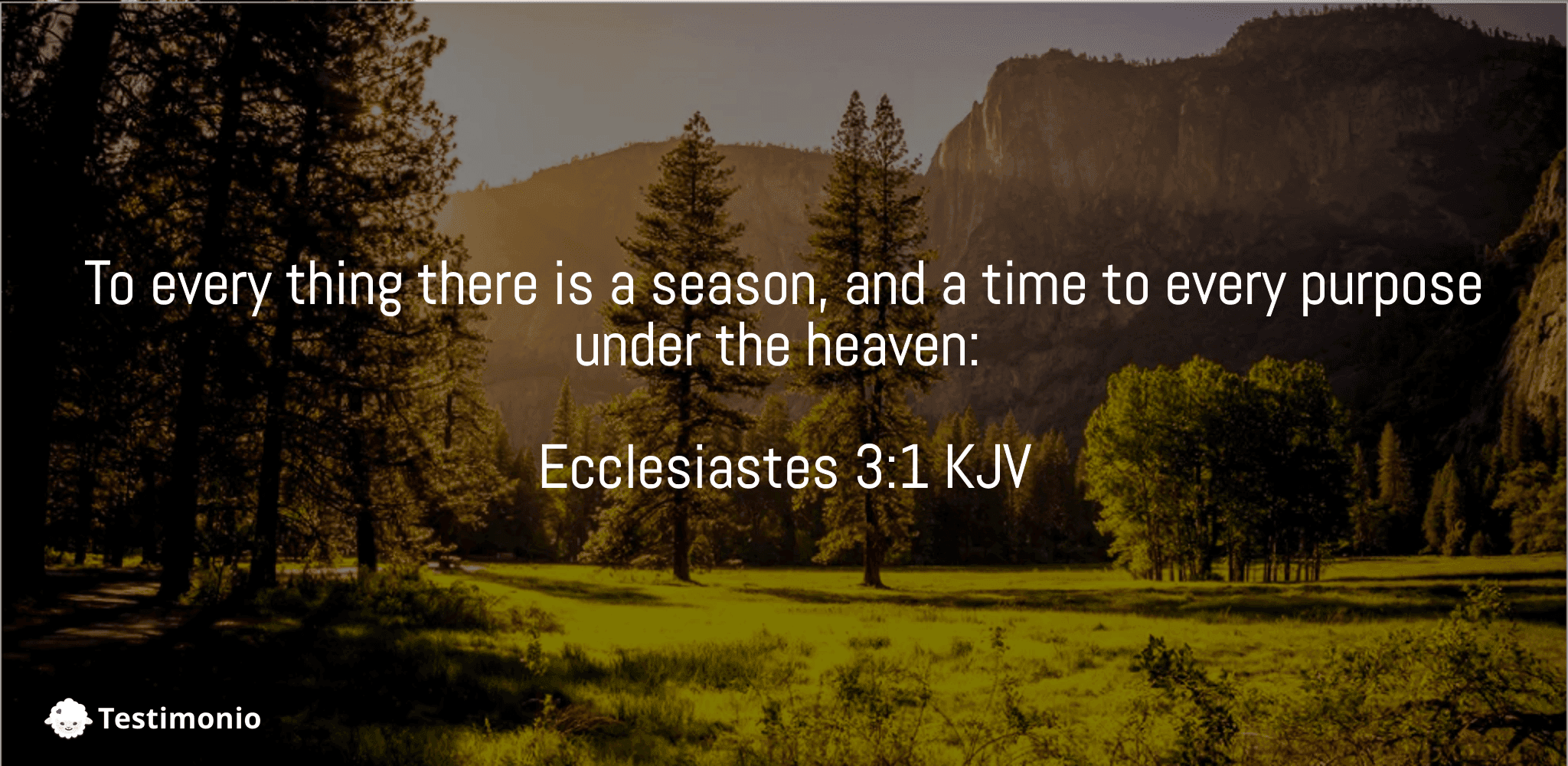 To every thing there is a season, and a time to every purpose under the heaven: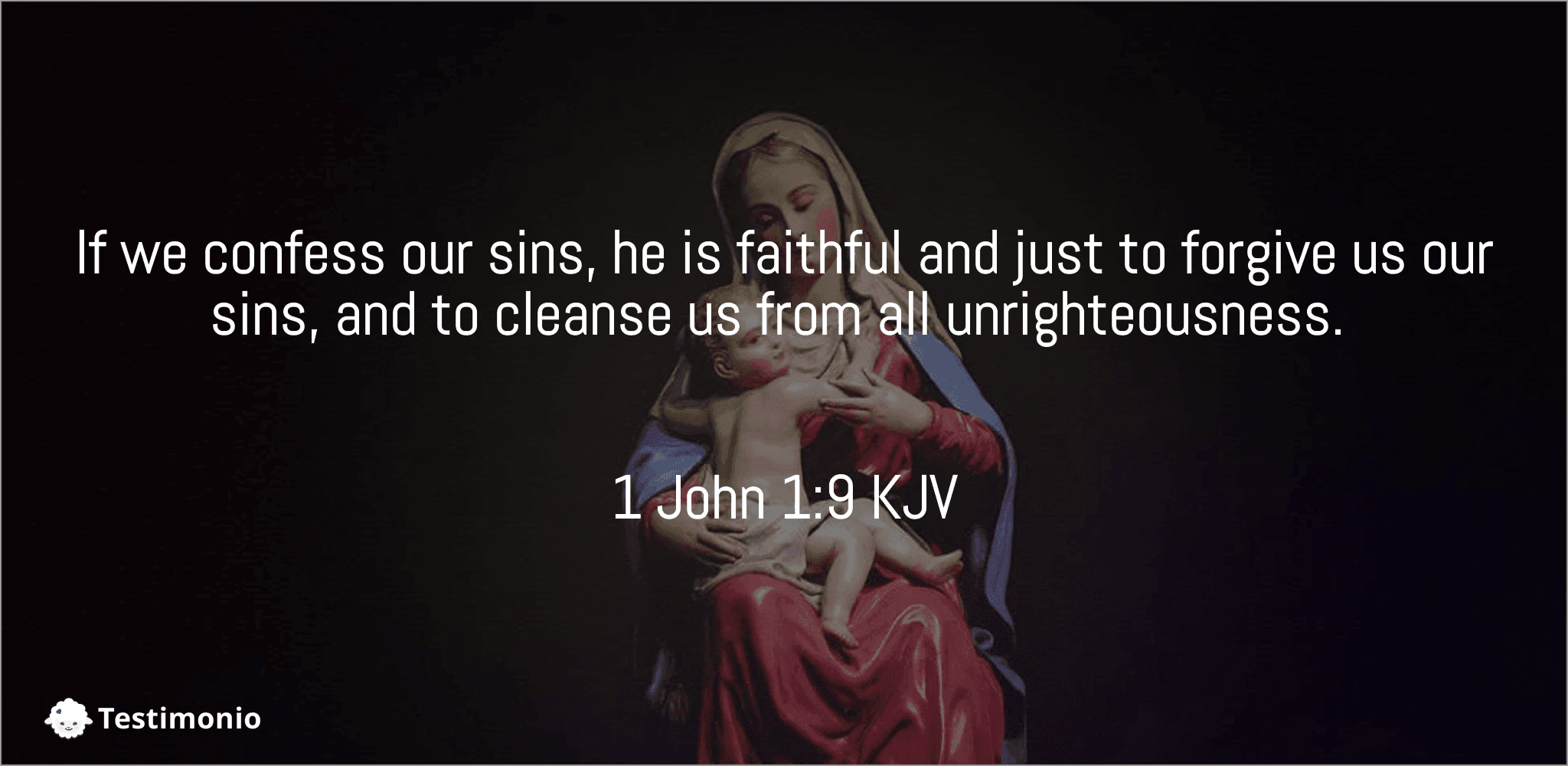 If we confess our sins, he is faithful and just to forgive us our sins, and to cleanse us from all unrighteousness.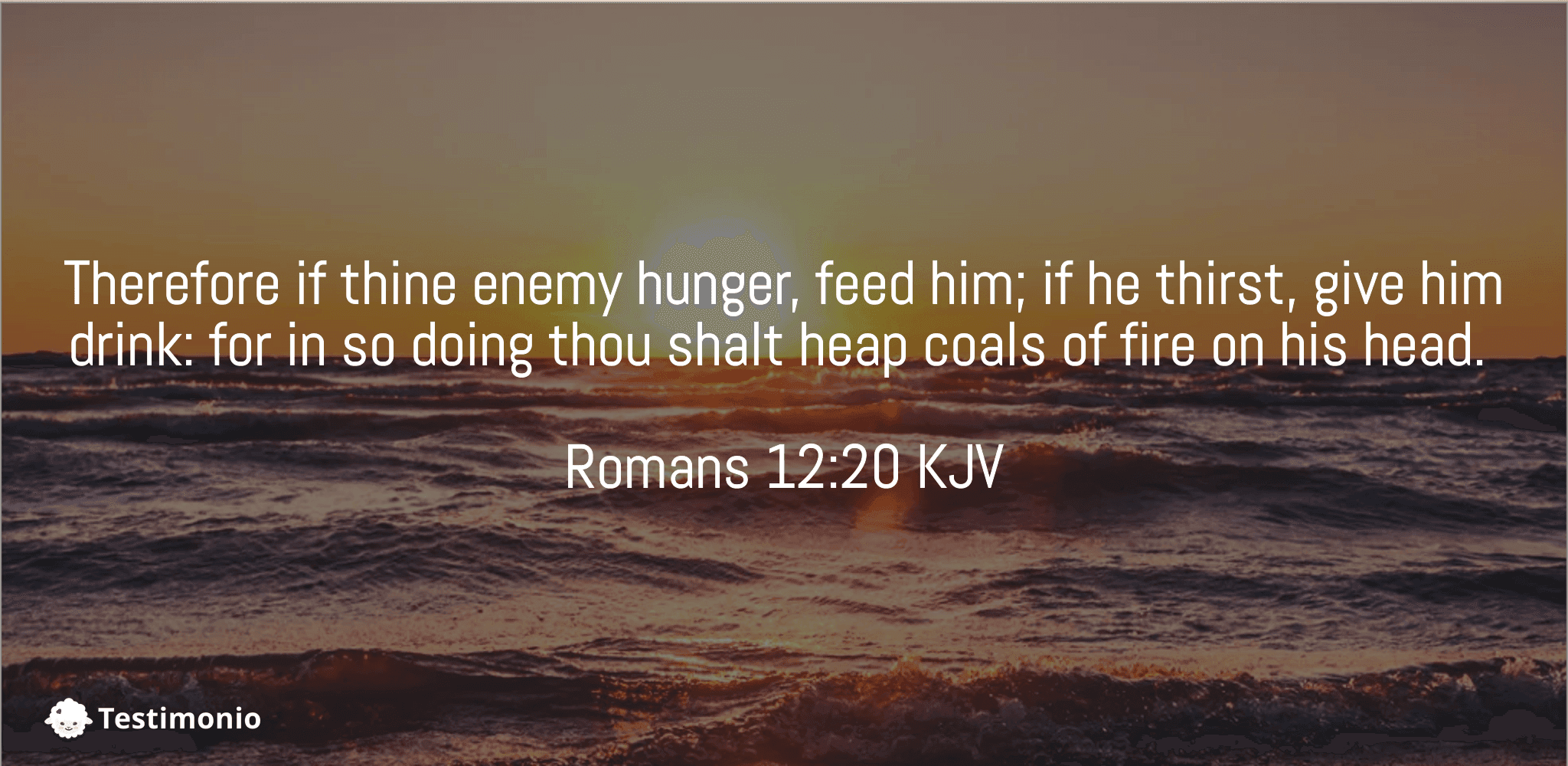 Therefore if thine enemy hunger, feed him; if he thirst, give him drink: for in so doing thou shalt heap coals of fire on his head.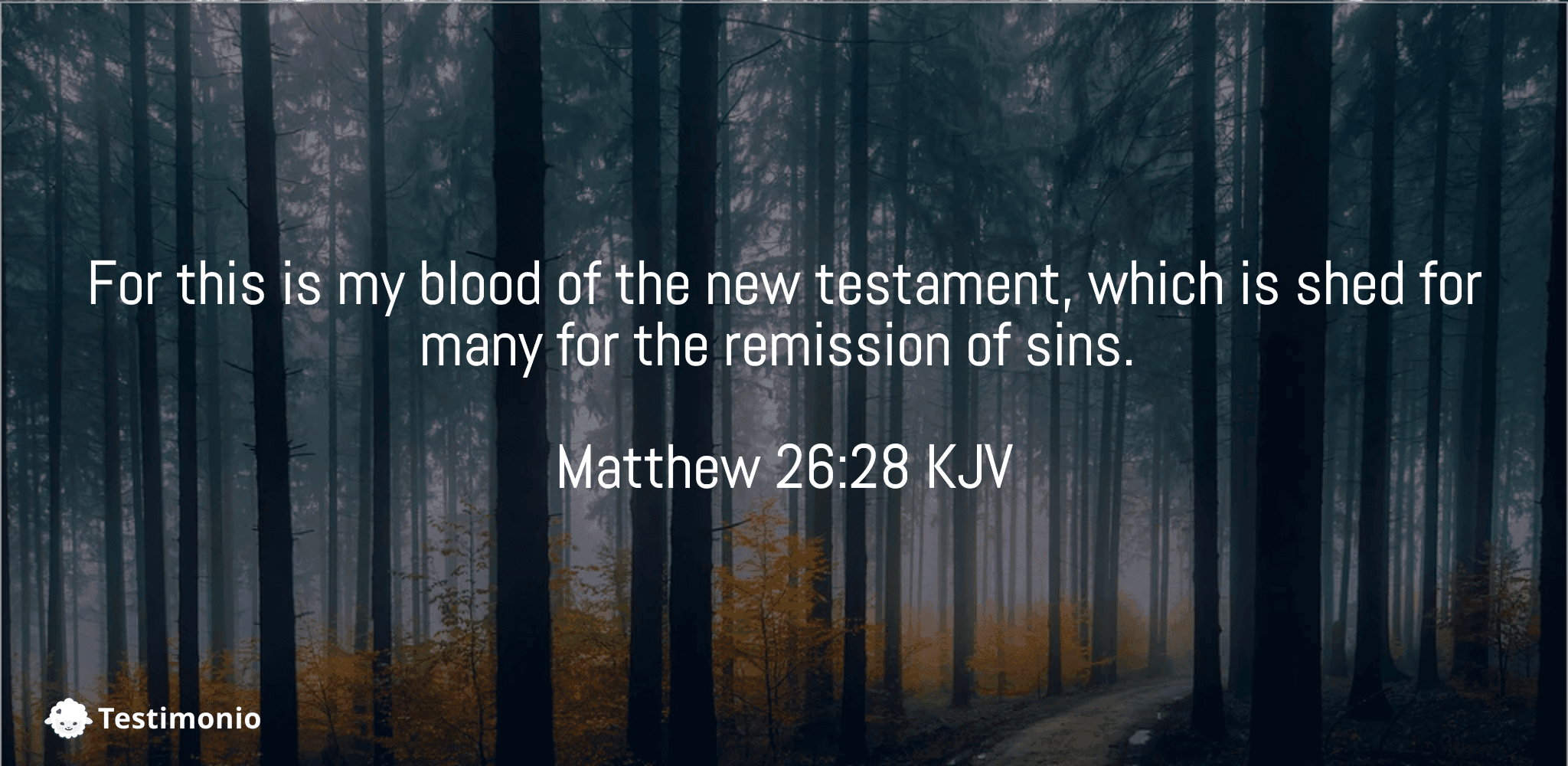 For this is my blood of the new testament, which is shed for many for the remission of sins.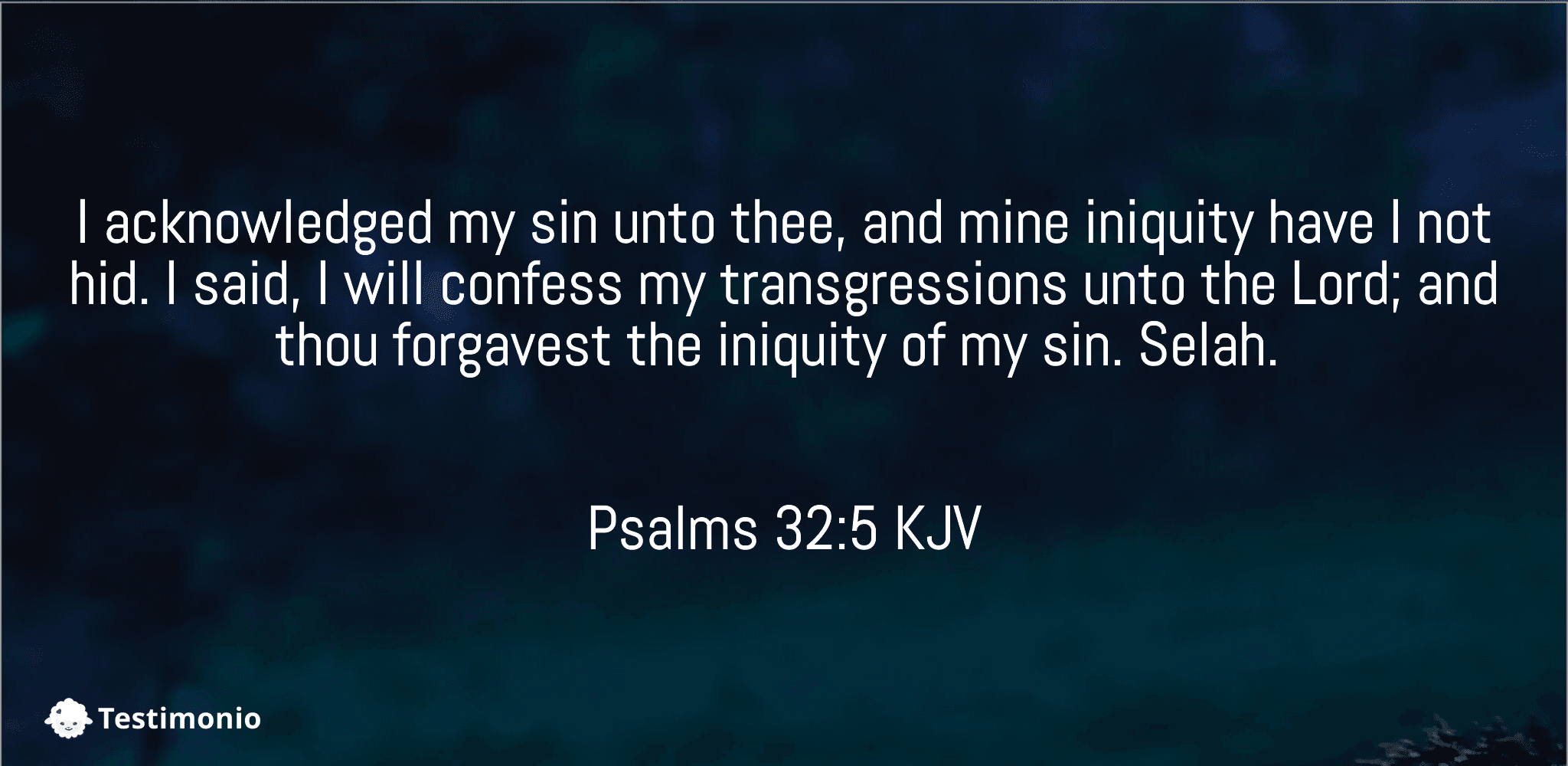 I acknowledged my sin unto thee, and mine iniquity have I not hid. I said, I will confess my transgressions unto the Lord; and thou forgavest the iniquity of my sin. Selah.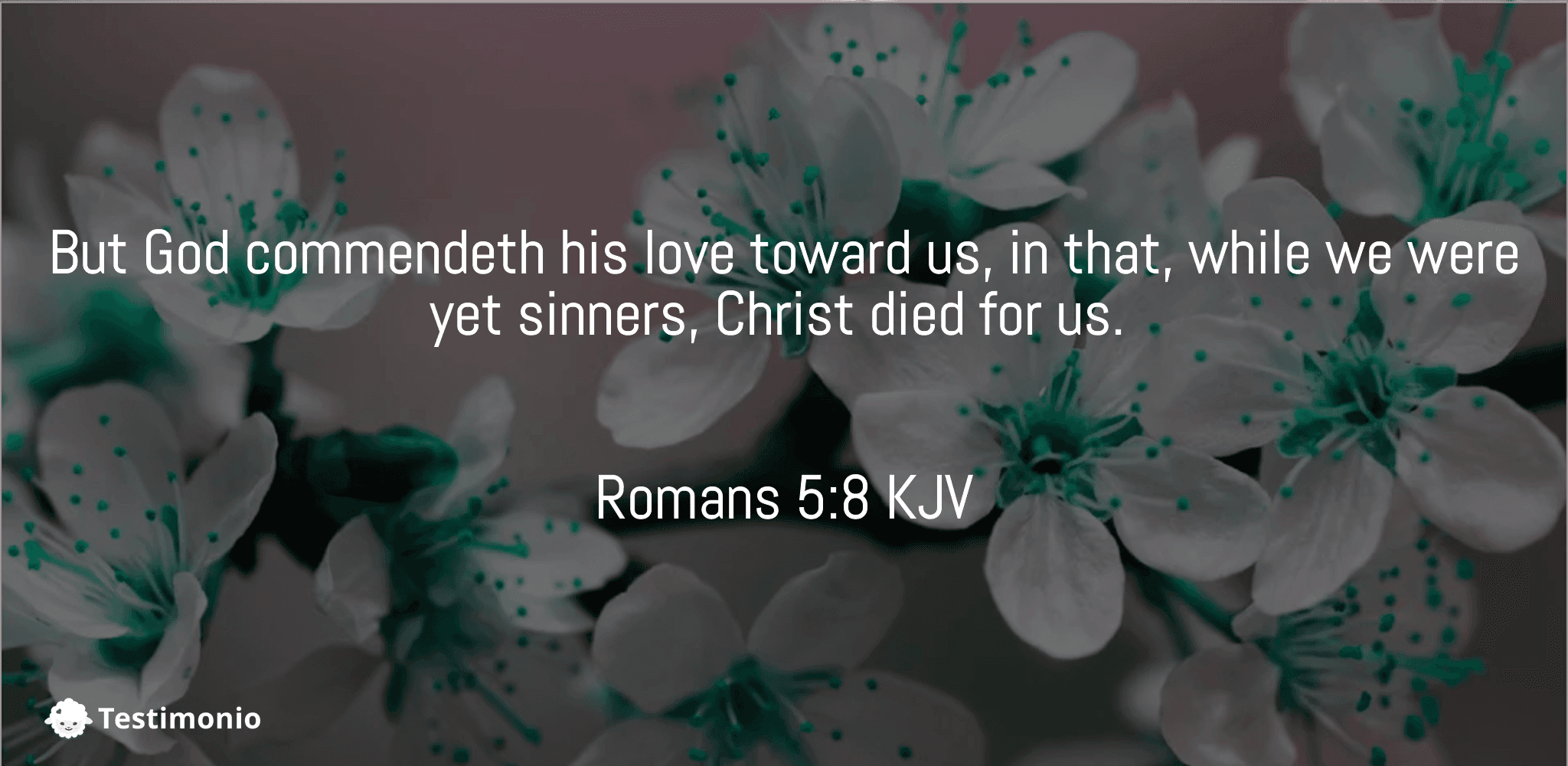 But God commendeth his love toward us, in that, while we were yet sinners, Christ died for us.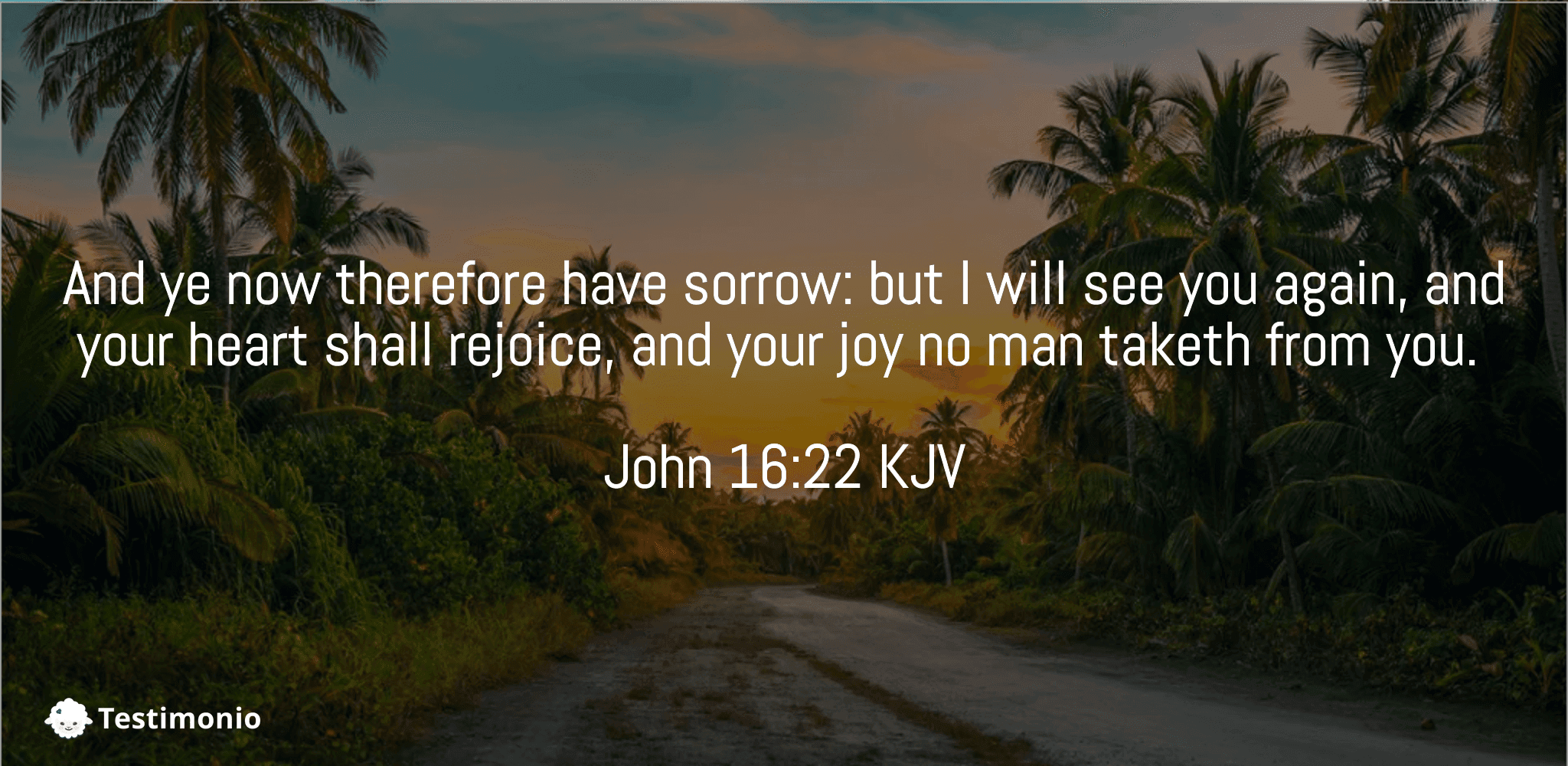 And ye now therefore have sorrow: but I will see you again, and your heart shall rejoice, and your joy no man taketh from you.
In whom we have redemption through his blood, the forgiveness of sins, according to the riches of his grace;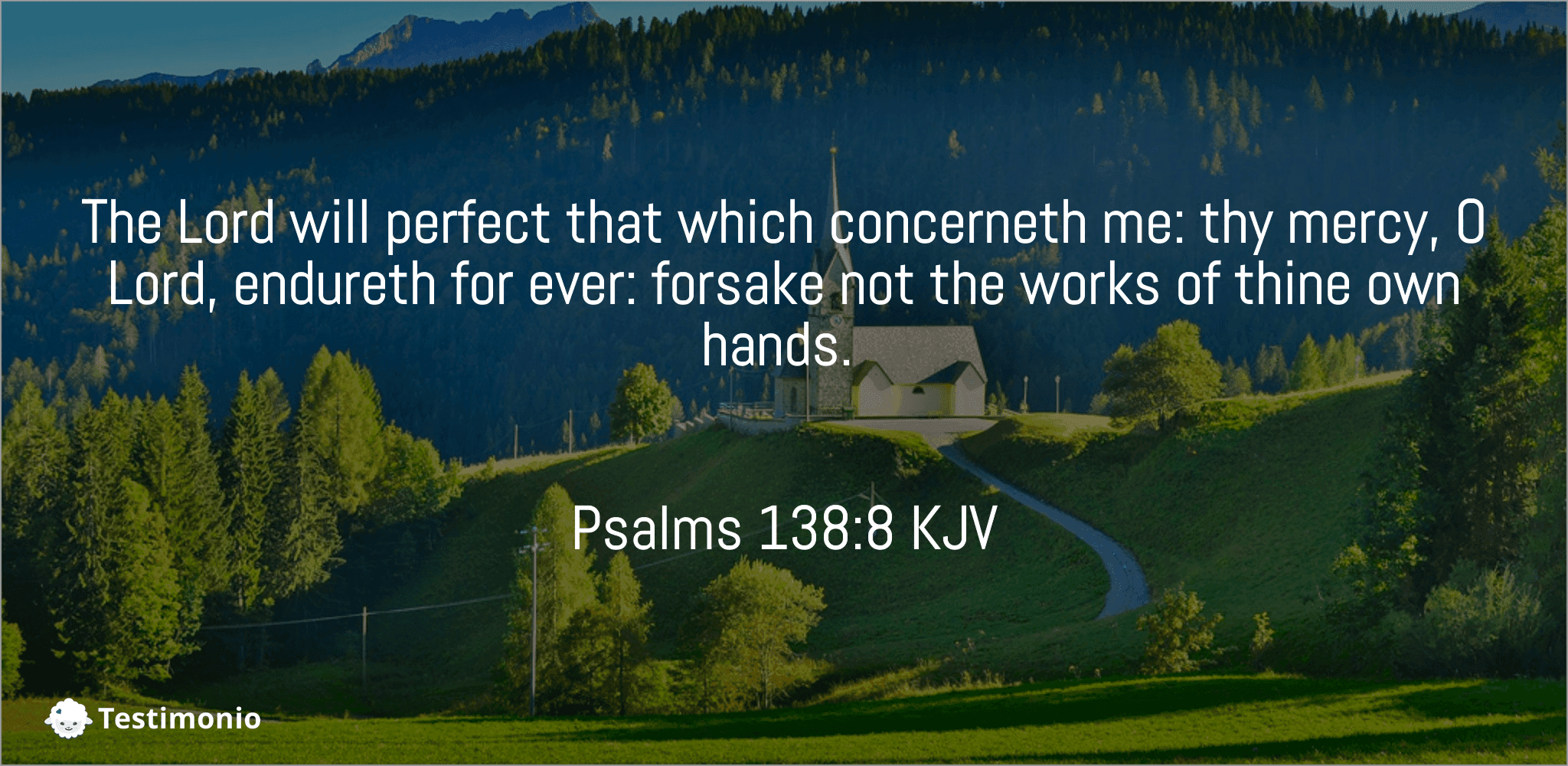 The Lord will perfect that which concerneth me: thy mercy, O Lord, endureth for ever: forsake not the works of thine own hands.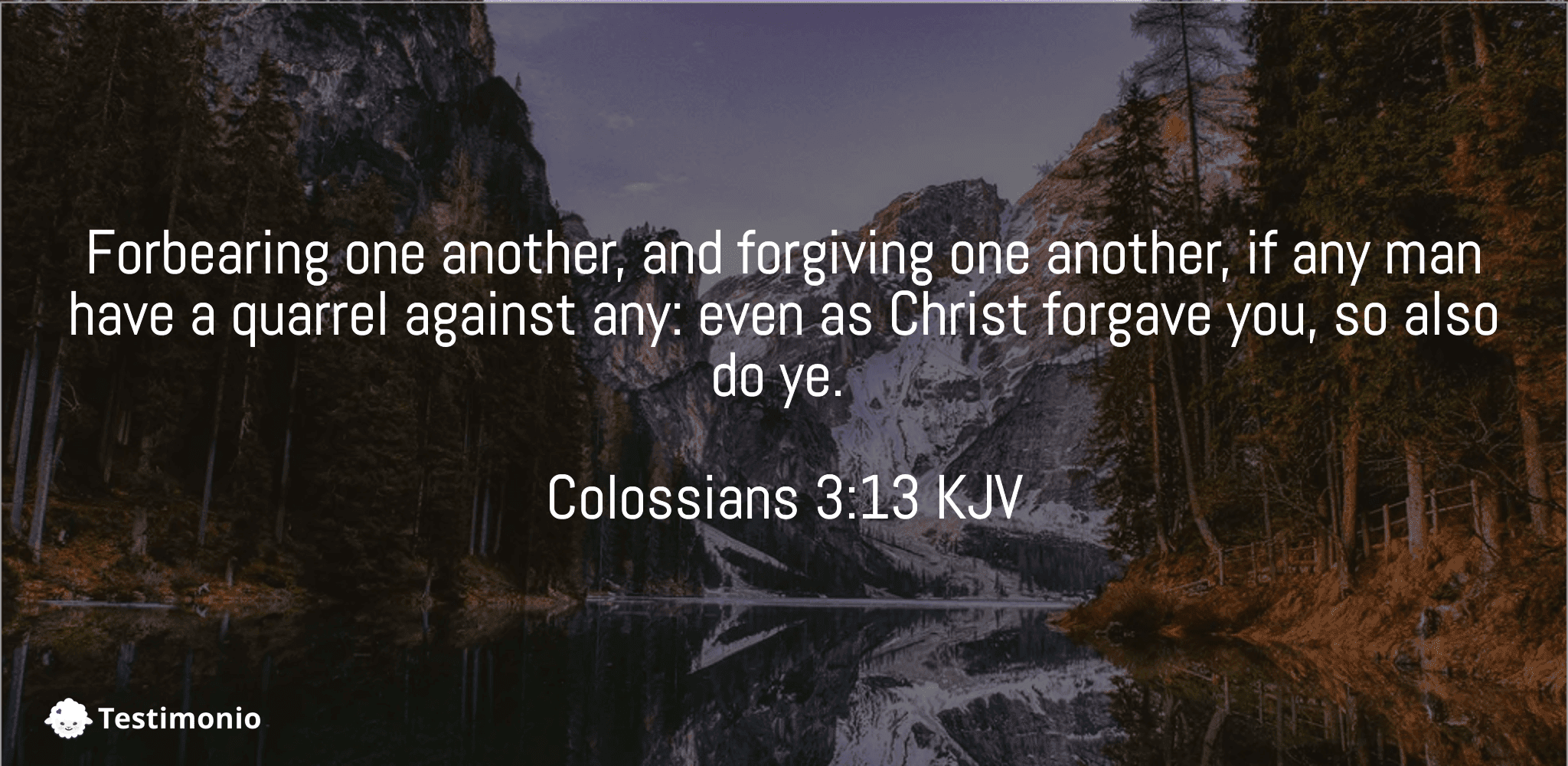 Forbearing one another, and forgiving one another, if any man have a quarrel against any: even as Christ forgave you, so also do ye.
Judge not, and ye shall not be judged: condemn not, and ye shall not be condemned: forgive, and ye shall be forgiven: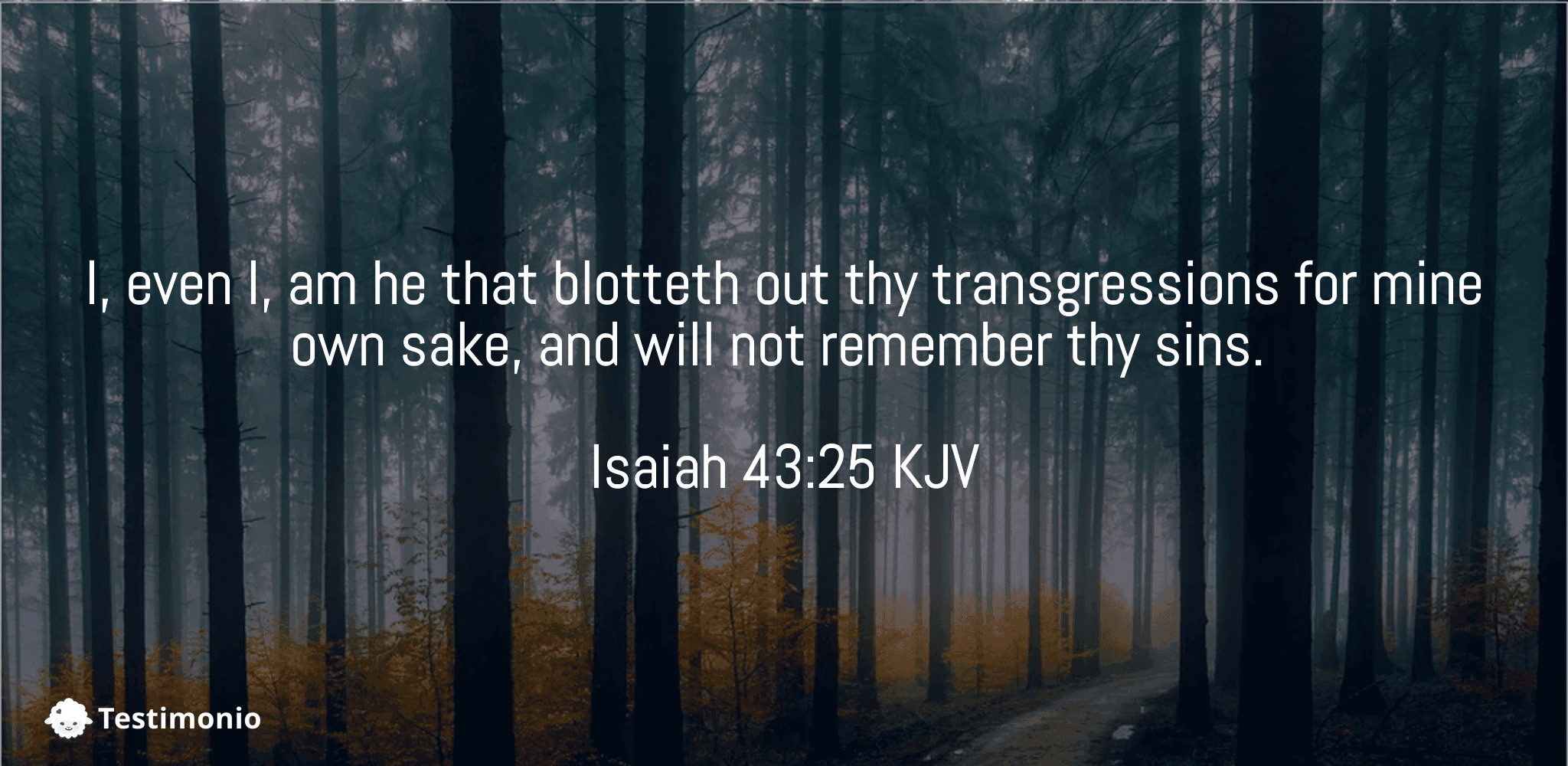 I, even I, am he that blotteth out thy transgressions for mine own sake, and will not remember thy sins.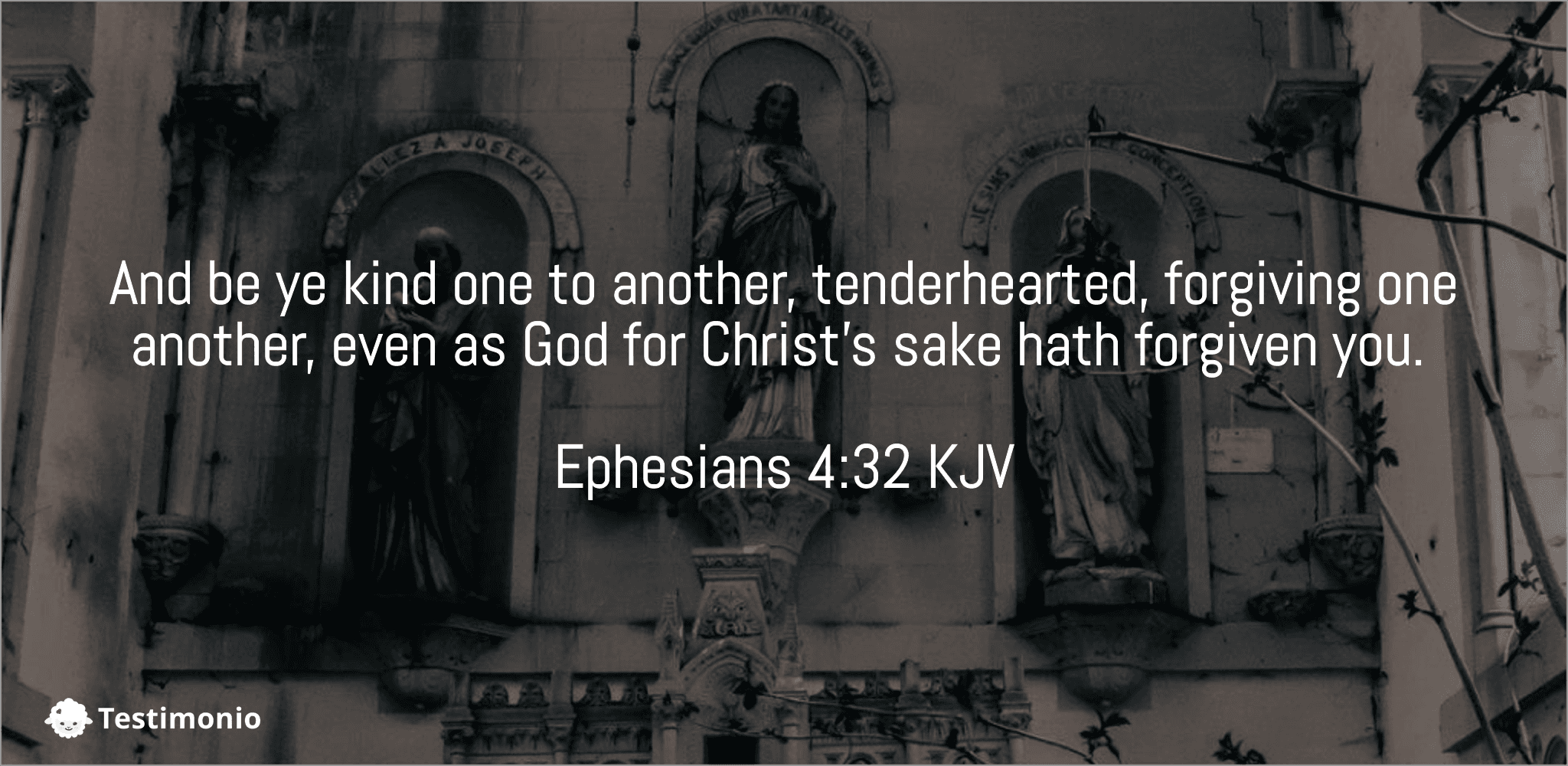 And be ye kind one to another, tenderhearted, forgiving one another, even as God for Christ's sake hath forgiven you.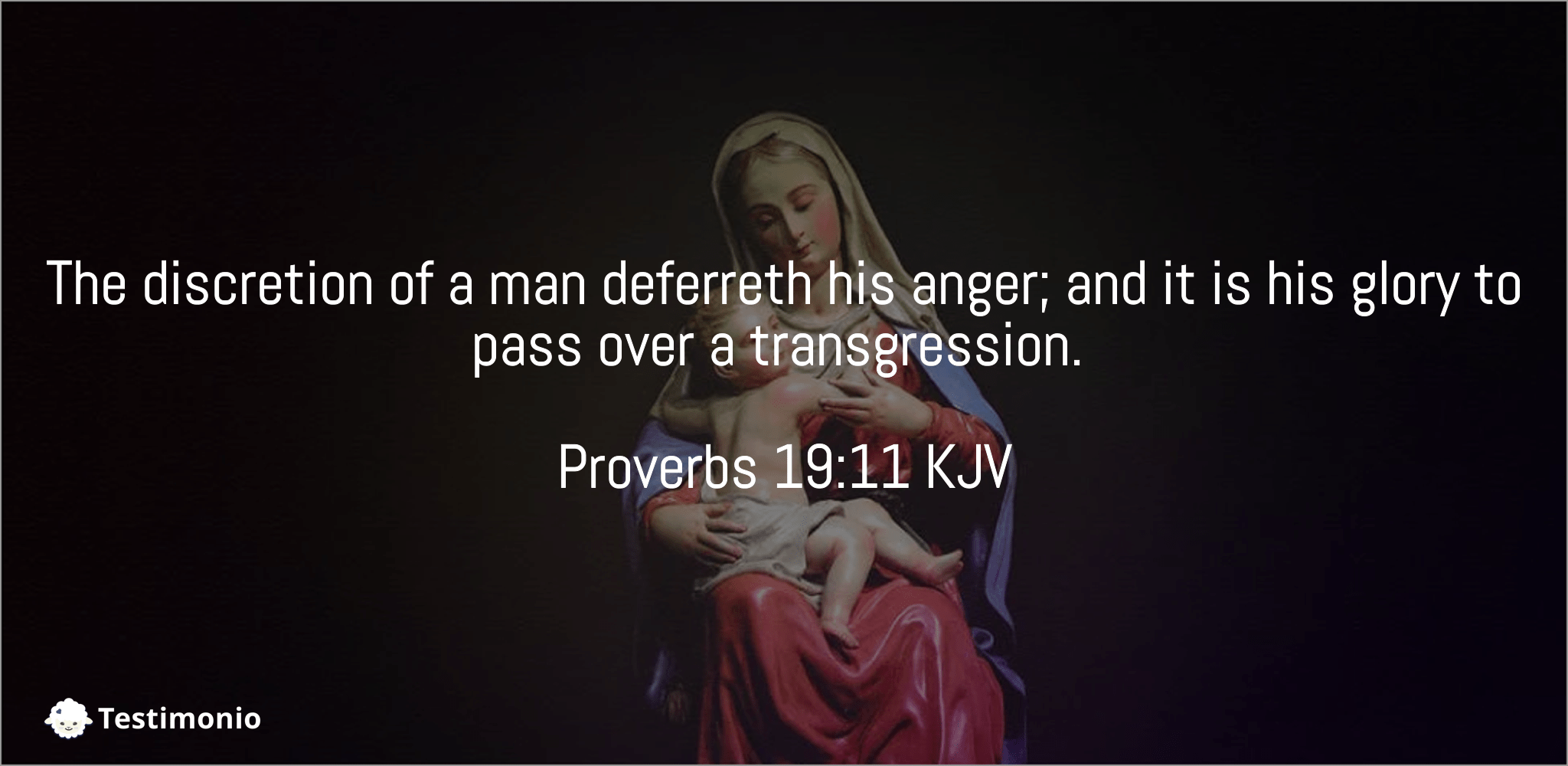 The discretion of a man deferreth his anger; and it is his glory to pass over a transgression.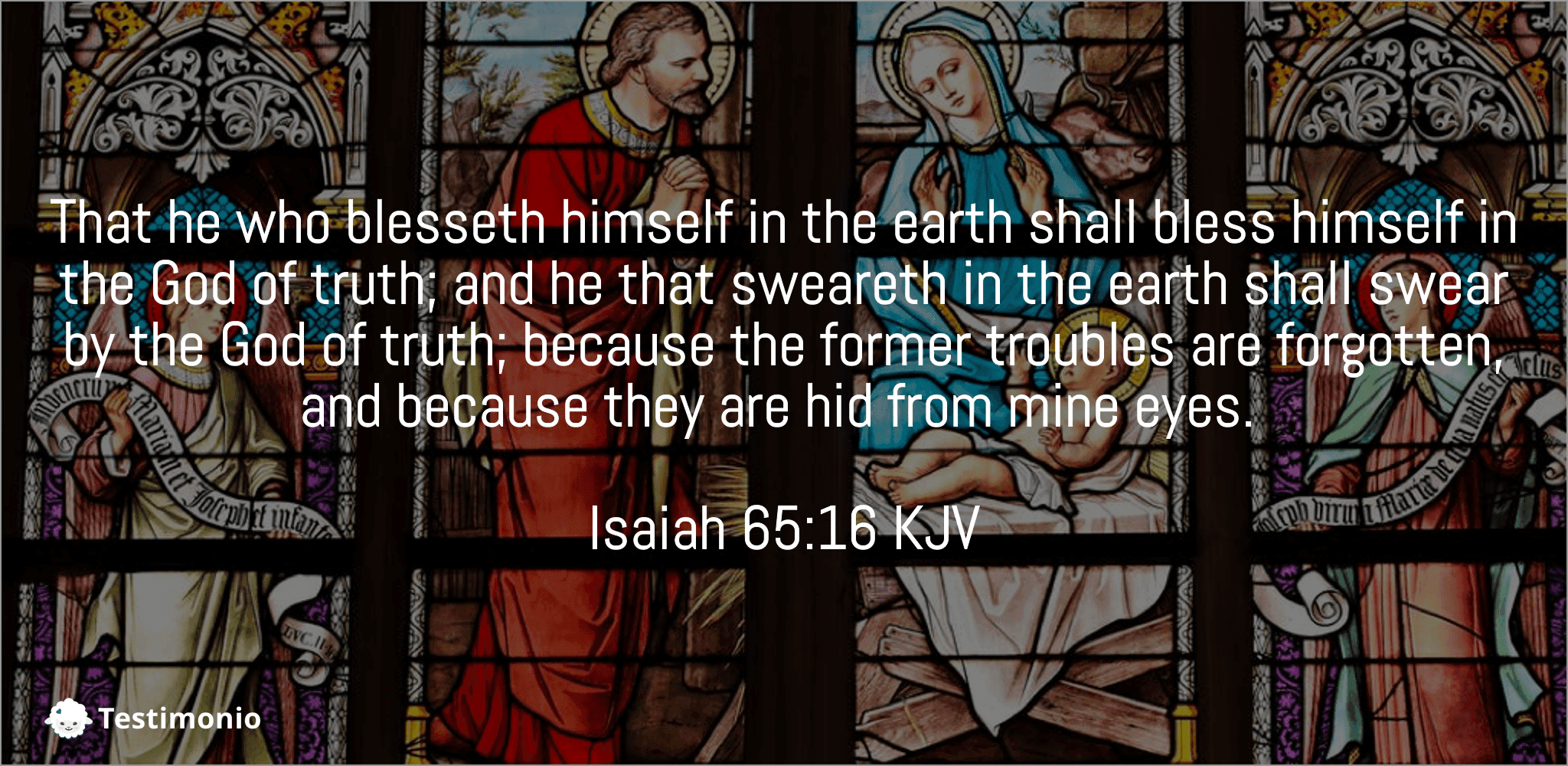 That he who blesseth himself in the earth shall bless himself in the God of truth; and he that sweareth in the earth shall swear by the God of truth; because the former troubles are forgotten, and because they are hid from mine eyes.