The Bible has powerful verses about healing from sickness. Have you experienced miraculous emotional and physical healing in your life? During Jesus Christ's life, He traveled to heal the sick. He was healing every disease He came across. His fame grew so large that people followed Him throughout the lands. He came proclaiming the good news of the kingdom and healing various diseases.
Disease and sickness are constant in the world. No matter where we look, it seems like there are pain and suffering. But God heals all your diseases. He heals up the brokenhearted and binds up their wounds. Pay attention to the healing Scriptures and praise the Lord for His goodness. Ask the Holy Spirit to fill your heart and bring health and peace to your day.
If you seek God's healing, say a prayer of faith and know that the Lord will raise you. The Word of God is filled with verses about healing. Jesus brought us peace and for our transgressions. He brings His Kingdom and healing and saves your life from the pit. We hope that these encouraging Bible verses about healing bring you confidence in God's magnificent grace and mercy for us. Let these Scriptures on healing bring peace to your heart today.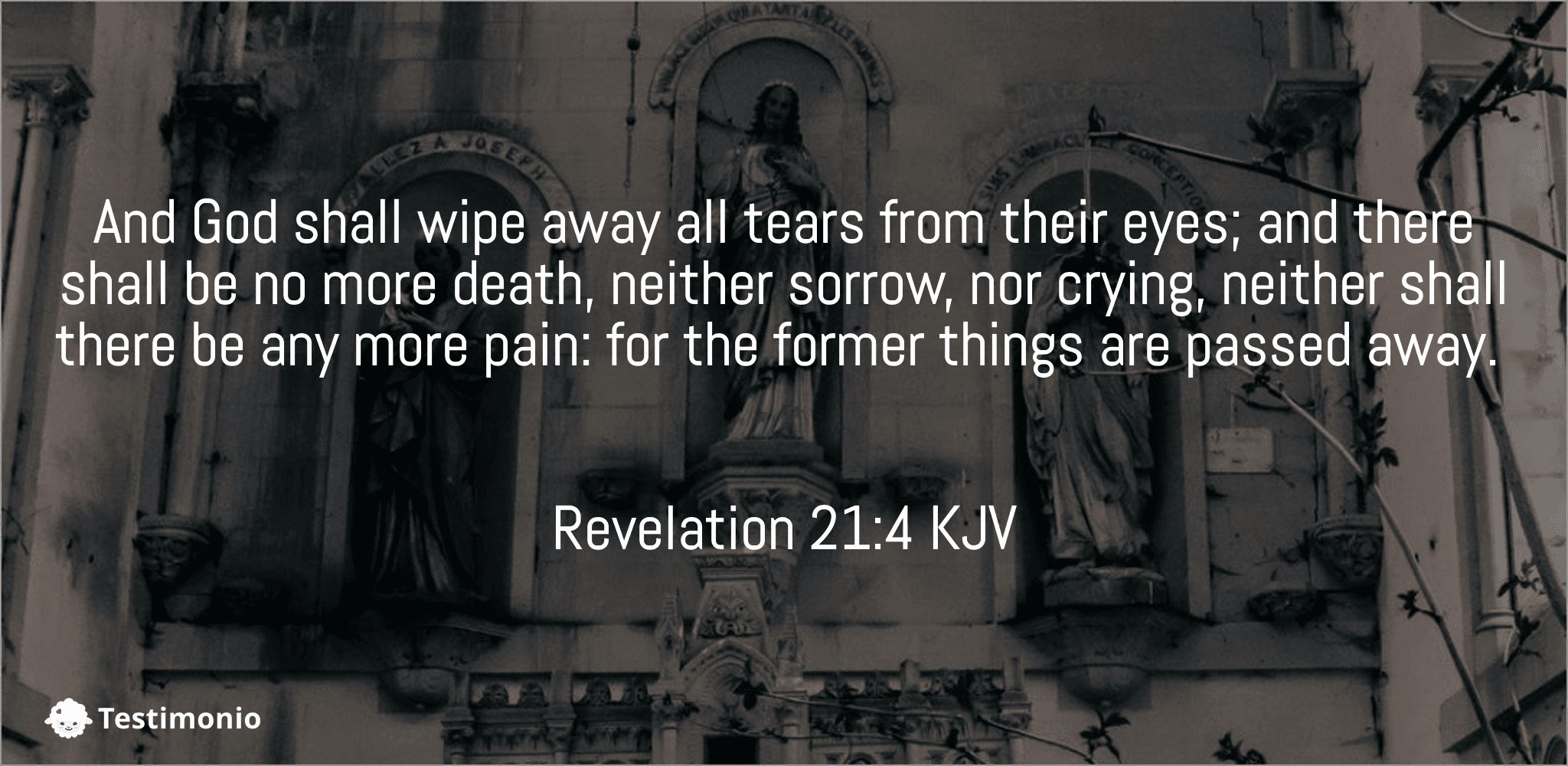 And God shall wipe away all tears from their eyes; and there shall be no more death, neither sorrow, nor crying, neither shall there be any more pain: for the former things are passed away.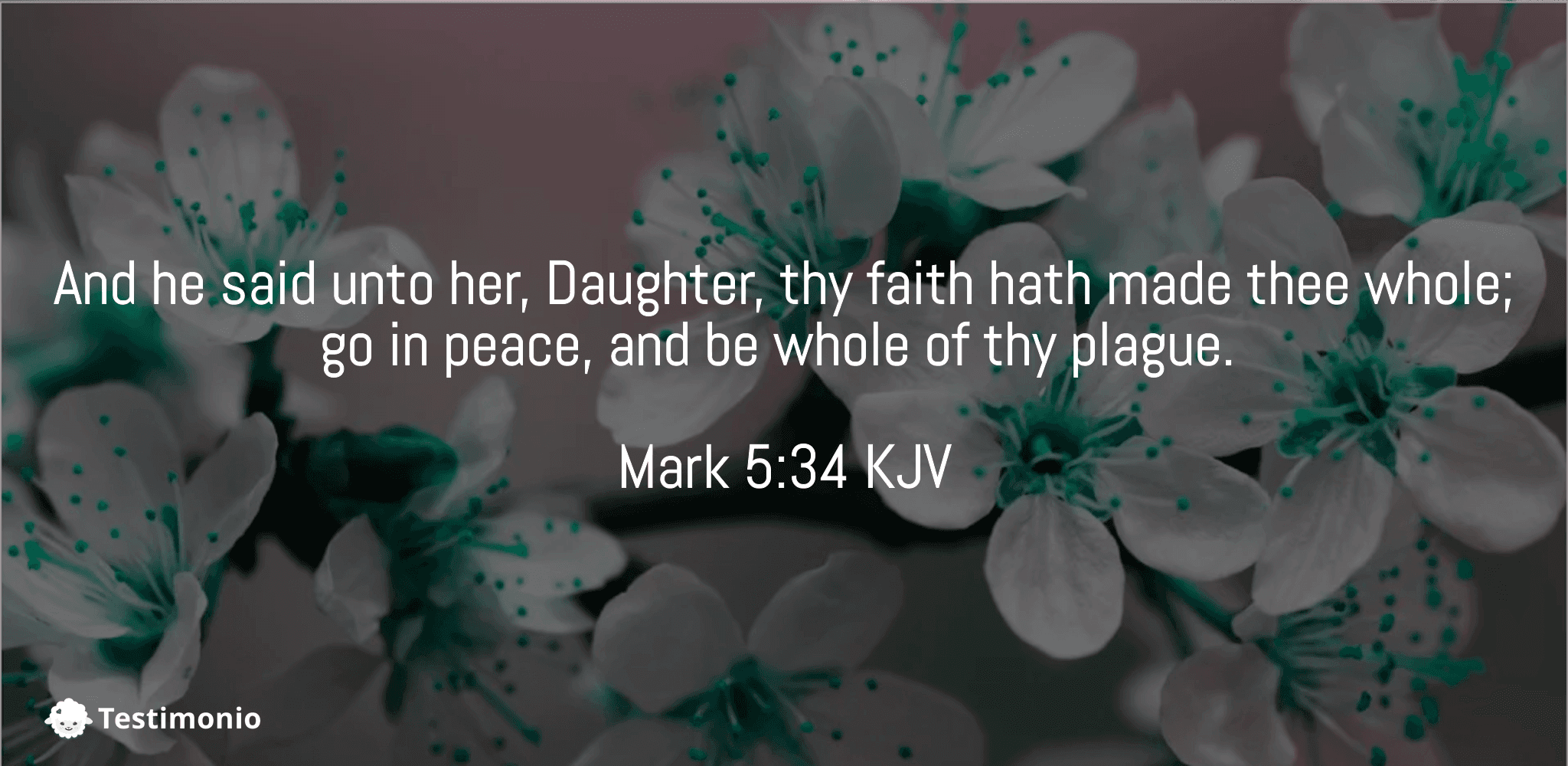 And he said unto her, Daughter, thy faith hath made thee whole; go in peace, and be whole of thy plague.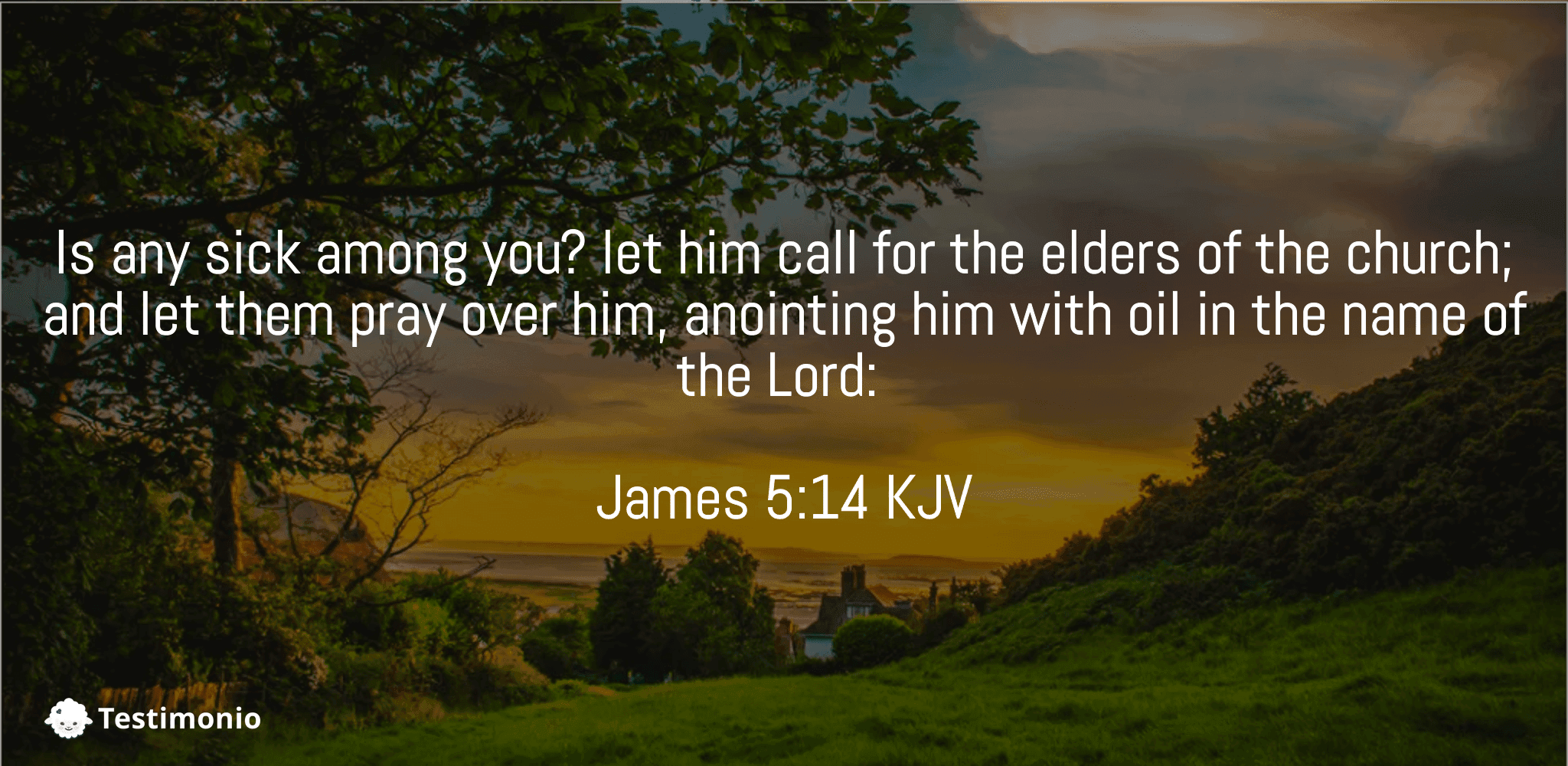 Is any sick among you? let him call for the elders of the church; and let them pray over him, anointing him with oil in the name of the Lord: And the prayer of faith shall save the sick, and the Lord shall raise him up; and if he have committed sins, they shall be forgiven him. Confess your faults one to another, and pray one for another, that ye may be healed. The effectual fervent prayer of a righteous man availeth much.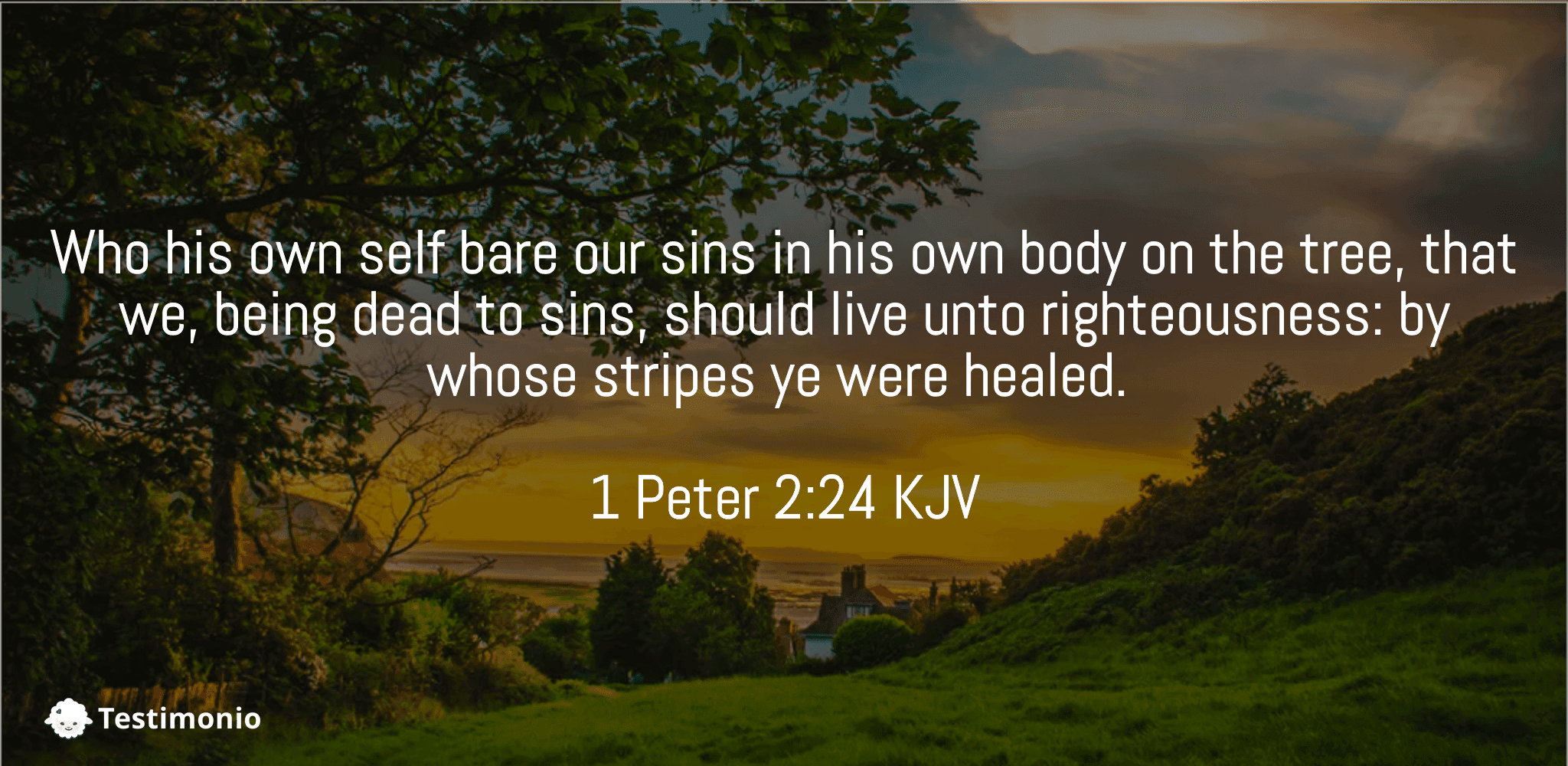 Who his own self bare our sins in his own body on the tree, that we, being dead to sins, should live unto righteousness: by whose stripes ye were healed.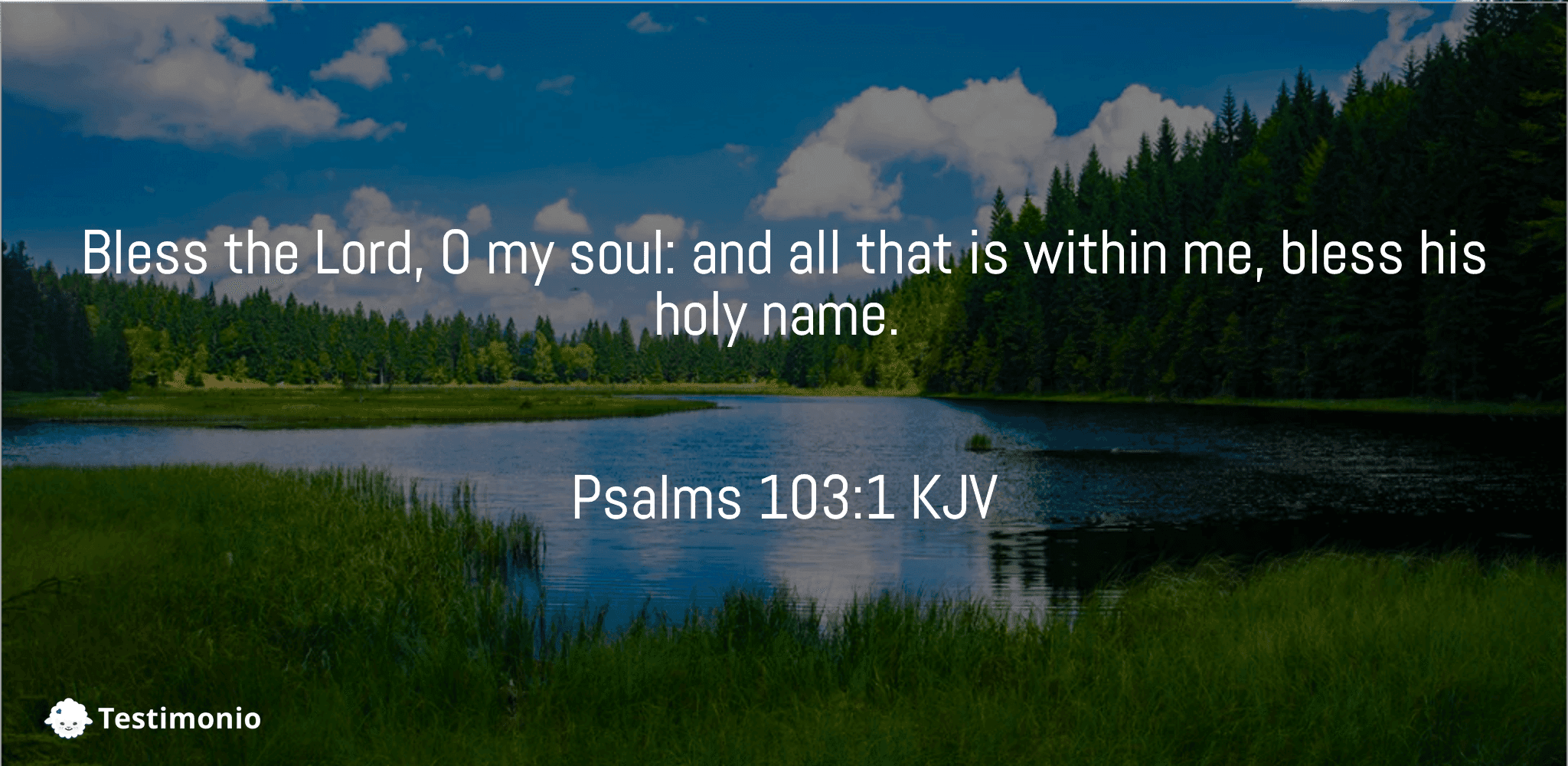 Bless the LORD, O my soul: and all that is within me, bless his holy name. Bless the LORD, O my soul, and forget not all his benefits: Who forgiveth all thine iniquities; who healeth all thy diseases; Who redeemeth thy life from destruction; who crowneth thee with lovingkindness and tender mercies; Who satisfieth thy mouth with good things; so that thy youth is renewed like the eagle's.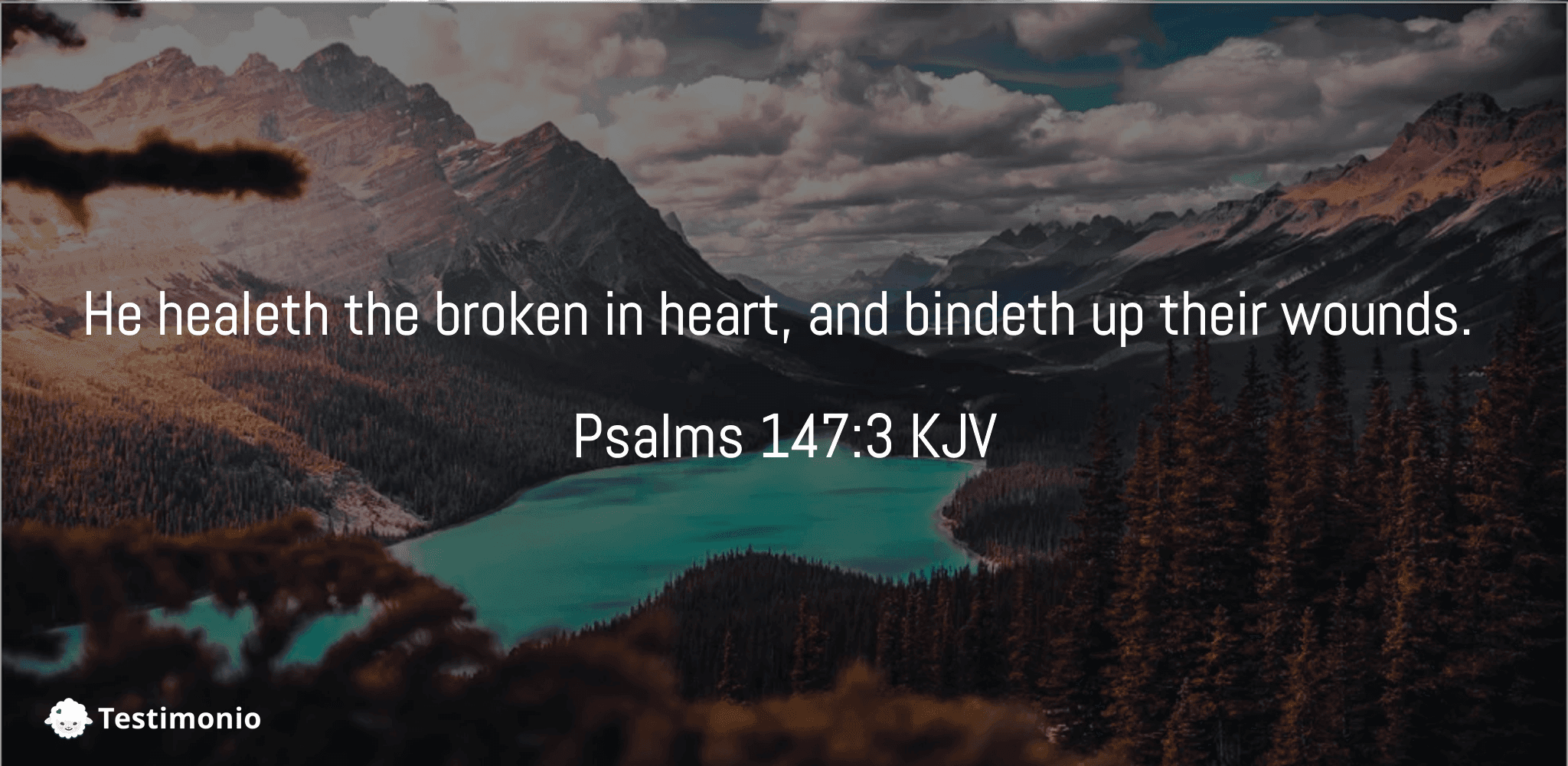 The LORD doth build up Jerusalem: he gathereth together the outcasts of Israel. He healeth the broken in heart, and bindeth up their wounds. He telleth the number of the stars; he calleth them all by their names.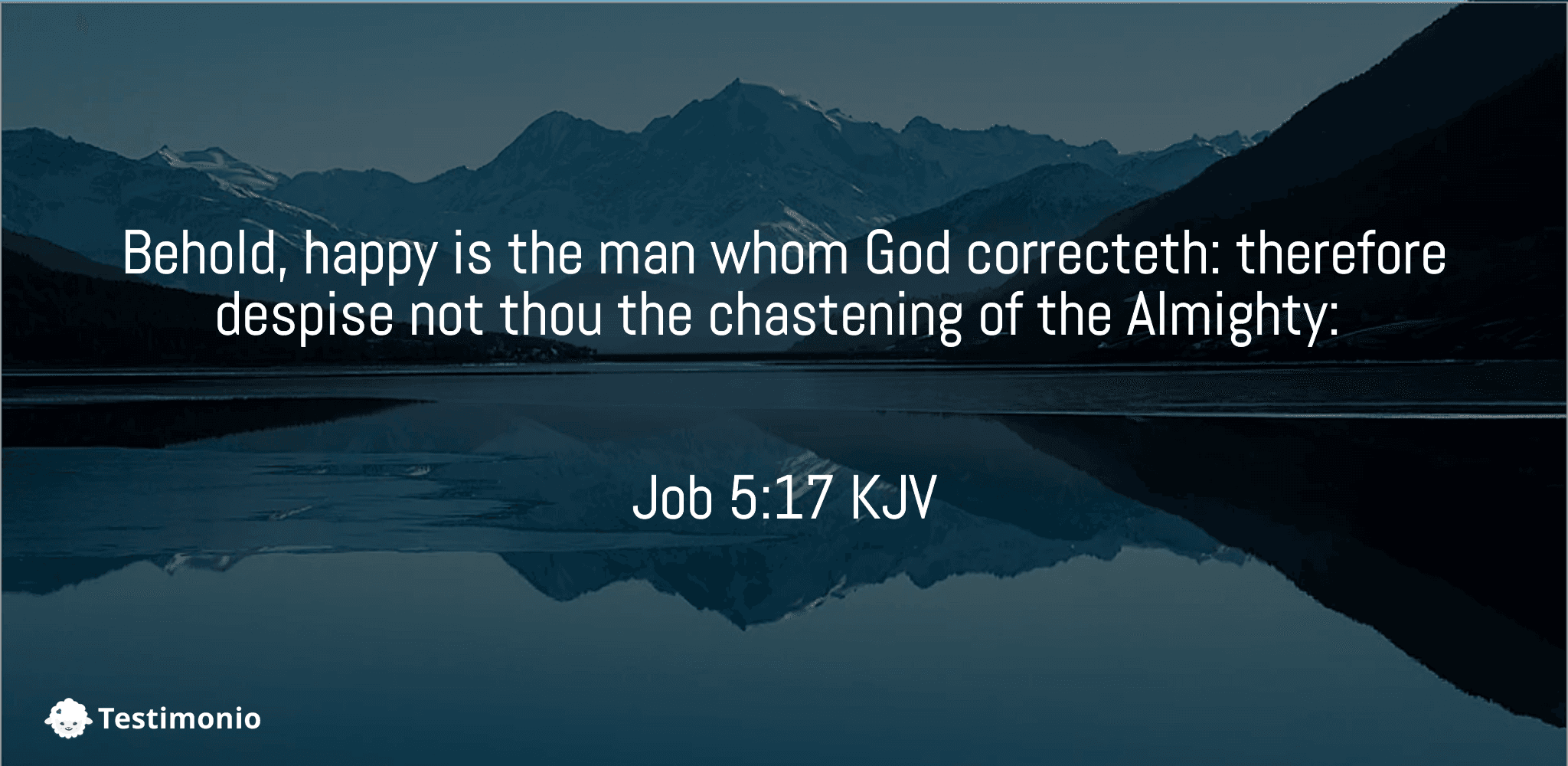 Behold, happy is the man whom God correcteth: therefore despise not thou the chastening of the Almighty: For he maketh sore, and bindeth up: he woundeth, and his hands make whole. He shall deliver thee in six troubles: yea, in seven there shall no evil touch thee. In famine he shall redeem thee from death: and in war from the power of the sword.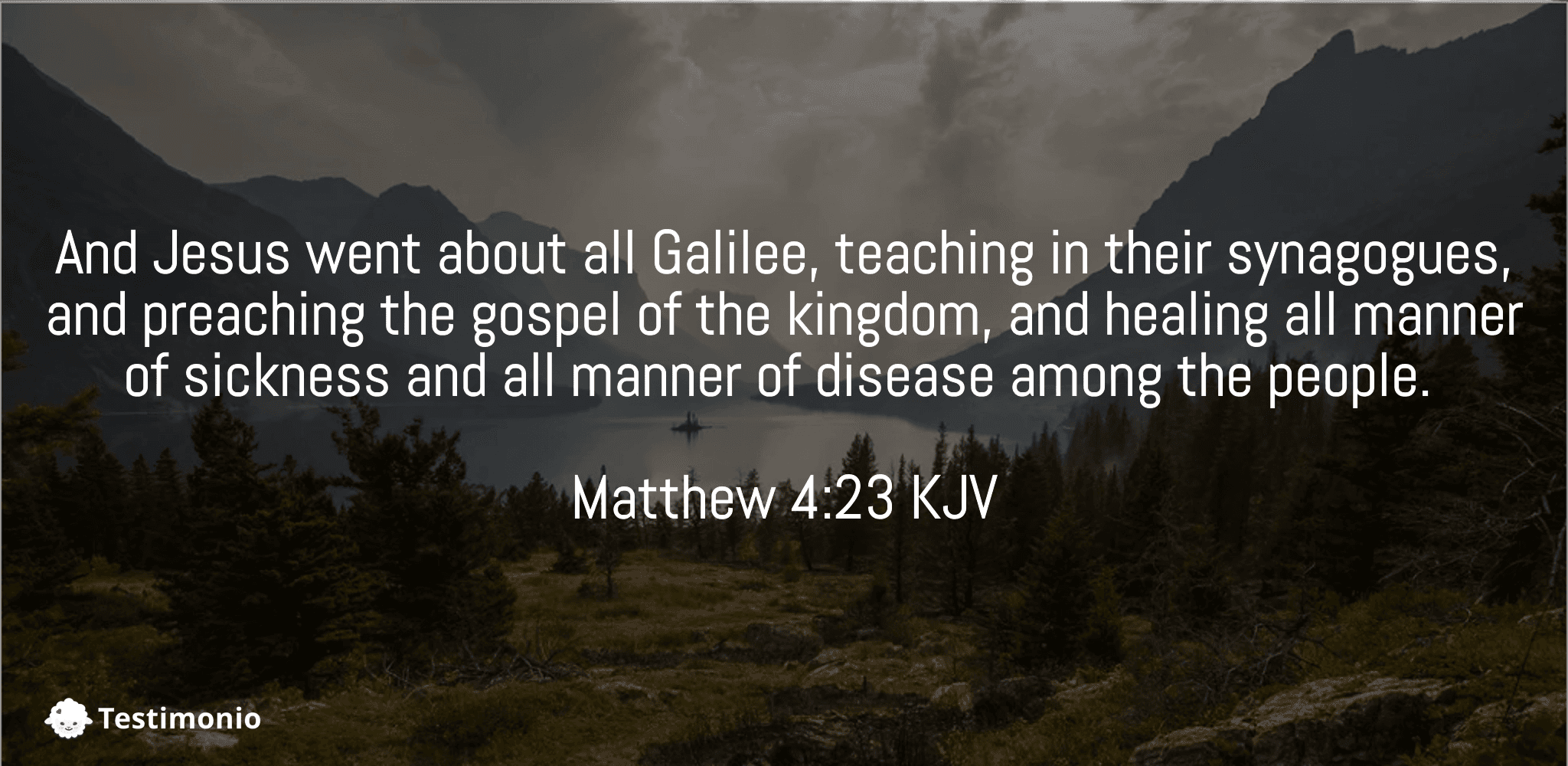 And Jesus went about all Galilee, teaching in their synagogues, and preaching the gospel of the kingdom, and healing all manner of sickness and all manner of disease among the people.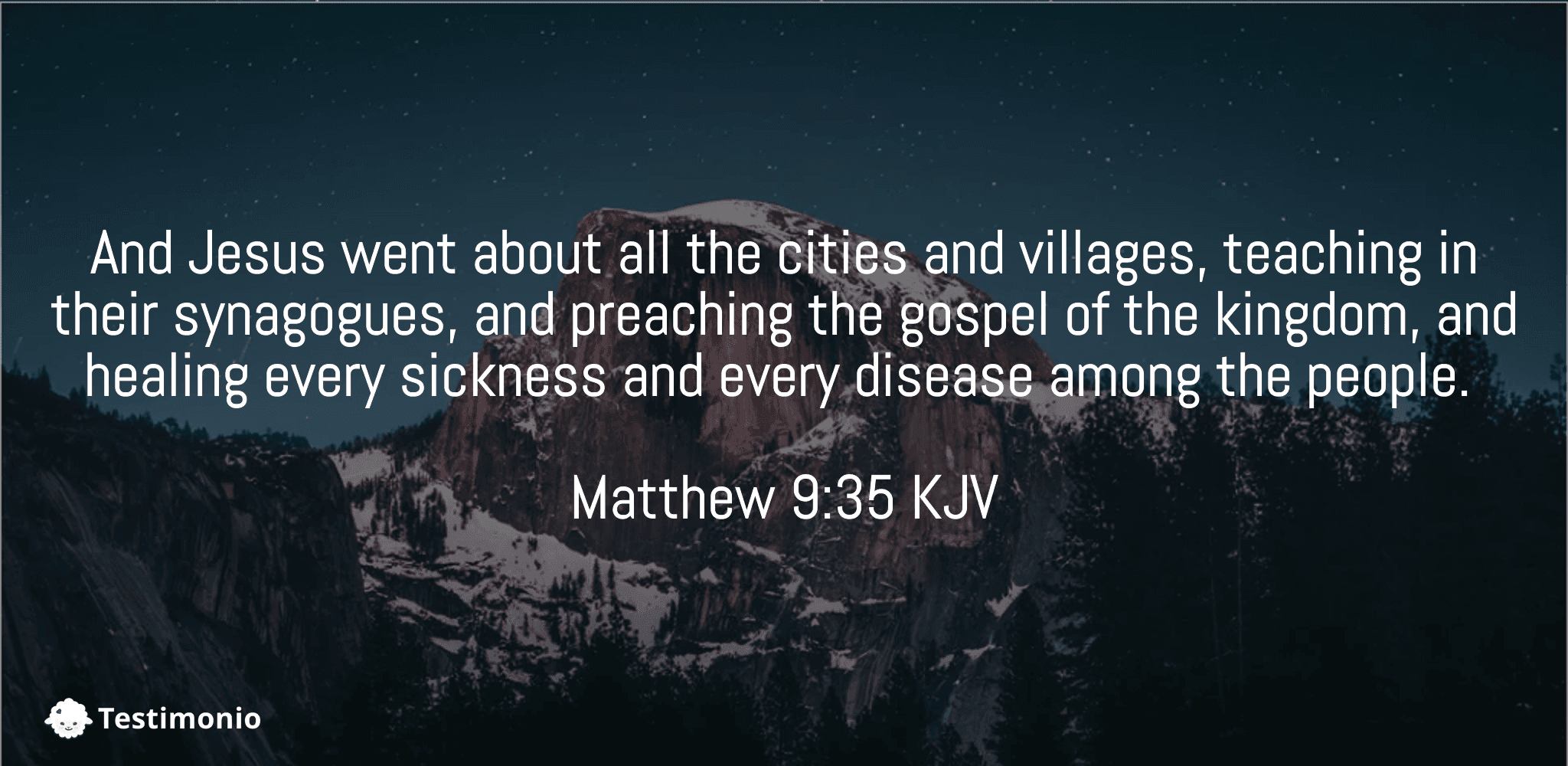 And Jesus went about all the cities and villages, teaching in their synagogues, and preaching the gospel of the kingdom, and healing every sickness and every disease among the people.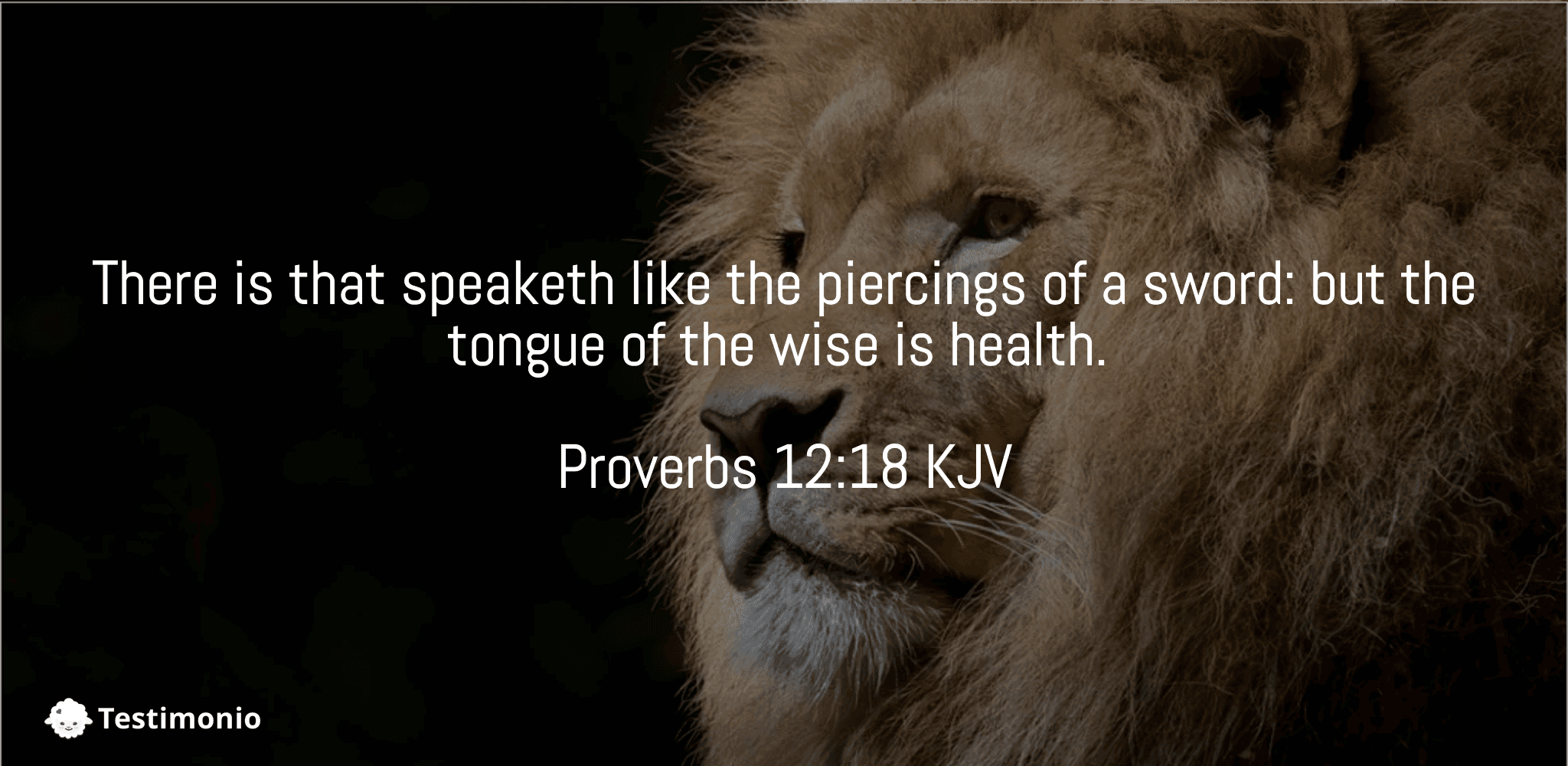 There is that speaketh like the piercings of a sword: but the tongue of the wise is health.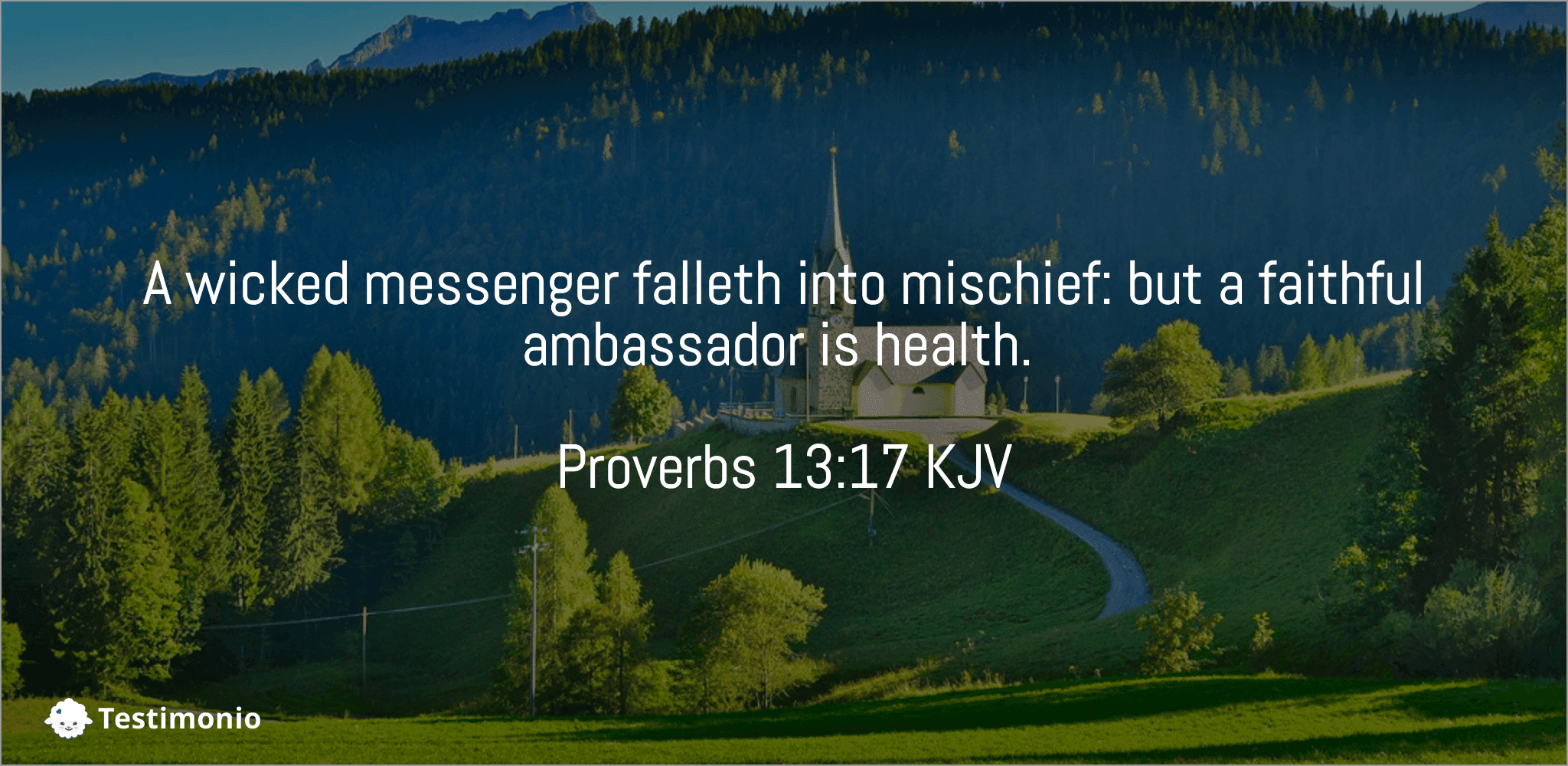 A wicked messenger falleth into mischief: but a faithful ambassador is health.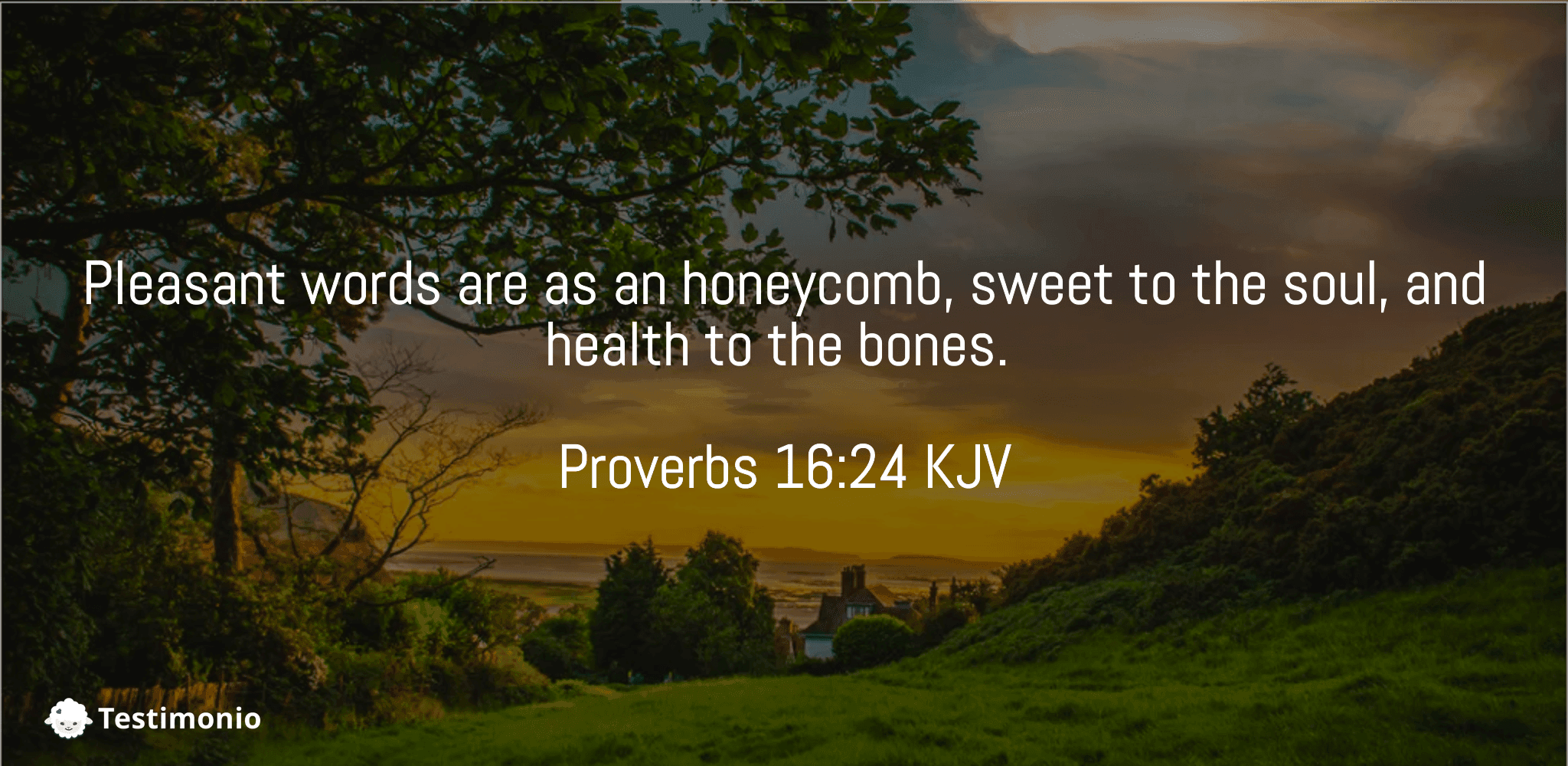 Pleasant words are as an honeycomb, sweet to the soul, and health to the bones.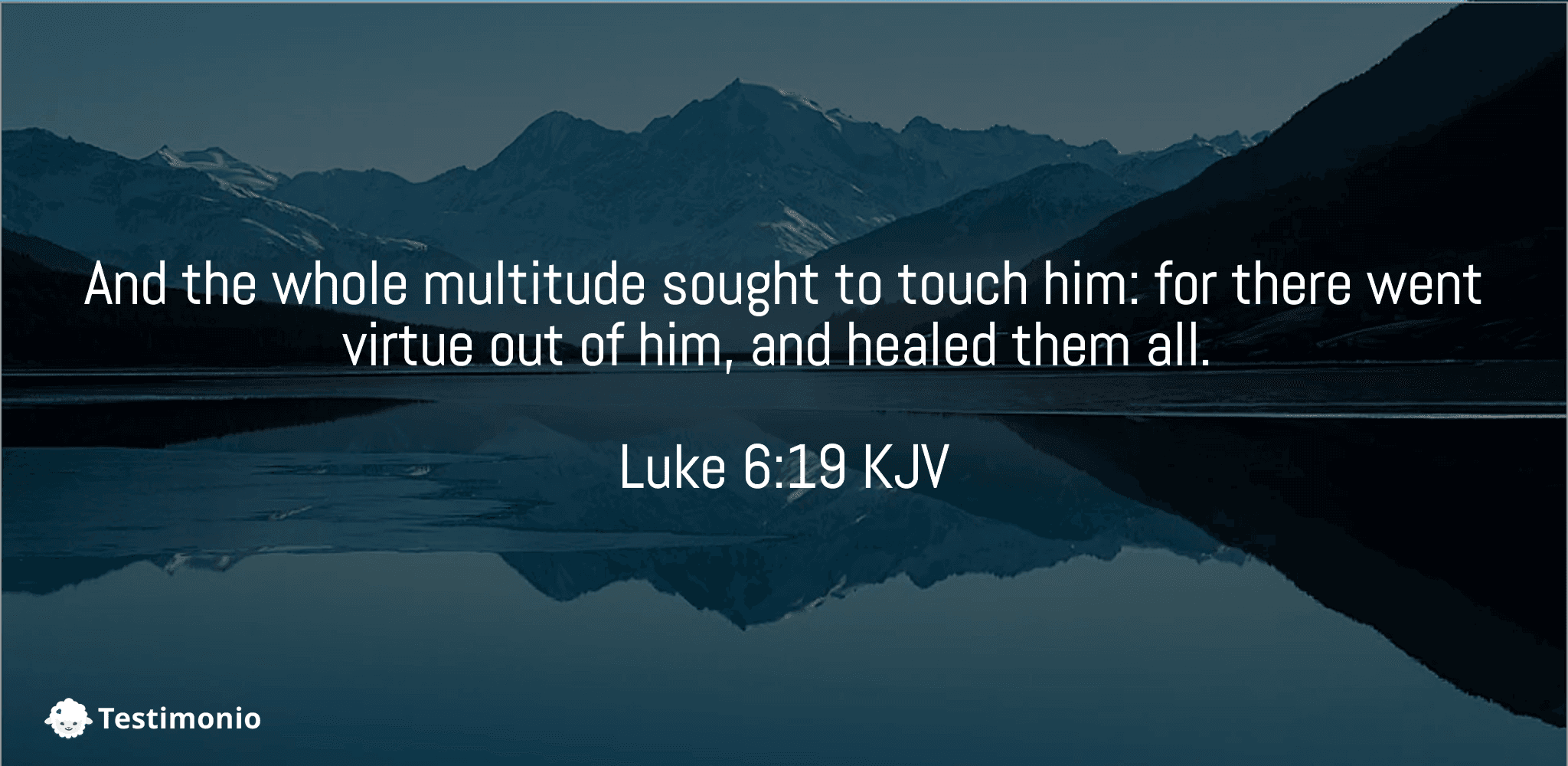 And he came down with them, and stood in the plain, and the company of his disciples, and a great multitude of people out of all Judaea and Jerusalem, and from the sea coast of Tyre and Sidon, which came to hear him, and to be healed of their diseases; And they that were vexed with unclean spirits: and they were healed. And the whole multitude sought to touch him: for there went virtue out of him, and healed them all.
After these things Jesus went over the sea of Galilee, which is the sea of Tiberias. And a great multitude followed him, because they saw his miracles which he did on them that were diseased.
Beloved, I wish above all things that thou mayest prosper and be in health, even as thy soul prospereth.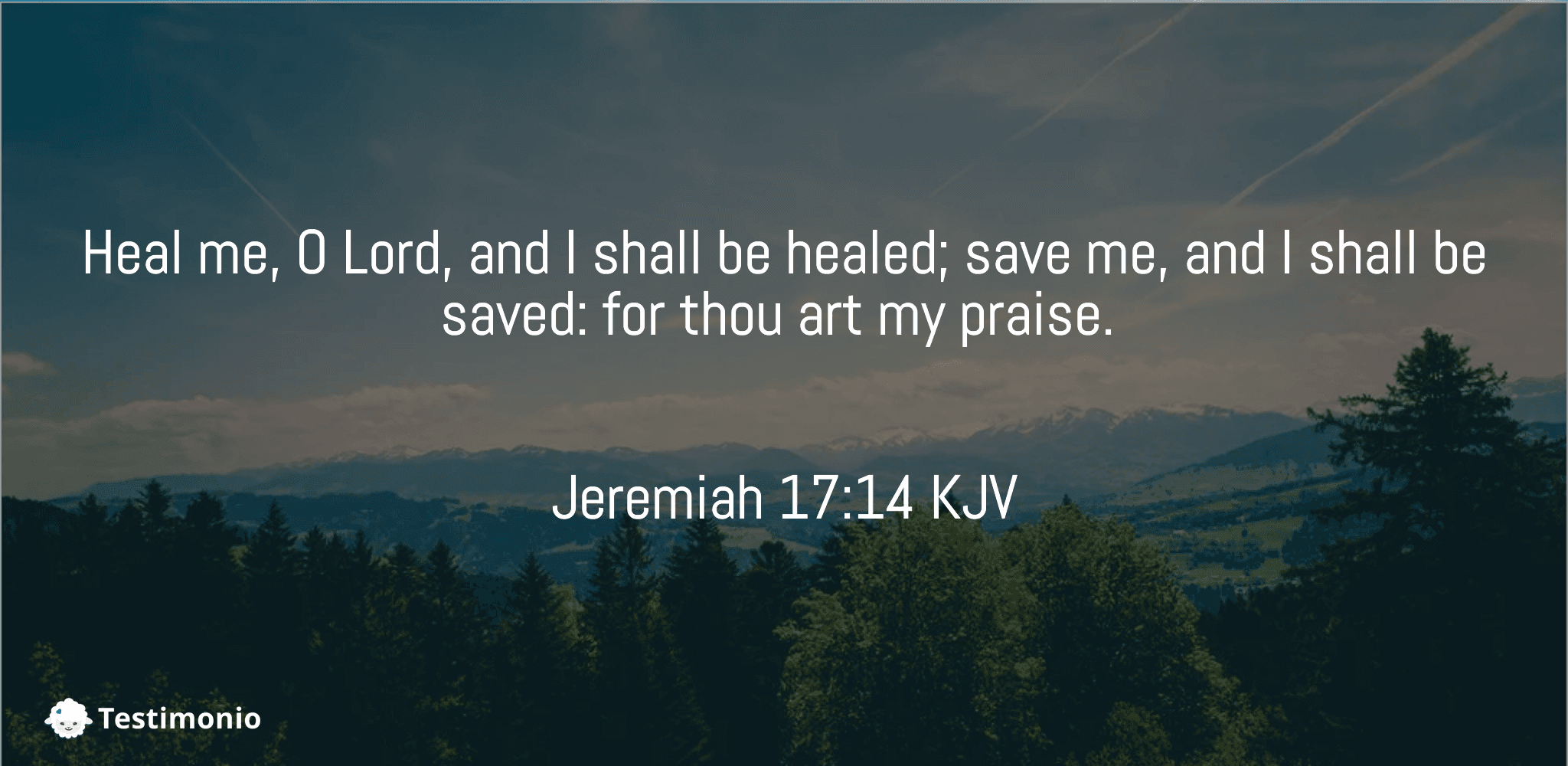 Heal me, O LORD, and I shall be healed; save me, and I shall be saved: for thou art my praise.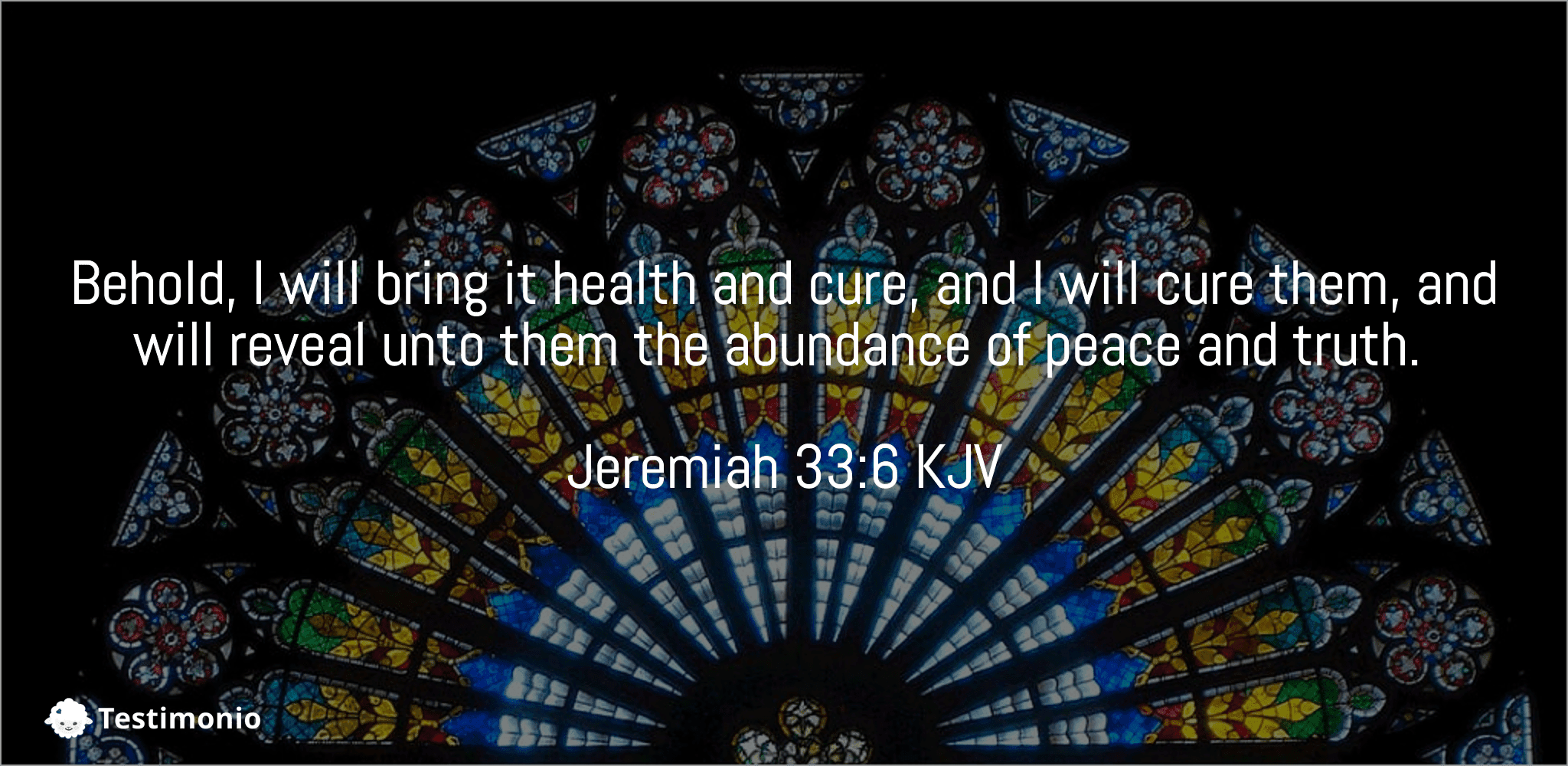 Behold, I will bring it health and cure, and I will cure them, and will reveal unto them the abundance of peace and truth.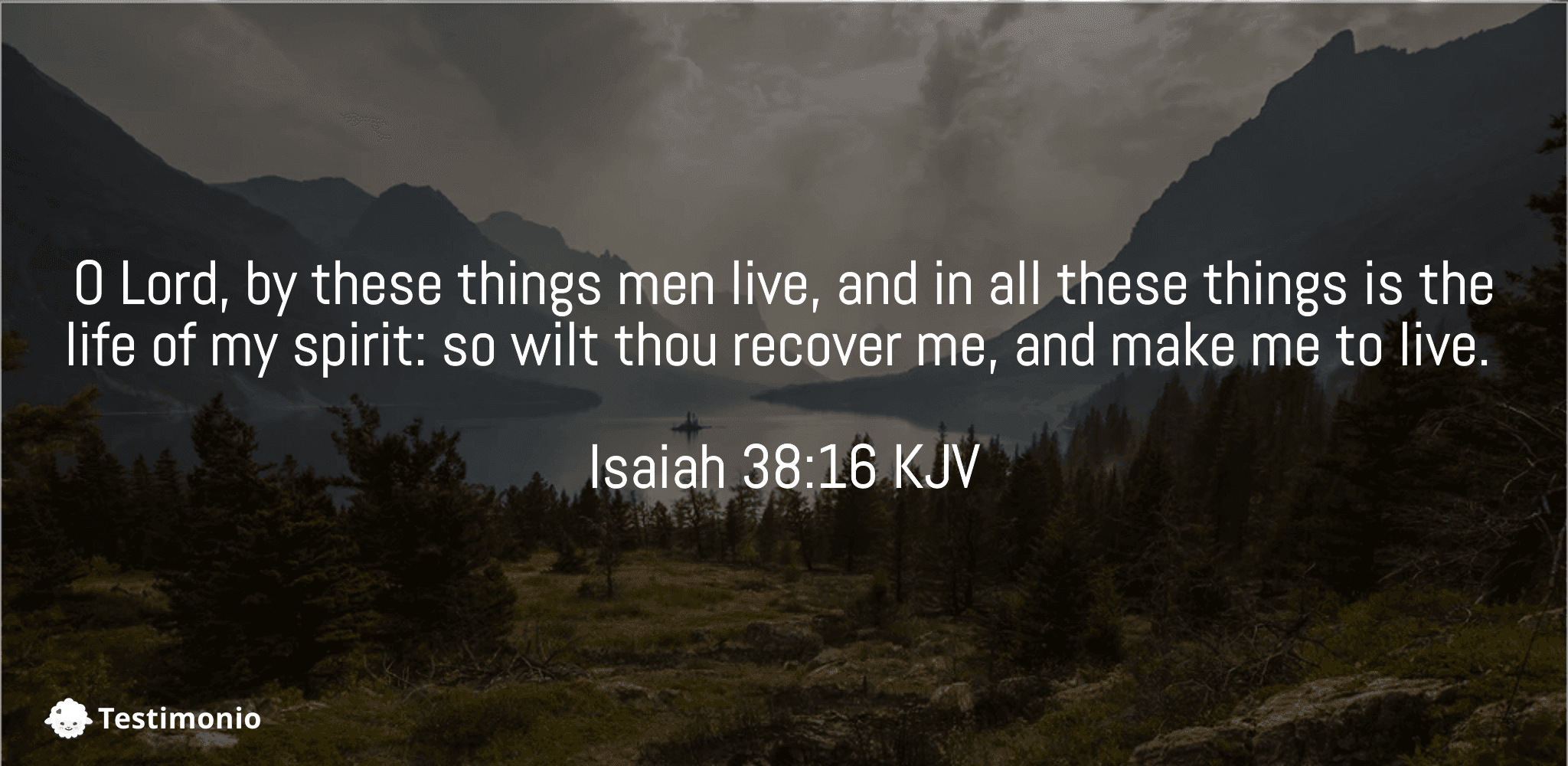 Lord, by such things people live; and my spirit finds life in them. O LORD, by these things men live, and in all these things is the life of my spirit: so wilt thou recover me, and make me to live. Behold, for peace I had great bitterness: but thou hast in love to my soul delivered it from the pit of corruption: for thou hast cast all my sins behind thy back.
Fear thou not; for I am with thee: be not dismayed; for I am thy God: I will strengthen thee; yea, I will help thee; yea, I will uphold thee with the right hand of my righteousness.
Then shall thy light break forth as the morning, and thine health shall spring forth speedily: and thy righteousness shall go before thee; the glory of the LORD shall be thy reward.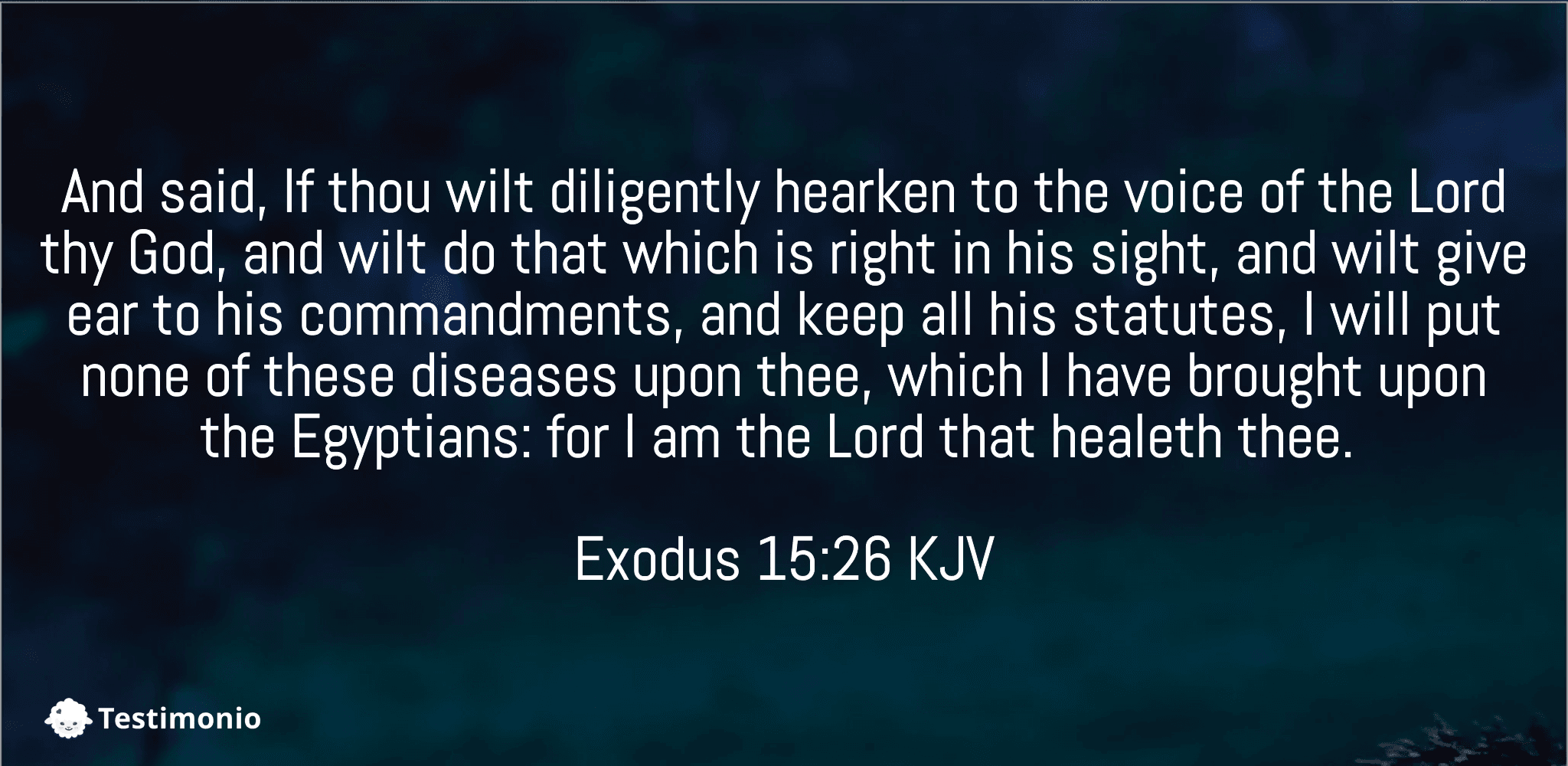 And said, If thou wilt diligently hearken to the voice of the LORD thy God, and wilt do that which is right in his sight, and wilt give ear to his commandments, and keep all his statutes, I will put none of these diseases upon thee, which I have brought upon the Egyptians: for I am the LORD that healeth thee.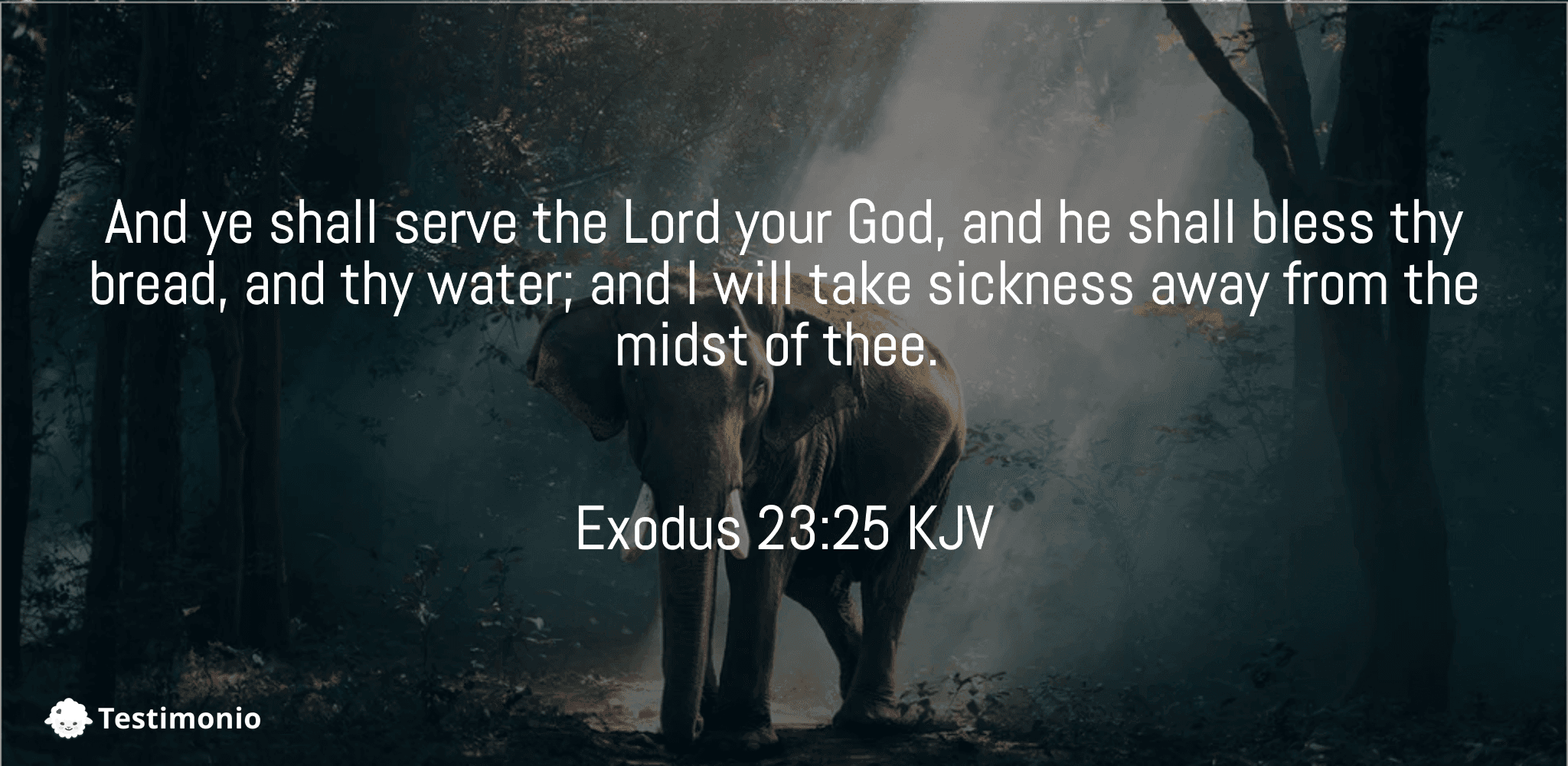 And ye shall serve the LORD your God, and he shall bless thy bread, and thy water; and I will take sickness away from the midst of thee.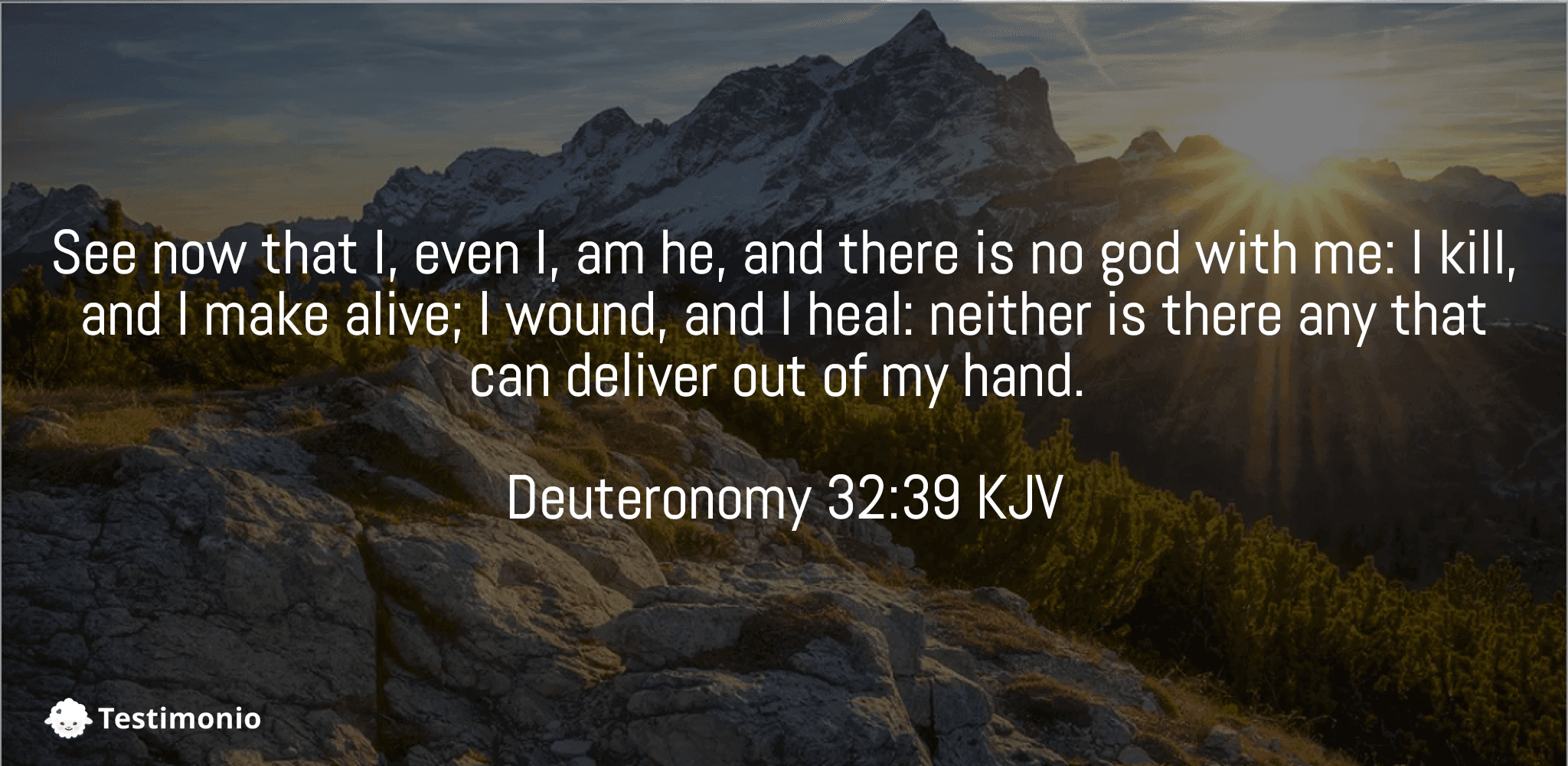 See now that I, even I, am he, and there is no god with me: I kill, and I make alive; I wound, and I heal: neither is there any that can deliver out of my hand.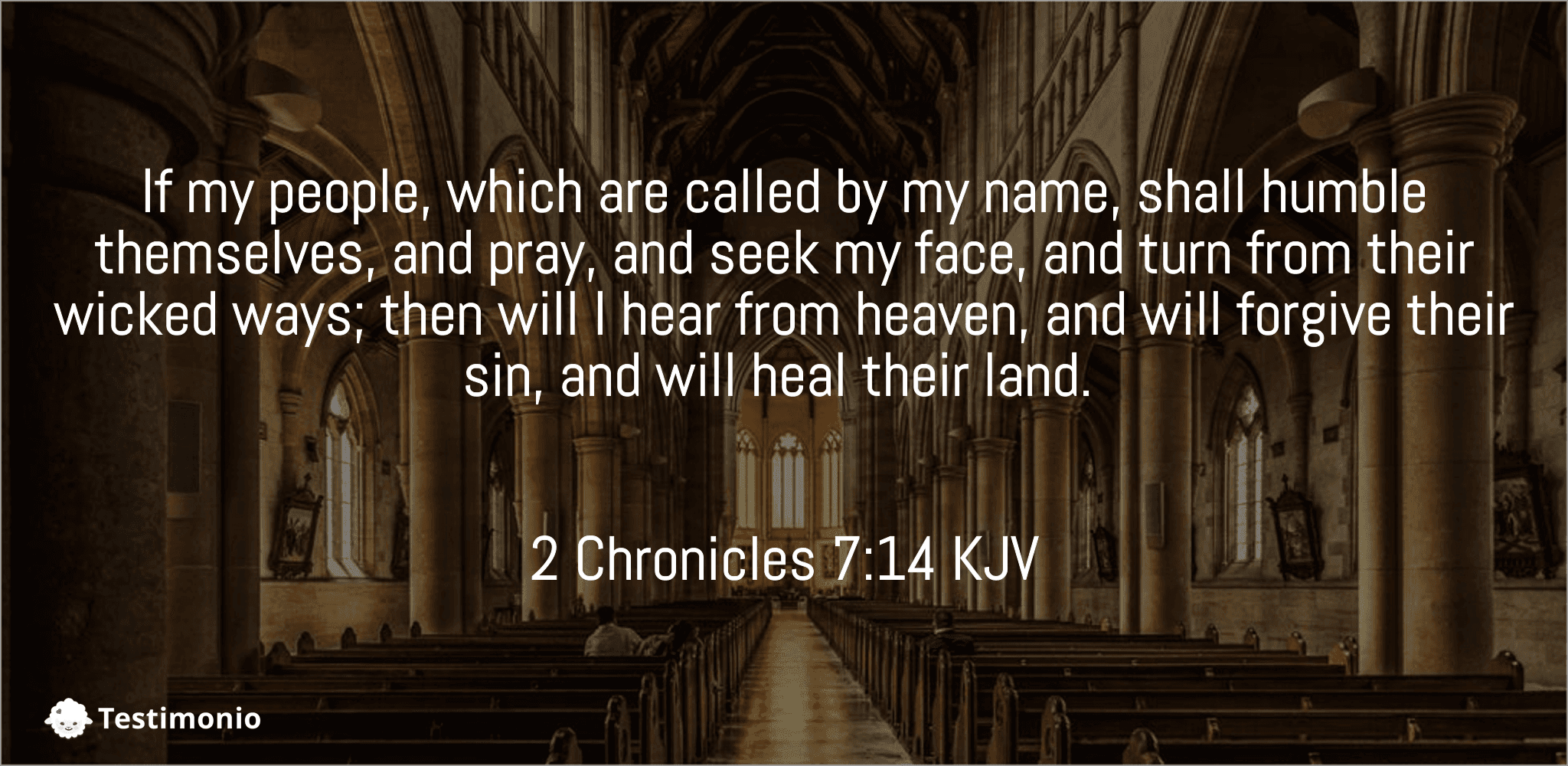 If my people, which are called by my name, shall humble themselves, and pray, and seek my face, and turn from their wicked ways; then will I hear from heaven, and will forgive their sin, and will heal their land.
Some wounds we carry no one can see with their eyes. But we can still count on God through prayers for peace amidst pandemic fears. Suffering reminds us that God is in control. We may have carried spiritual burdens with us for a long time, but we can count on God for health and healing.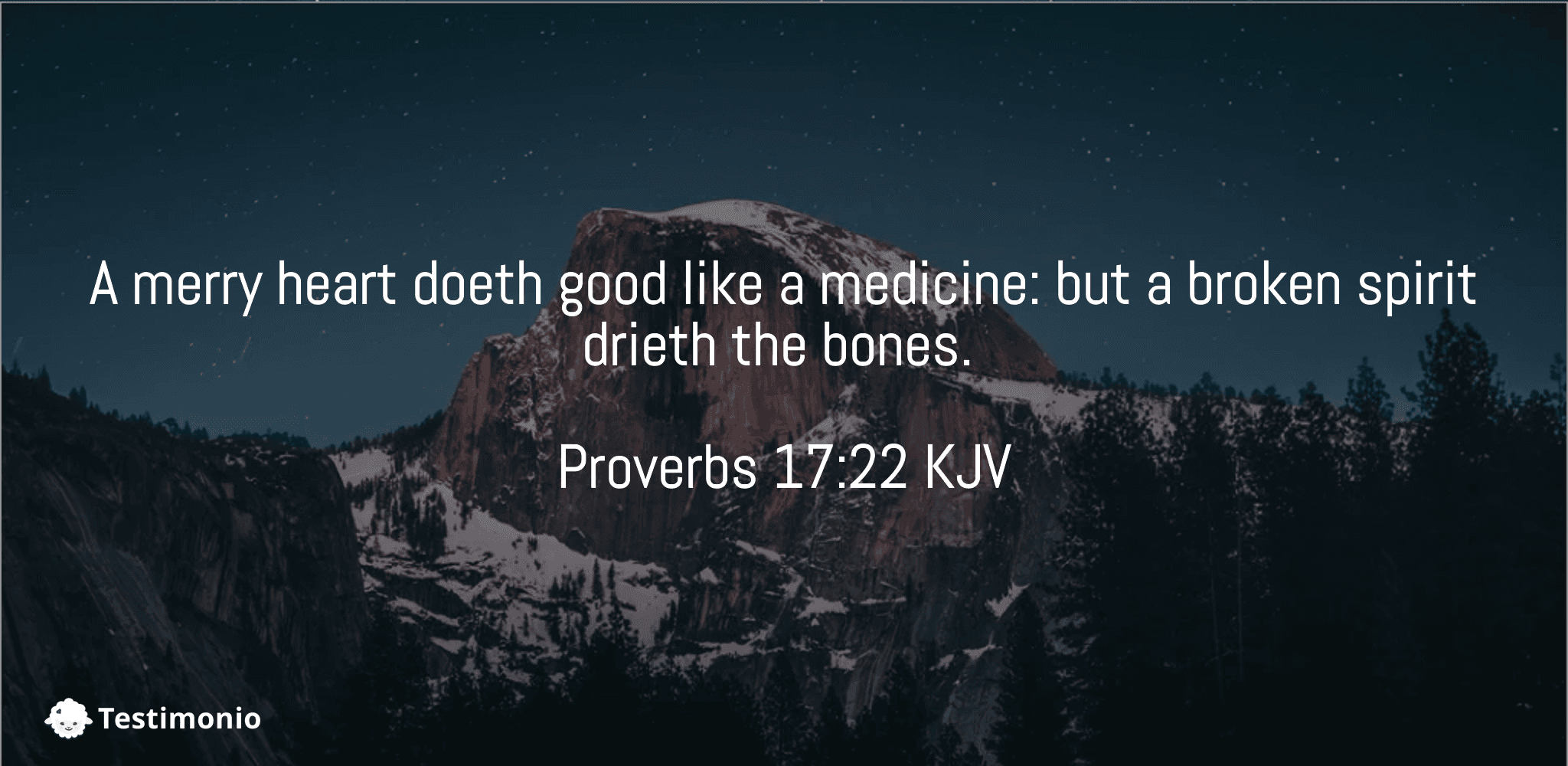 A merry heart doeth good like a medicine: but a broken spirit drieth the bones.
My son, attend to my words; incline thine ear unto my sayings. Let them not depart from thine eyes; keep them in the midst of thine heart. For they are life unto those that find them, and health to all their flesh. Keep thy heart with all diligence; for out of it are the issues of life. Put away from thee a froward mouth, and perverse lips put far from thee.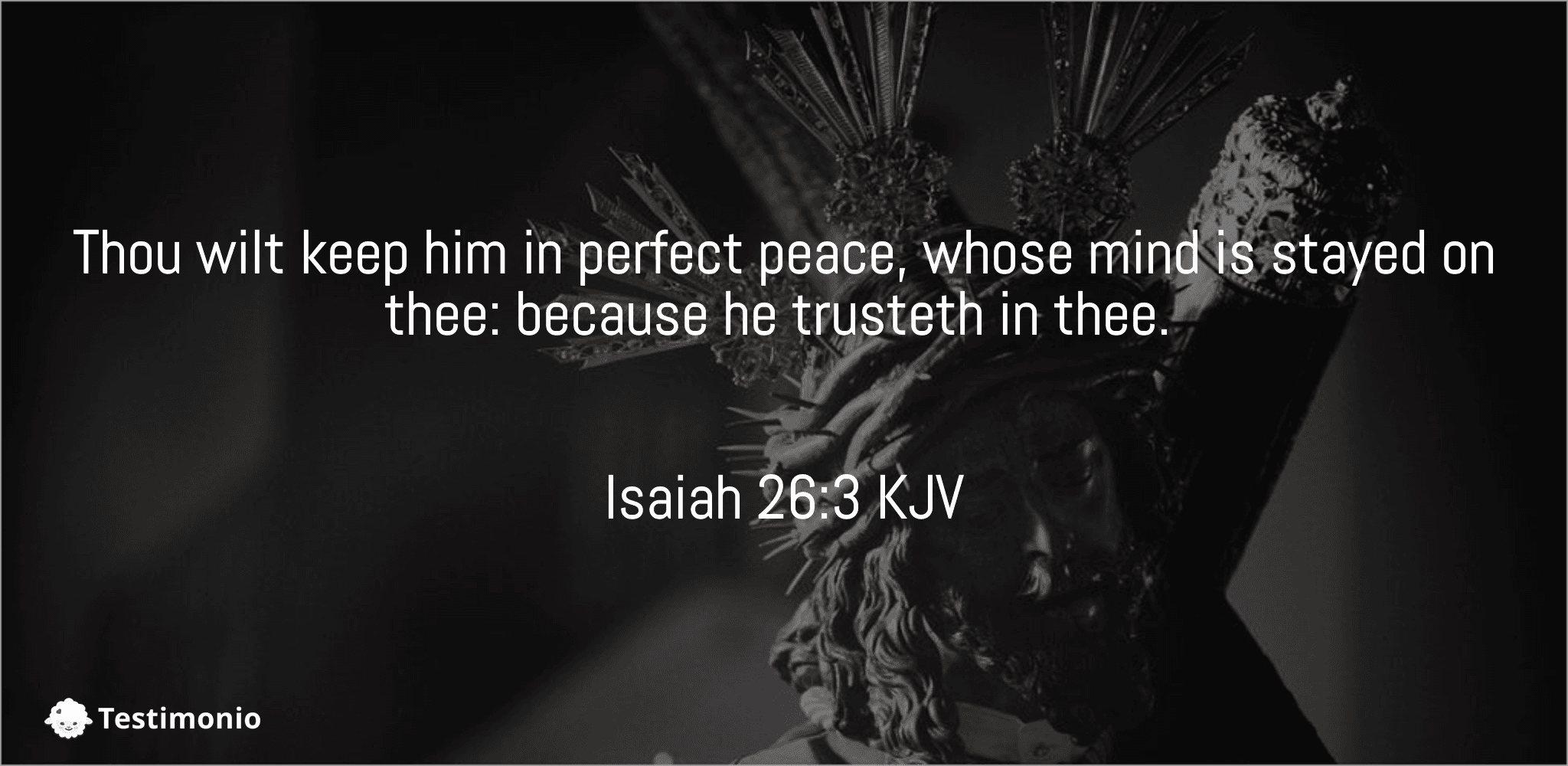 Thou wilt keep him in perfect peace, whose mind is stayed on thee: because he trusteth in thee.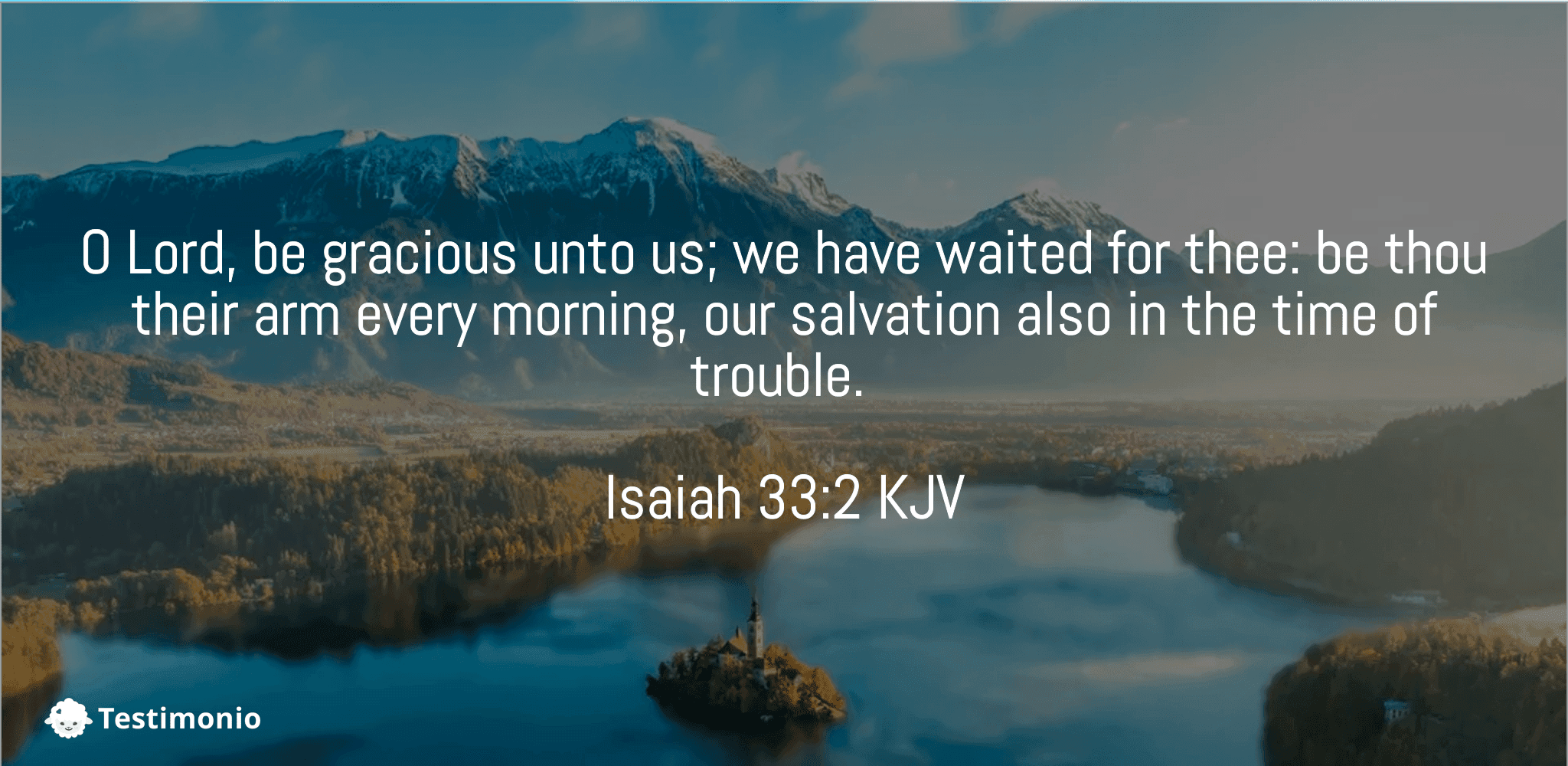 O LORD, be gracious unto us; we have waited for thee: be thou their arm every morning, our salvation also in the time of trouble.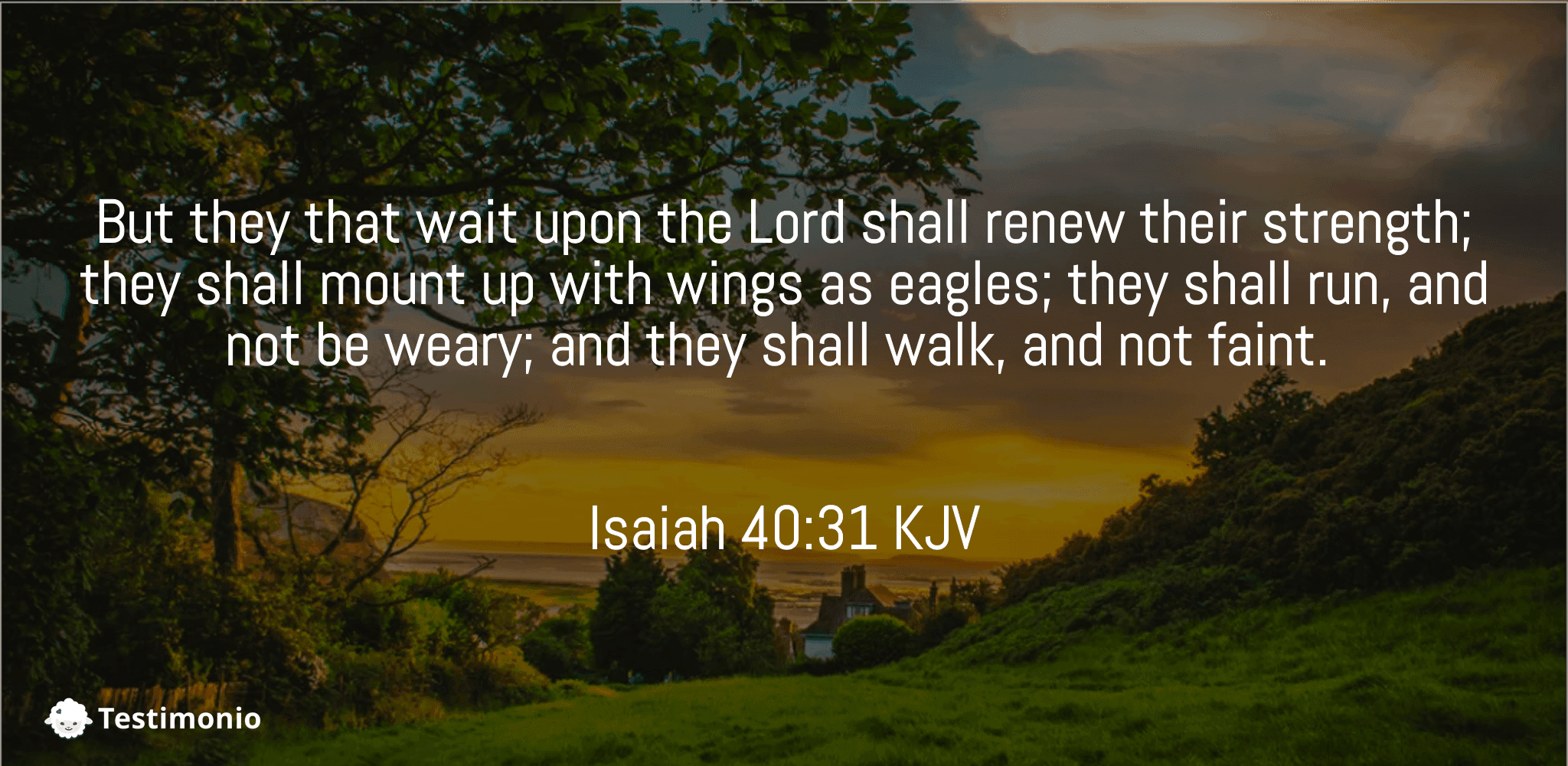 But they that wait upon the LORD shall renew their strength; they shall mount up with wings as eagles; they shall run, and not be weary; and they shall walk, and not faint.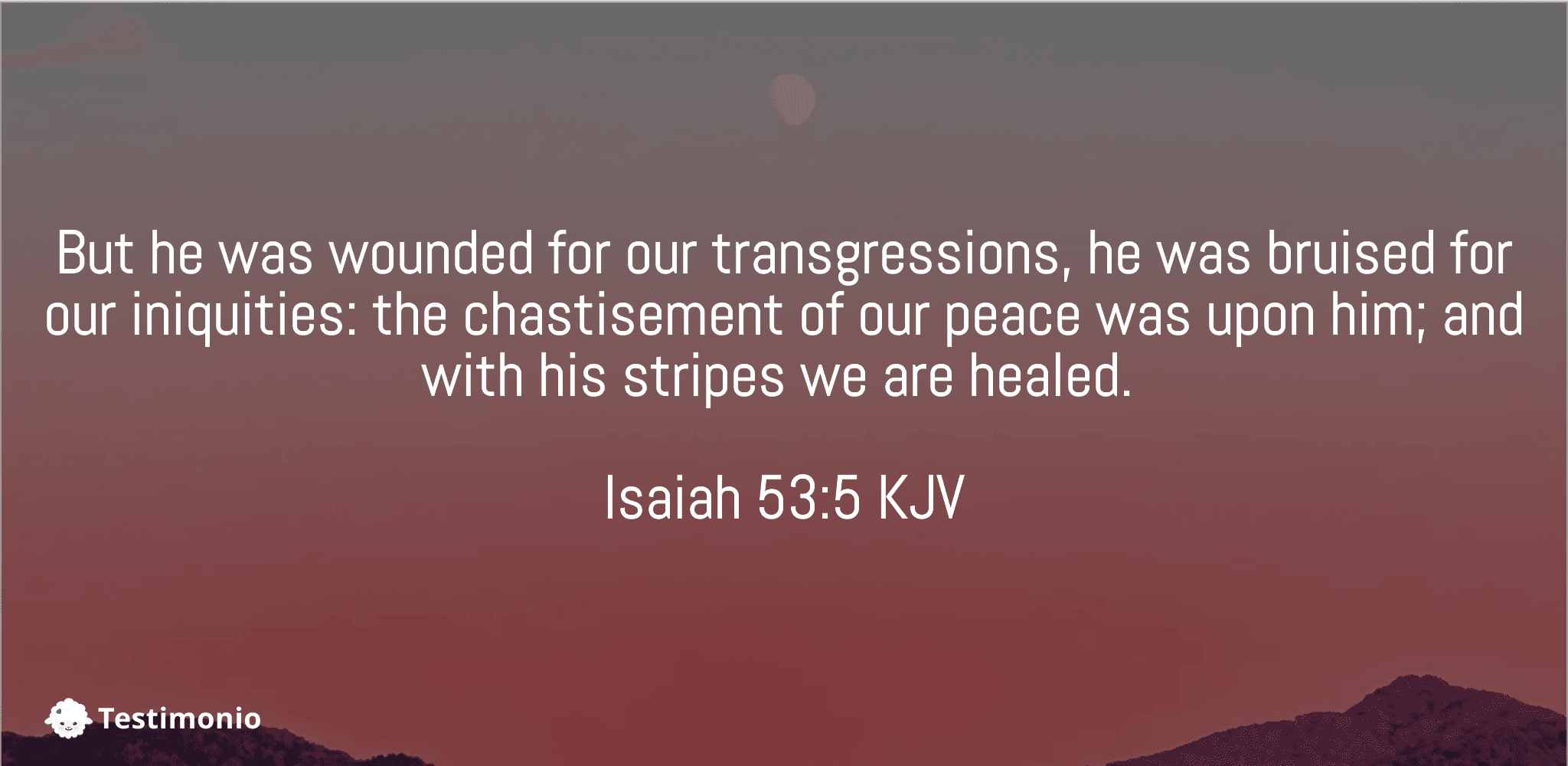 But he was wounded for our transgressions, he was bruised for our iniquities: the chastisement of our peace was upon him; and with his stripes we are healed.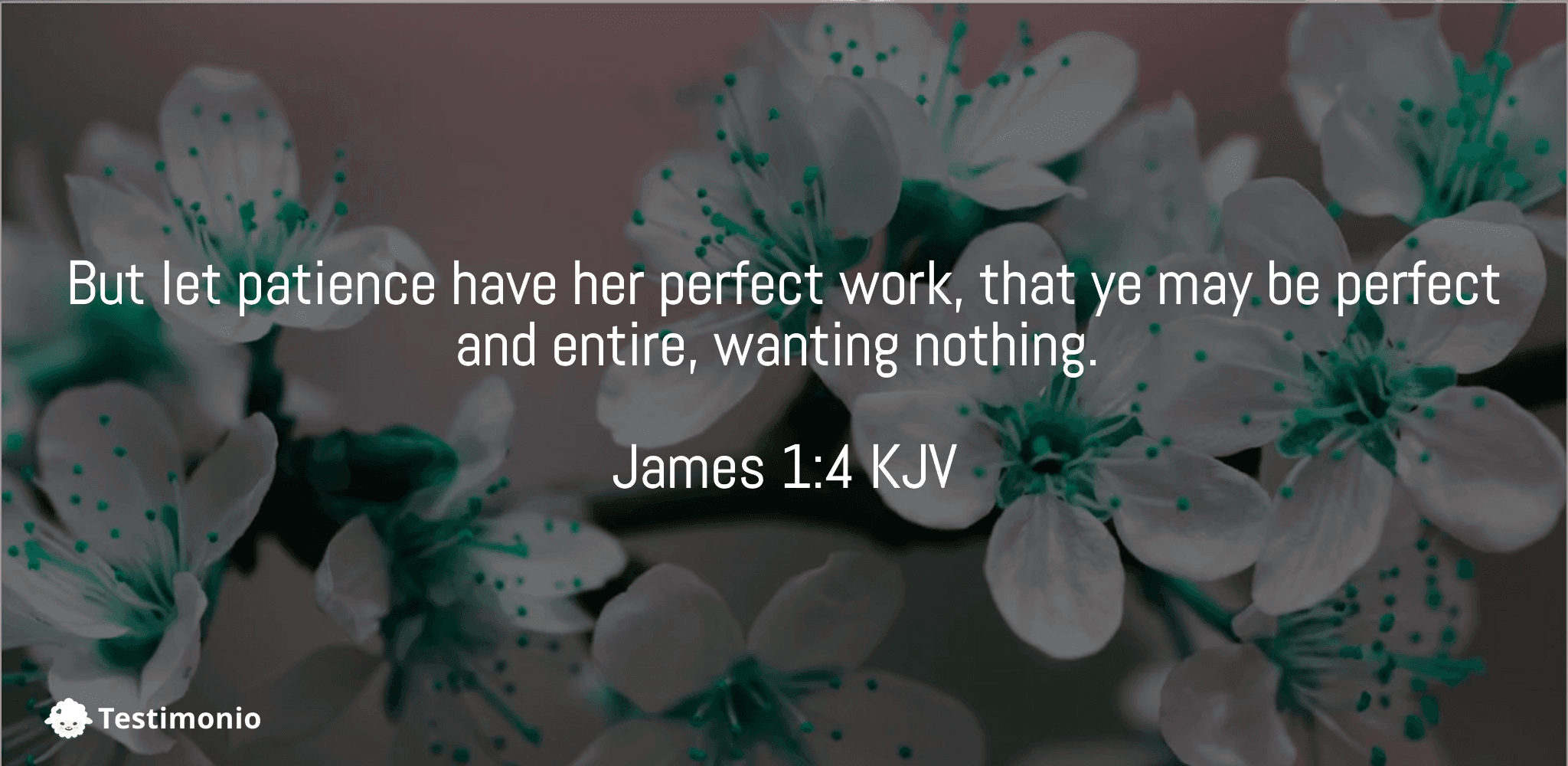 But let patience have her perfect work, that ye may be perfect and entire, wanting nothing.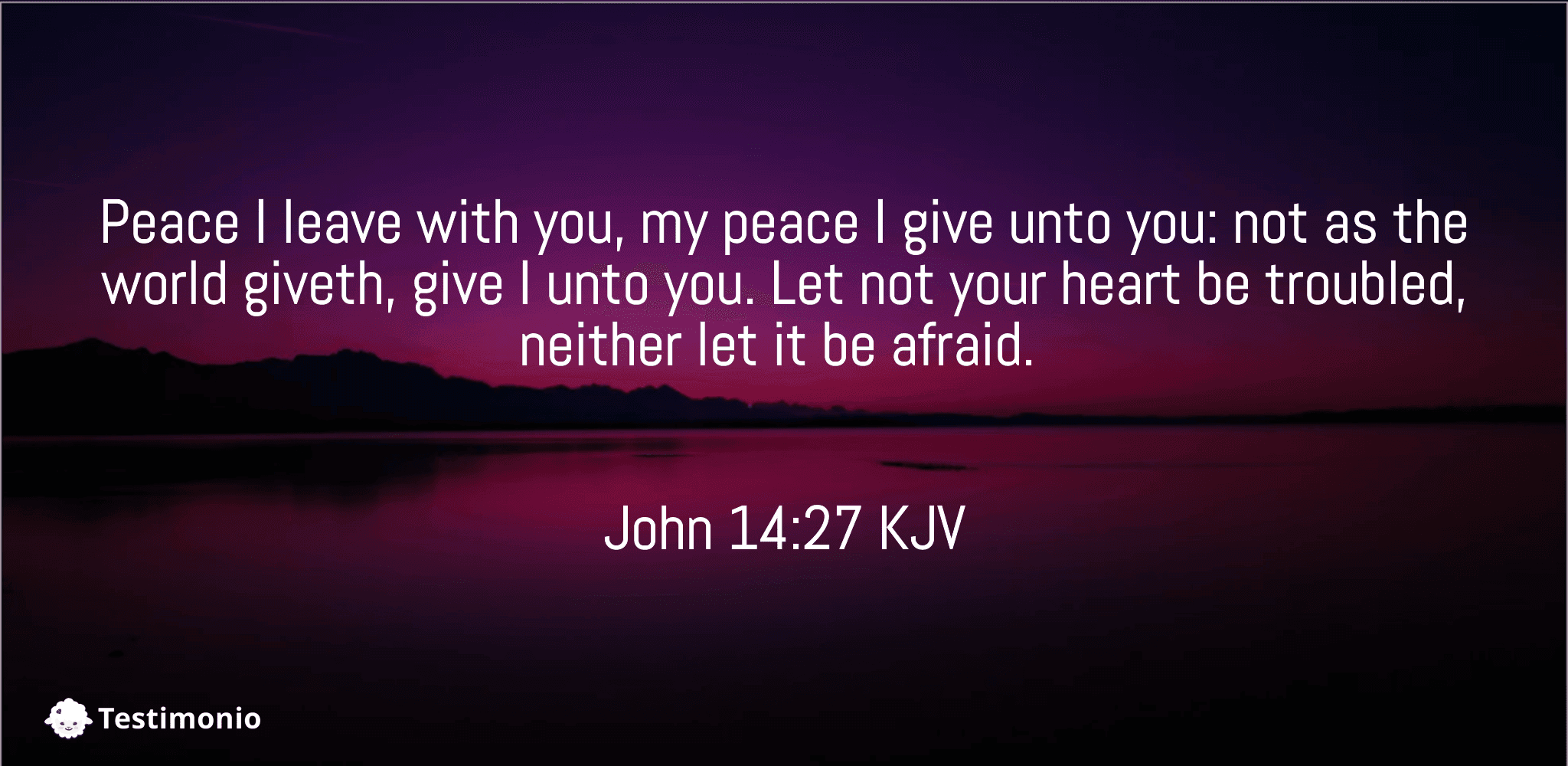 Peace I leave with you, my peace I give unto you: not as the world giveth, give I unto you. Let not your heart be troubled, neither let it be afraid.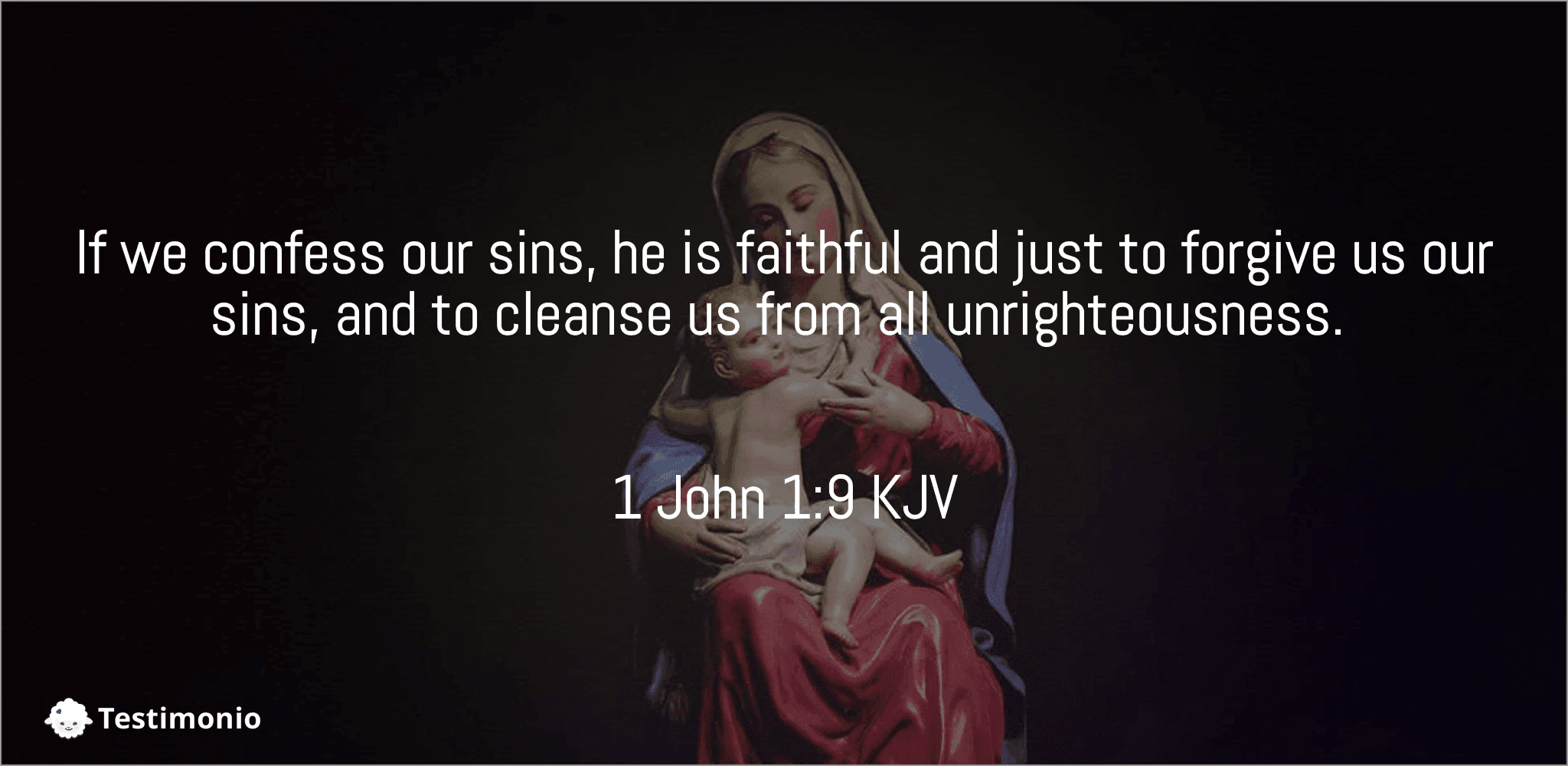 If we confess our sins, he is faithful and just to forgive us our sins, and to cleanse us from all unrighteousness.
Heal me, Lord my God, of my sicknesses. You are the King of Kings, and all miracles come through You. In your Word, you say to "confess your sins to each other and pray for each other" so we may be healed. I lean on Your Word God, forgive me of my sins. Lead me into Your peace. Amen.
Jesus, I strive to walk in the path of the righteous person. Walk with me in my life, that I may have your peace and healing. You gave the word and healed the lands. I pray that You may bring healing to me today, and the lands of my people, and forgive us of our sins. In Jesus' name, amen.
We hope these healing Bible verses helped bring peace to you today. In the King of God, Christ Jesus redeems your life with His blood. Even though we deserve to be crushed for our iniquities, God picks us up and makes us whole again. These healing Bible Scriptures help illustrate God's power.
No harm shall overcome you, and God is in the midst of your suffering. If you are a Christian, let Him into your life and be your King and healer. He will restore comfort and healing that only God can provide. Let Him cover and bind your old wounds and start you afresh.
Lean into your faith and health in your Christian life. Praise God that He bore our sins in His body and heals the brokenhearted! May you enjoy prosperity through the Kingdom of God.
God bless!