There is a common misconception among churches that depression, anxiety, mental and emotional pain are sins. This couldn't be further from the truth.
This mentality is a result of not knowing who God is. The Bible shows a beautiful narrative of a relational and ever-present God, abundant in love and grace within every person's pain.
So what does the Bible say about mental health? One, the Bible shows instances, such as in the psalms, of despair and distress. In these instances, God seeks to help by showing He is there through His love and grace.
Before He was crucified, Jesus was grieved and distressed (Matthew 26:36-38). However, he did not embark on His divine nature to get relief but used it to embrace humanity fully.
The apostle Paul was also a victim of dark days where he outlined the ministry's pressures as being more than they could handle (2 Corinthians 1:8-9). However, he demonstrates that he relied on God's faithfulness and gracious love.
We must keep our mental health healthy as Christians. One, it shows that we are entirely reliant on God and not on ourselves. The Lord continually urges us not to fear as He is with us. Two, it is a mark of true discipleship. Before He was crucified, Jesus promised His disciples tribulation, but He also offered them peace. We may occasionally slip into despair, but there is relief in the Lord's mercy and grace.
Prayer: Lord, I pray for these believers that they shall fear not for You are with them, but that they shall cast all their cares to you for your wish to give them peace. Amen.
With that said, let's take a look at 35 powerful Bible verses for mental health: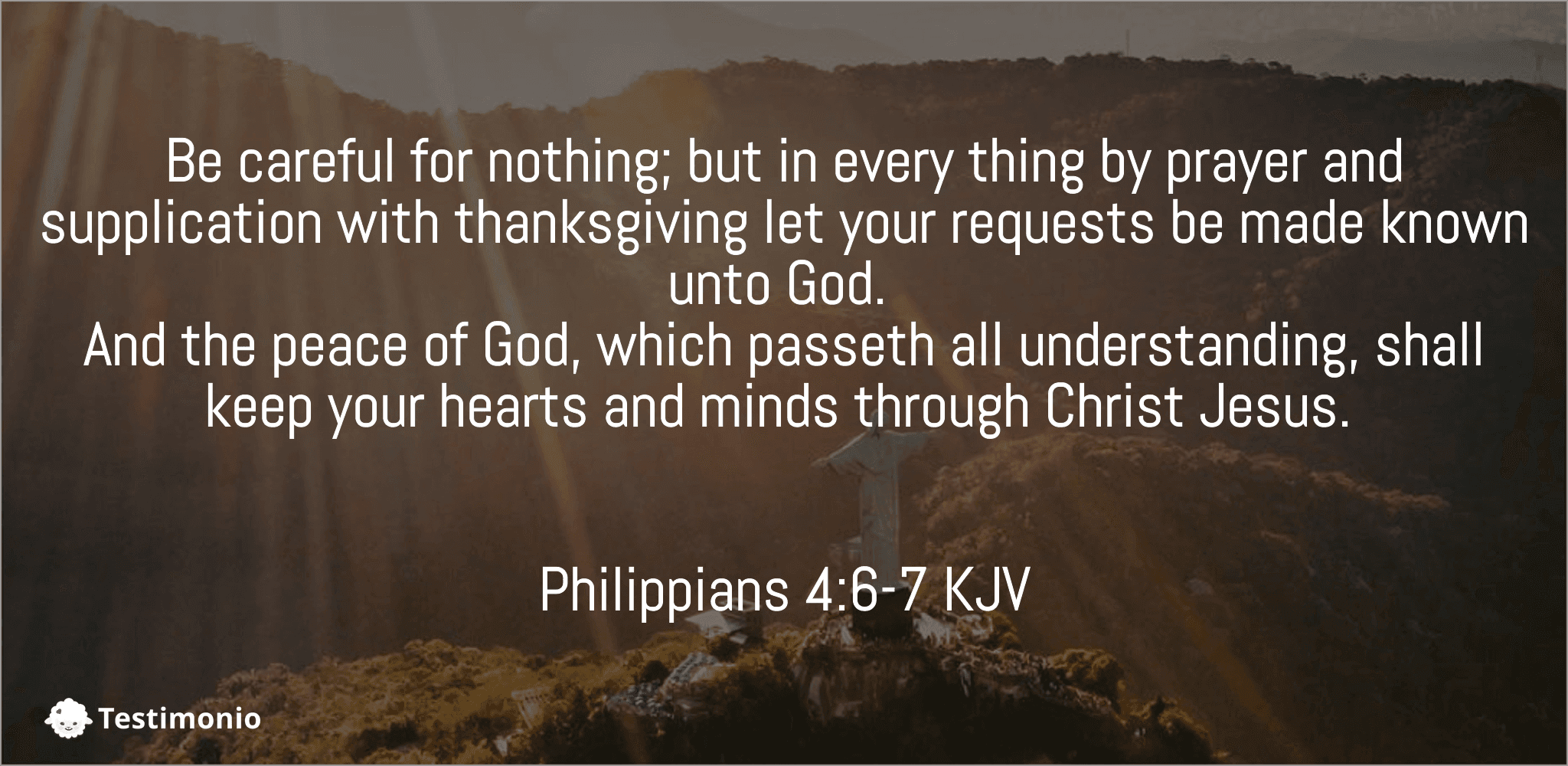 Be careful for nothing; but in every thing by prayer and supplication with thanksgiving let your requests be made known unto God. And the peace of God, which passeth all understanding, shall keep your hearts and minds through Christ Jesus.
God commands us not to be anxious because worrying too much is intruding in His arena.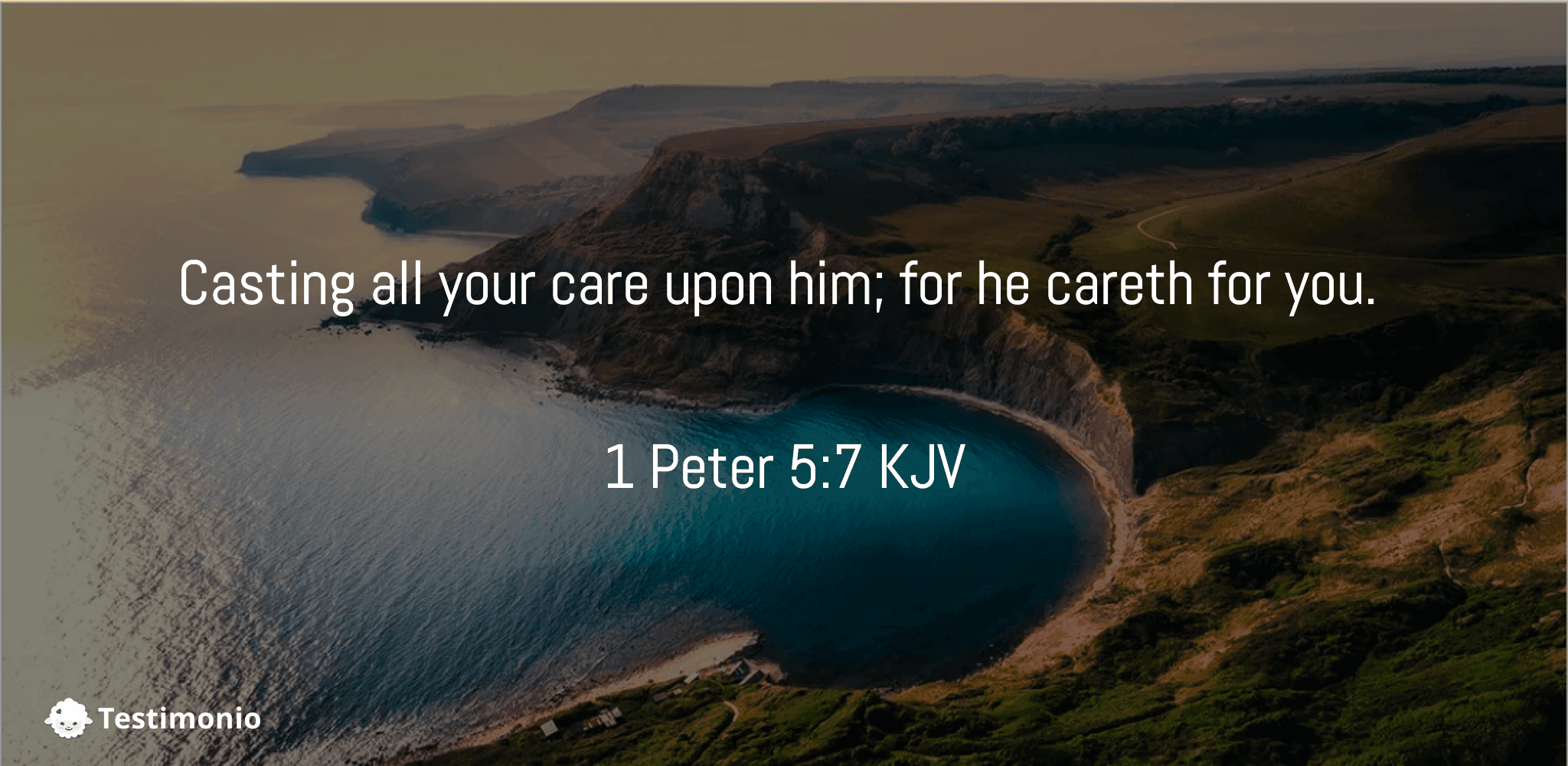 Casting all your care upon him; for he careth for you.
True humility is demonstrated by the ability to place all your cares on God.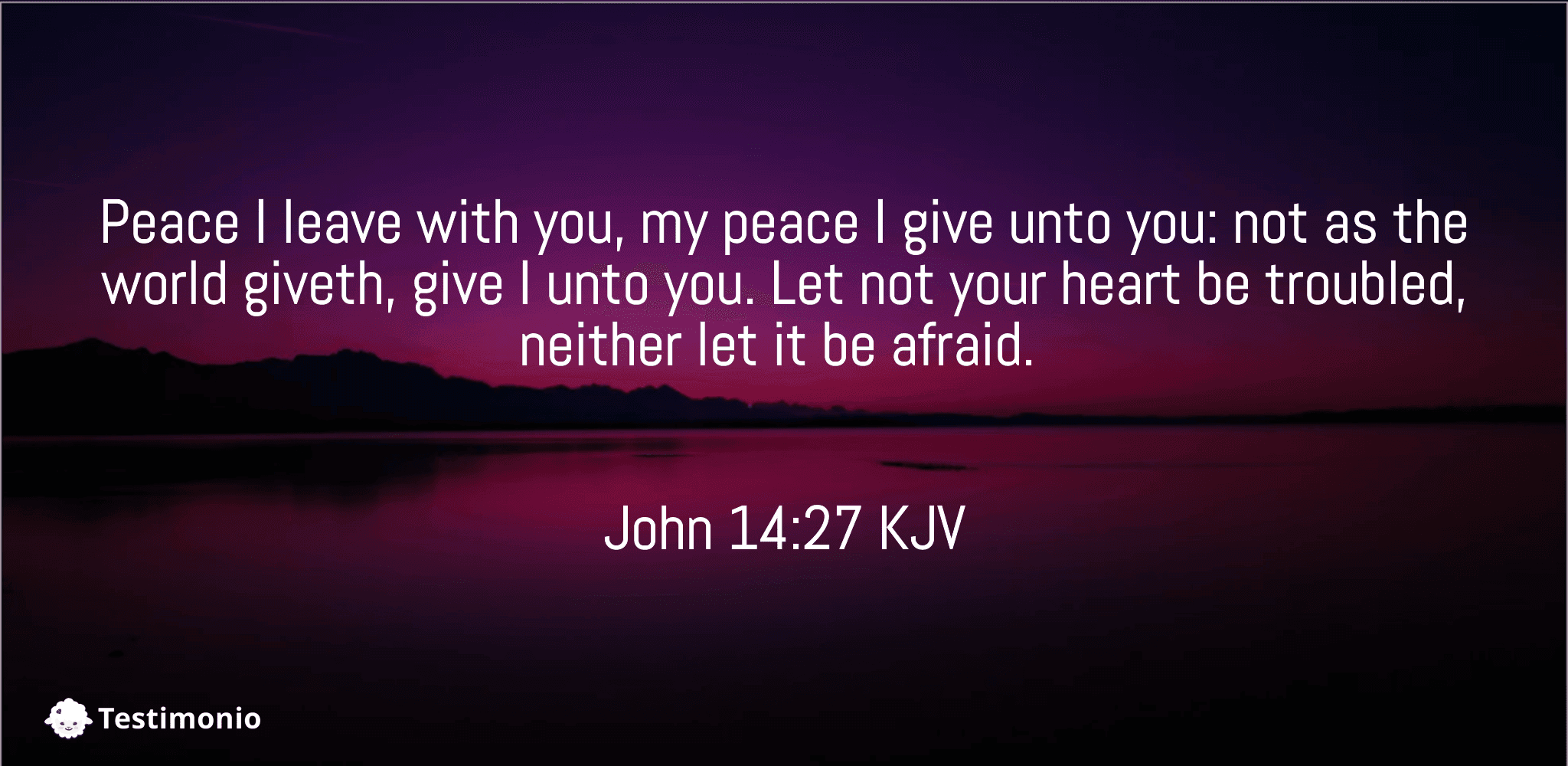 Peace I leave with you, my peace I give unto you: not as the world giveth, give I unto you. Let not your heart be troubled, neither let it be afraid.
Once you have faith in God and His Son and receive His Spirit and His peace, you have an untroubled heart even in a troubled life.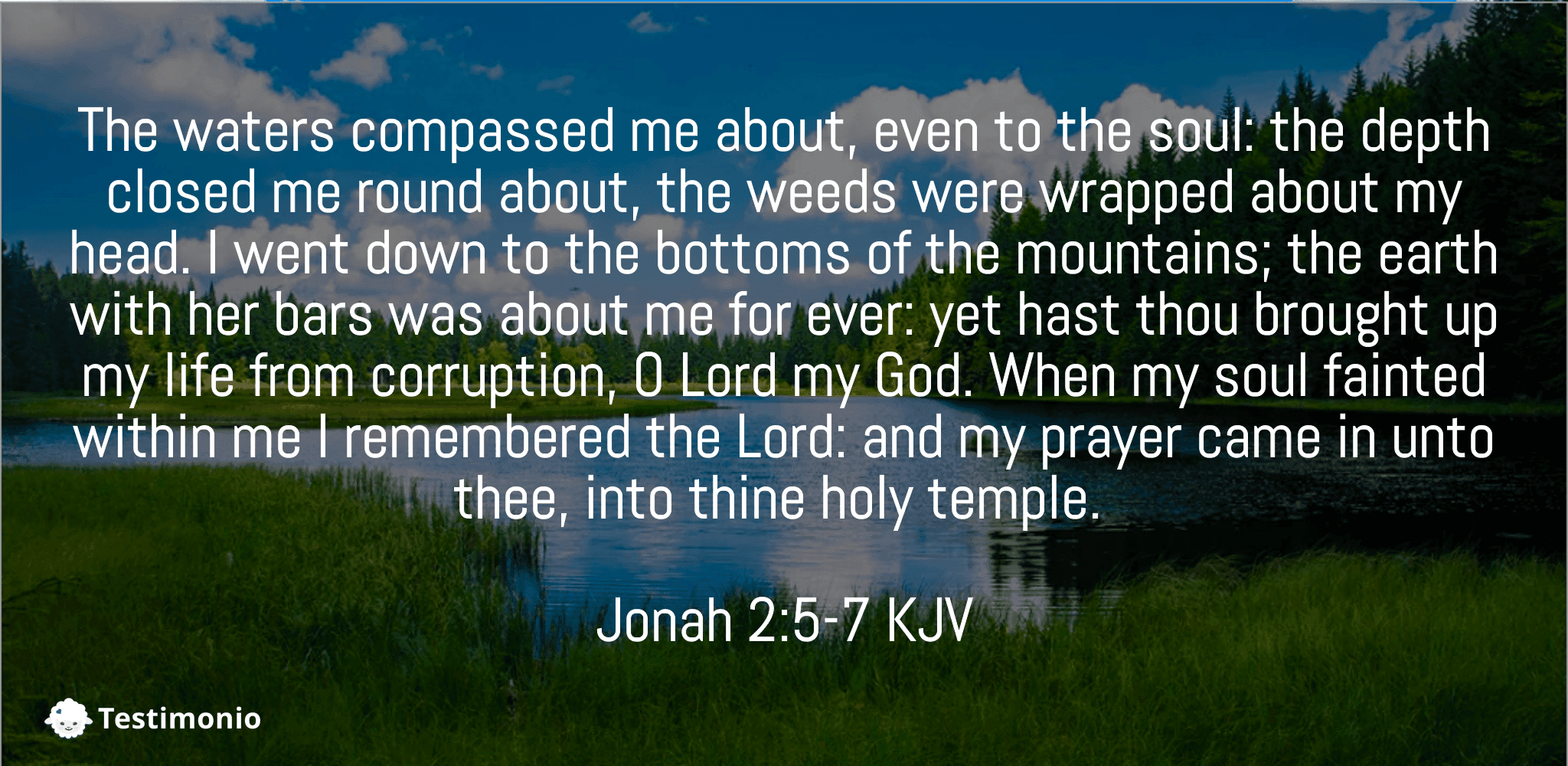 The waters compassed me about, even to the soul: the depth closed me round about, the weeds were wrapped about my head. I went down to the bottoms of the mountains; the earth with her bars was about me for ever: yet hast thou brought up my life from corruption, O Lord my God. When my soul fainted within me I remembered the Lord: and my prayer came in unto thee, into thine holy temple.
This was Jonah's prayer to God from the fish's belly after getting swallowed.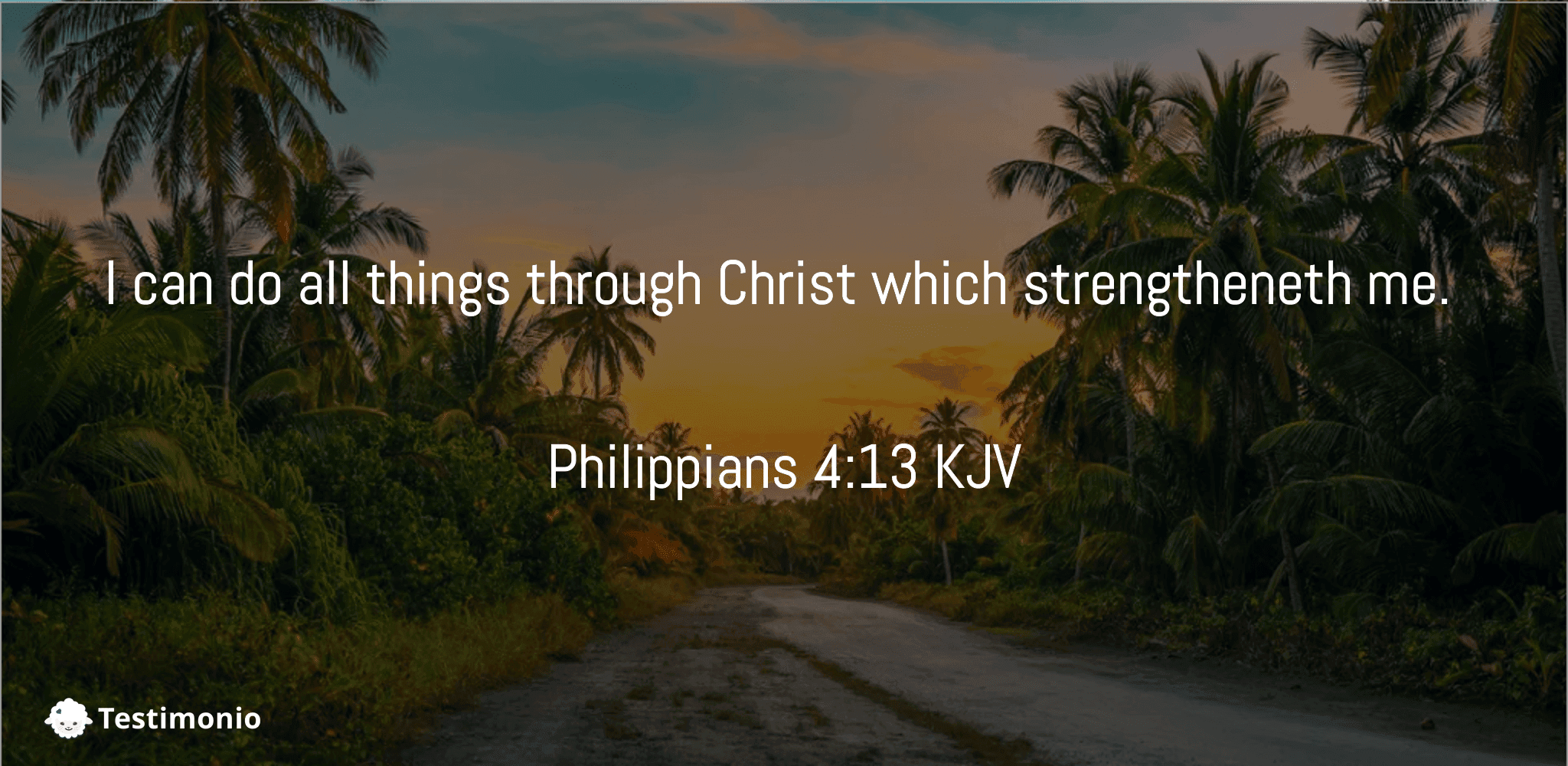 I can do all things through Christ which strengtheneth me.
In this verse, Paul demonstrated his ability to be content in all situations through the strength of Jesus.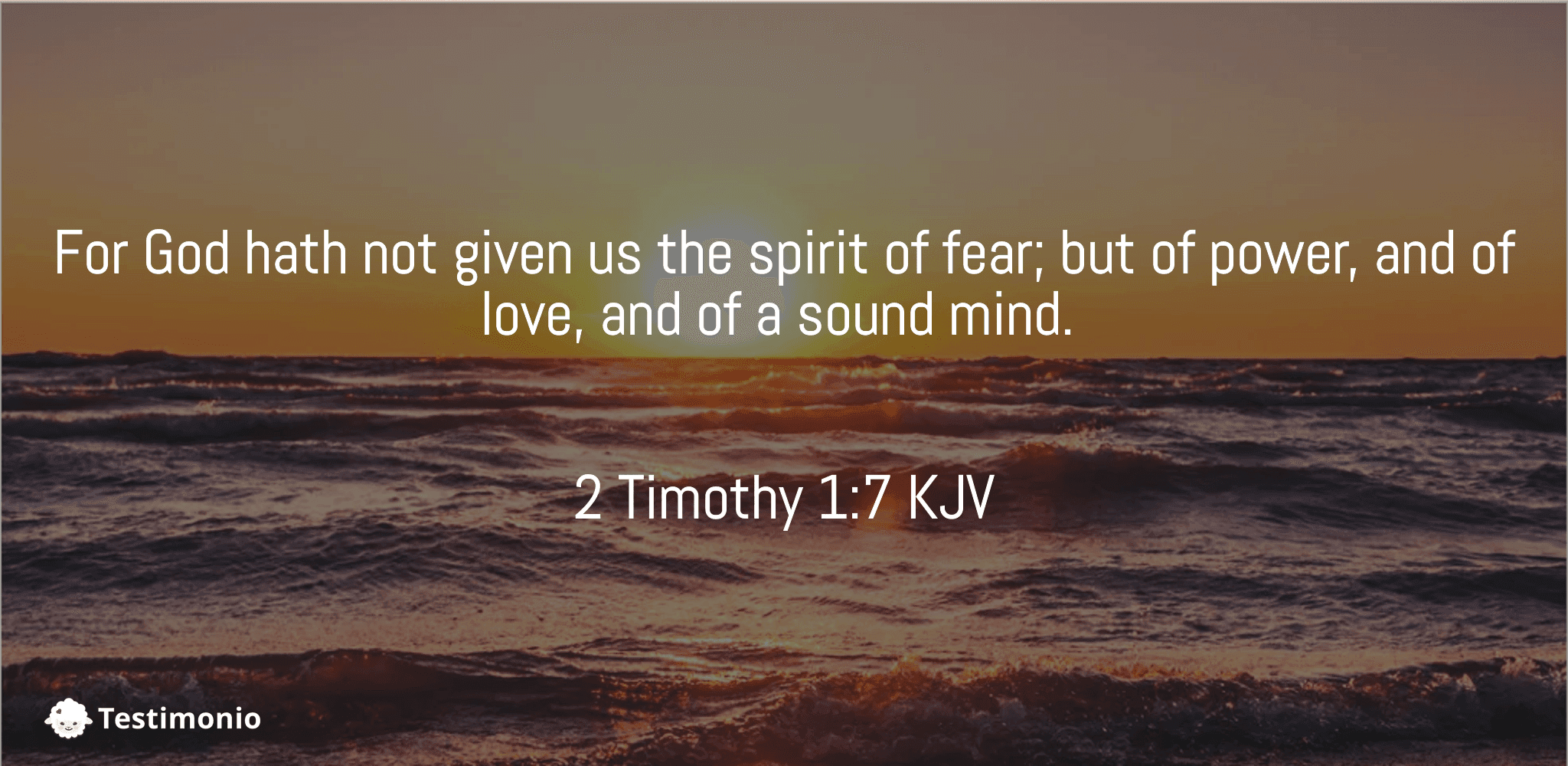 For God hath not given us the spirit of fear; but of power, and of love, and of a sound mind.
Paul was addressing Timothy's timidity, and he wanted him to know that this fear was not from God.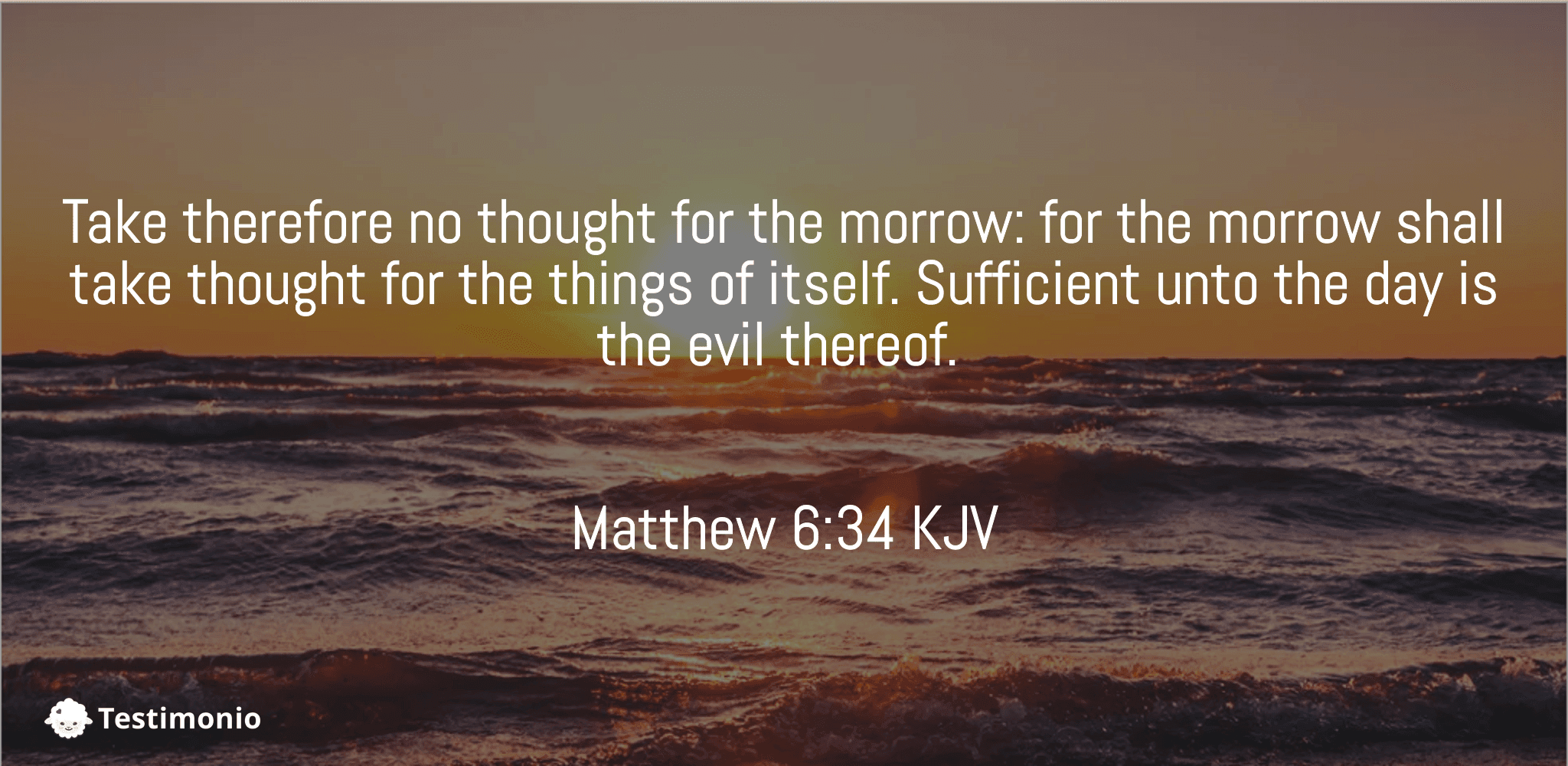 Take therefore no thought for the morrow: for the morrow shall take thought for the things of itself. Sufficient unto the day is the evil thereof.
Since it is healthy to remember the past or plan for the future, Jesus wants us to live in the present.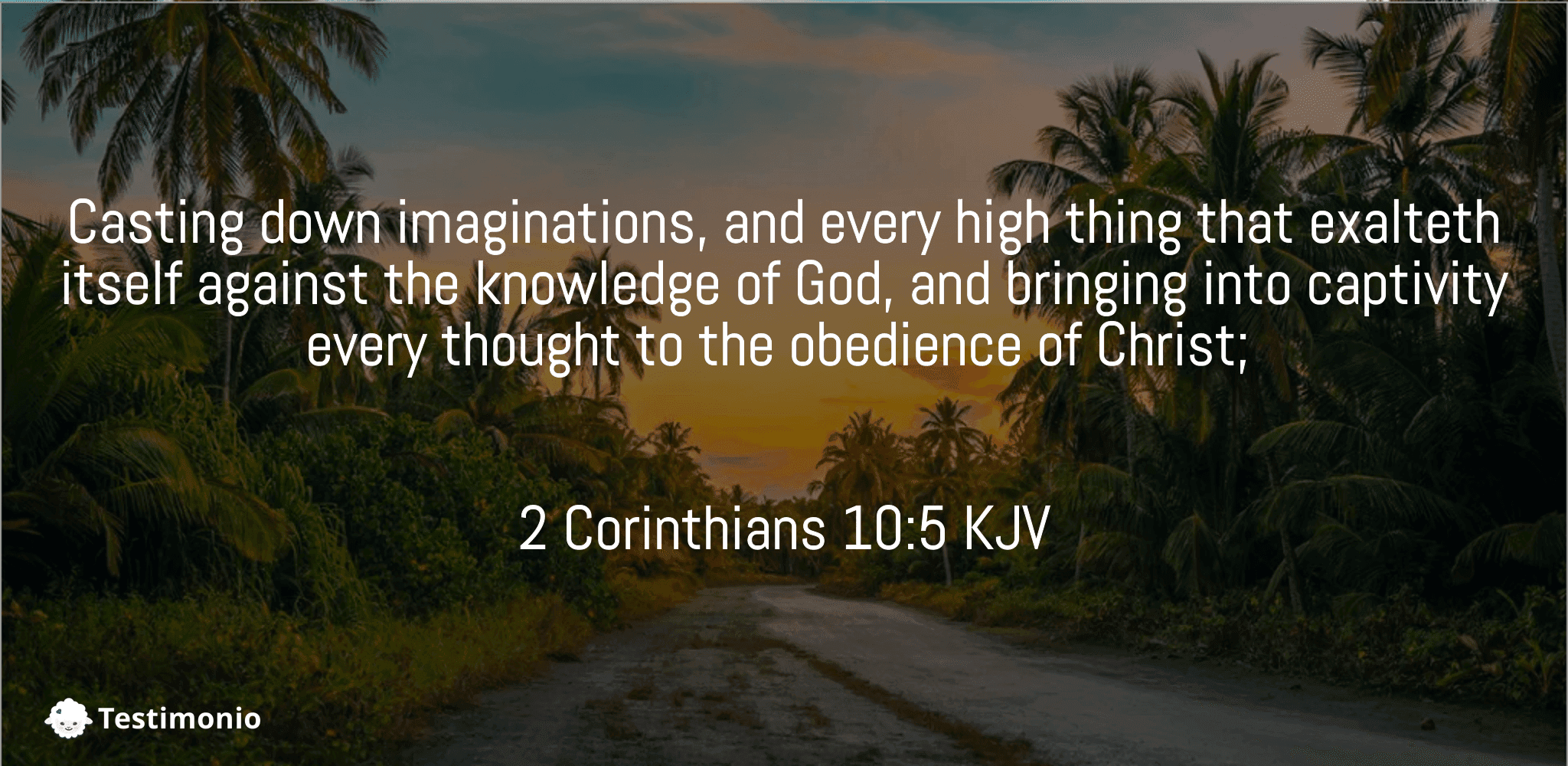 Casting down imaginations, and every high thing that exalteth itself against the knowledge of God, and bringing into captivity every thought to the obedience of Christ;
Paul fought to destroy the flesh's wisdom as it is the most significant opposition to God's spiritual wisdom.
Fear thou not; for I am with thee: be not dismayed; for I am thy God: I will strengthen thee; yea, I will help thee; yea, I will uphold thee with the right hand of my righteousness.
God commands us not to fear because He promises He will be with us.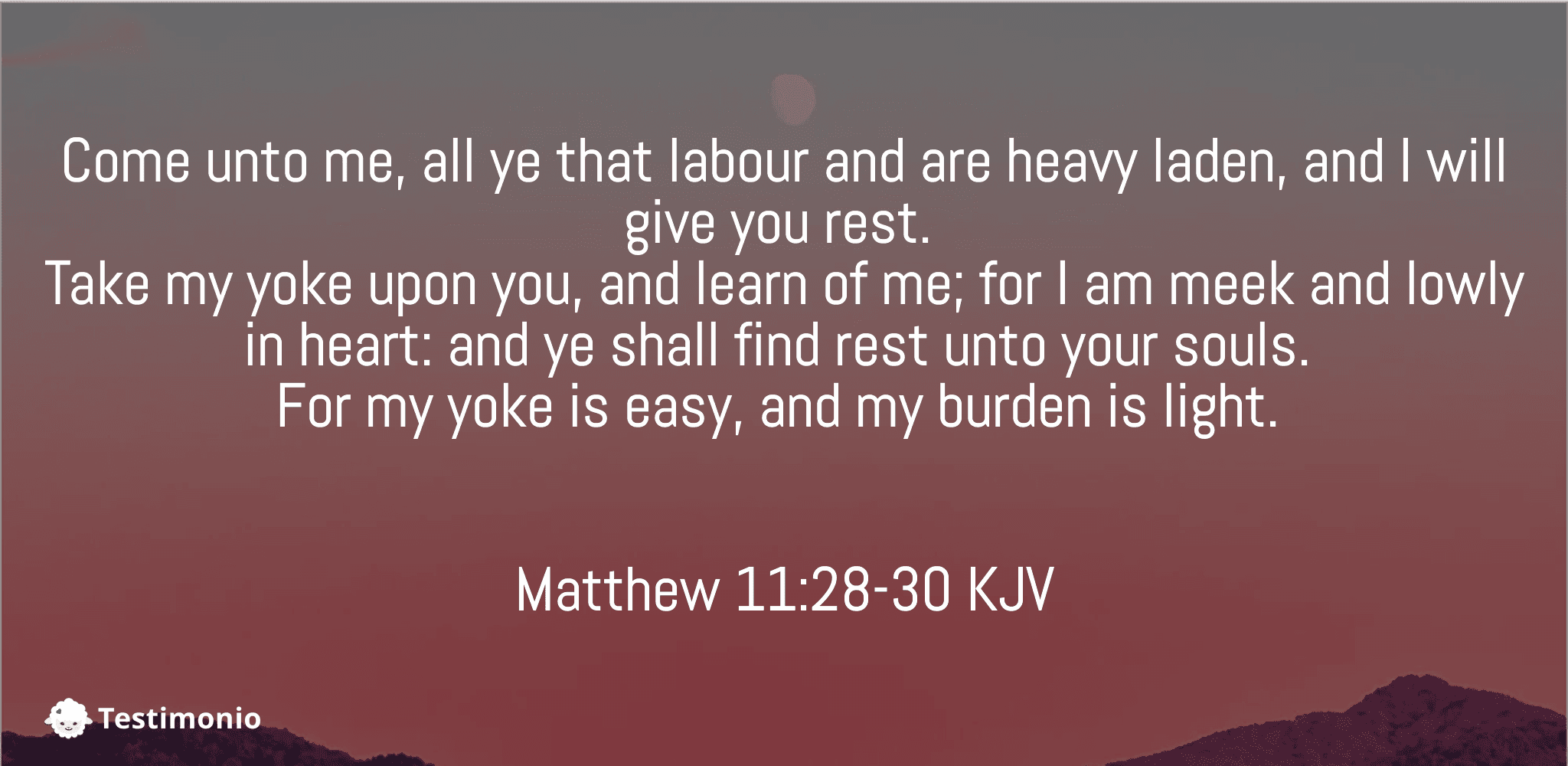 Come unto me, all ye that labour and are heavy laden, and I will give you rest. Take my yoke upon you, and learn of me; for I am meek and lowly in heart: and ye shall find rest unto your souls. For my yoke is easy, and my burden is light.
The ancient Jews used the idea of the yoke to illustrate somebody's obligation to God. In those times, there were many yokes: the yoke of the kingdom, the yoke of the command, the yoke of the law, the yoke of faith, the yoke of repentance, and the yoke of God. Jesus urges all to forget about those yokes and take up His.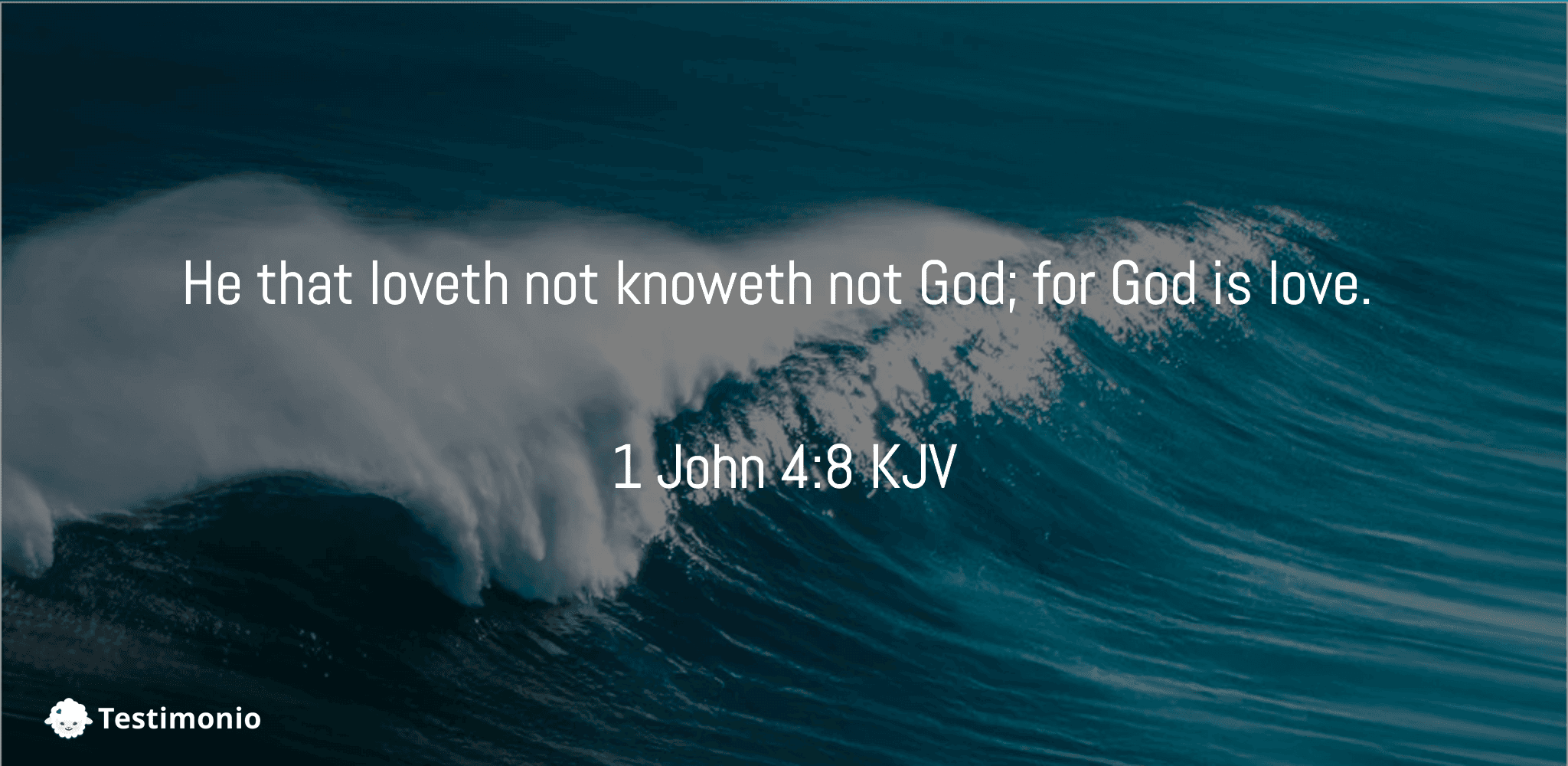 He that loveth not knoweth not God; for God is love.
As love is of God, then those who confess that they are born of God, and claim to know Him, must be able to demonstrate that love in the body of Christ.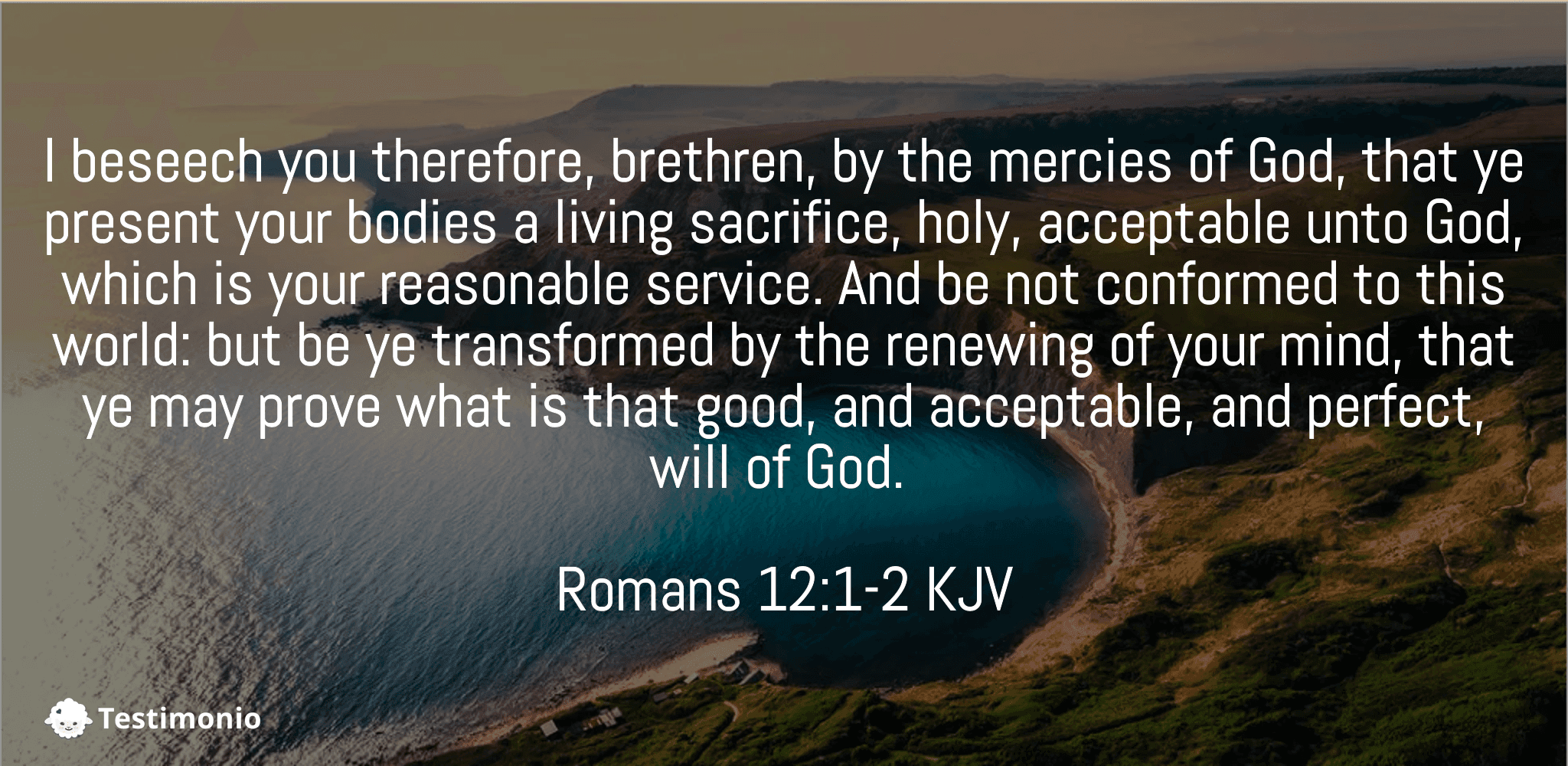 I beseech you therefore, brethren, by the mercies of God, that ye present your bodies a living sacrifice, holy, acceptable unto God, which is your reasonable service. And be not conformed to this world: but be ye transformed by the renewing of your mind, that ye may prove what is that good, and acceptable, and perfect, will of God.
Paul urges the Roman Christians to present their will at God's altar as a living sacrifice to keep their body in check.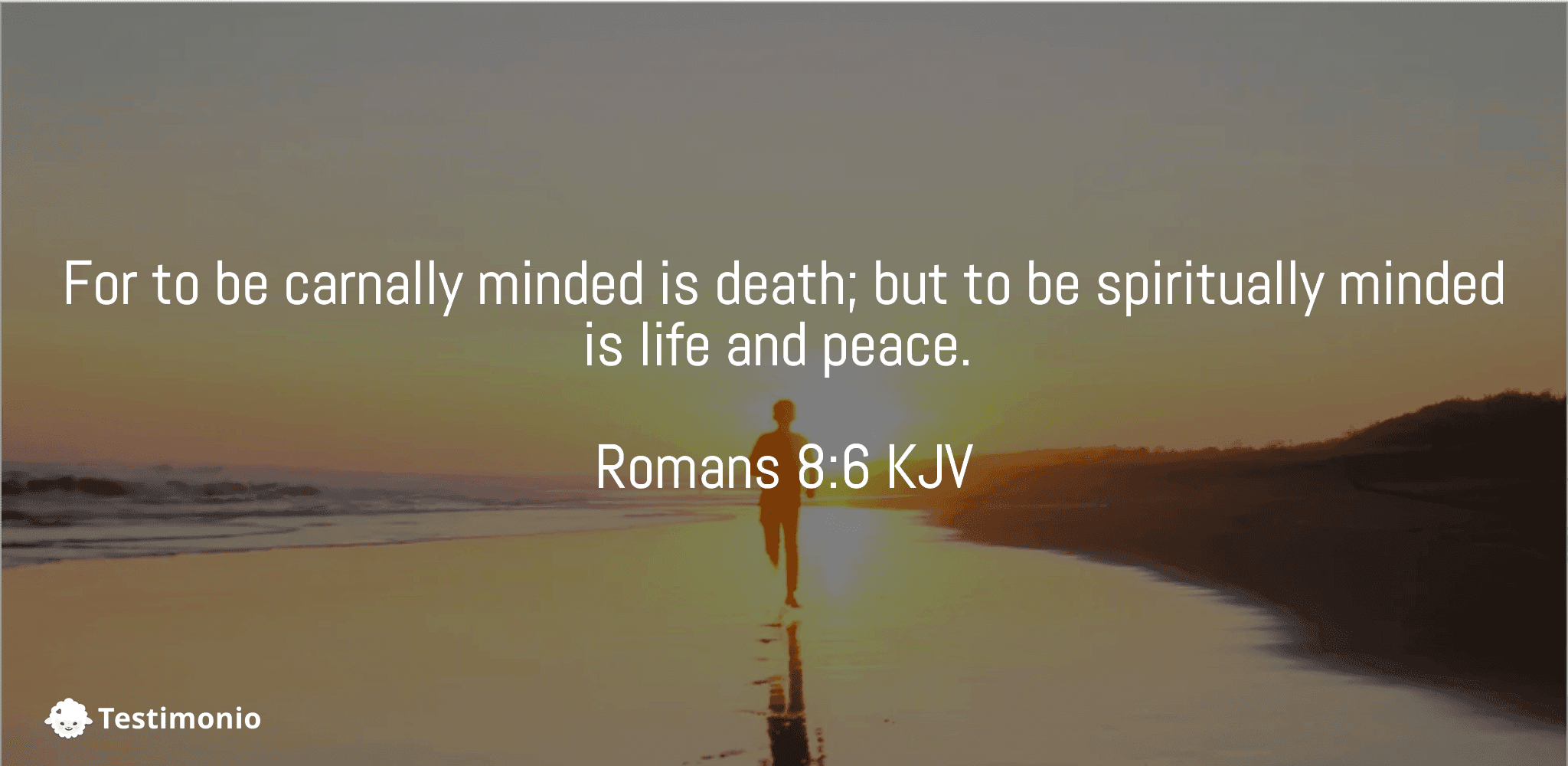 For to be carnally minded is death; but to be spiritually minded is life and peace.
Paul knew that the mind is the battleground where the Spirit and the flesh fight. When the flesh governs the reason, it brings death into lives. On the other hand, walking in the Spirit brings peace and life.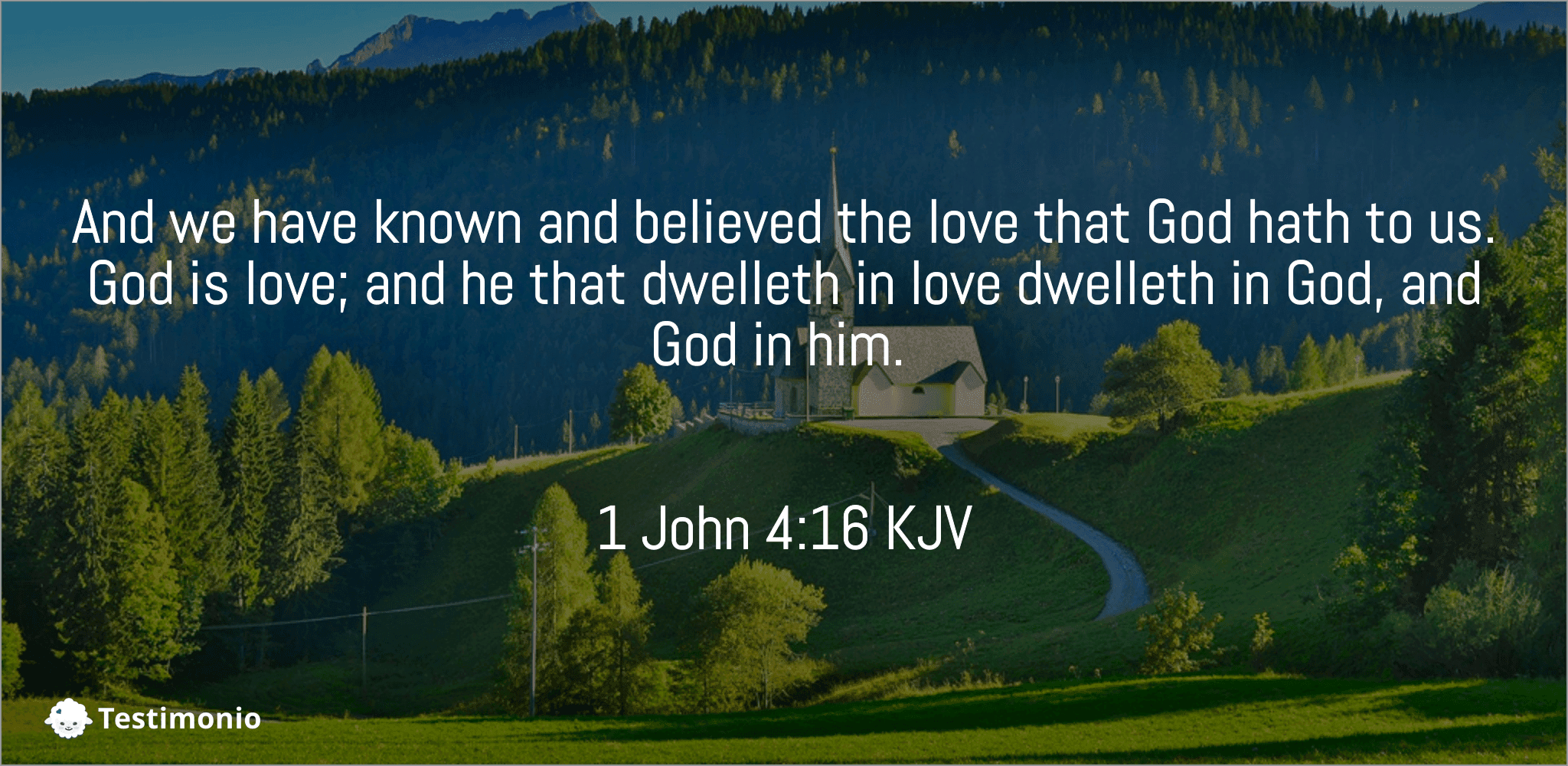 And we have known and believed the love that God hath to us. God is love; and he that dwelleth in love dwelleth in God, and God in him.
God wants us to react to His love by experiencing and believing in it.
15. Romans 8:18 KJV](/bible/romans-8-18)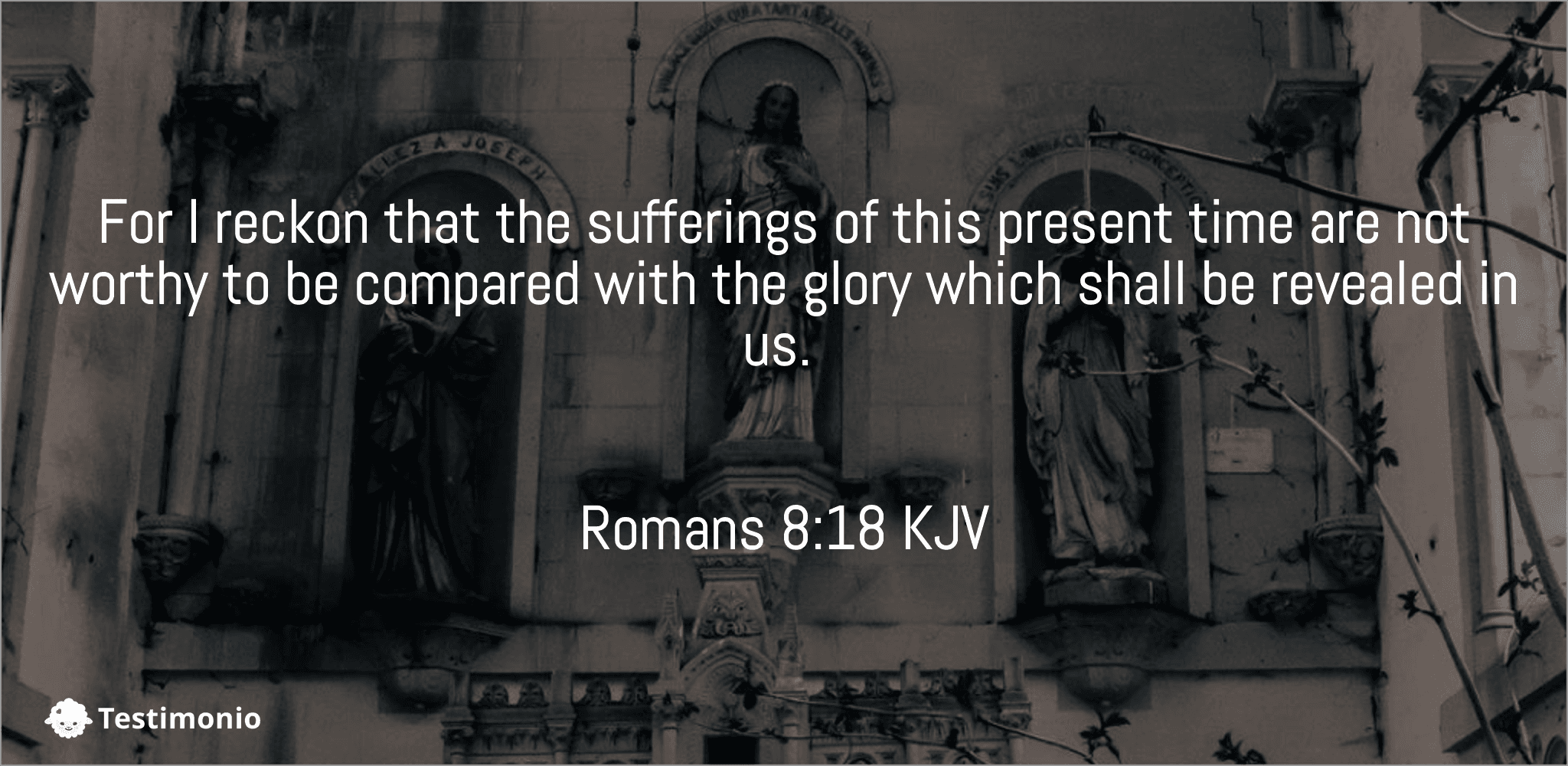 For I reckon that the sufferings of this present time are not worthy to be compared with the glory which shall be revealed in us.
Paul did not dismiss the sufferings that one experienced in human existence. He shared it more than most of us today. Even so, he considered that the future glory outweighed the present sufferings by far.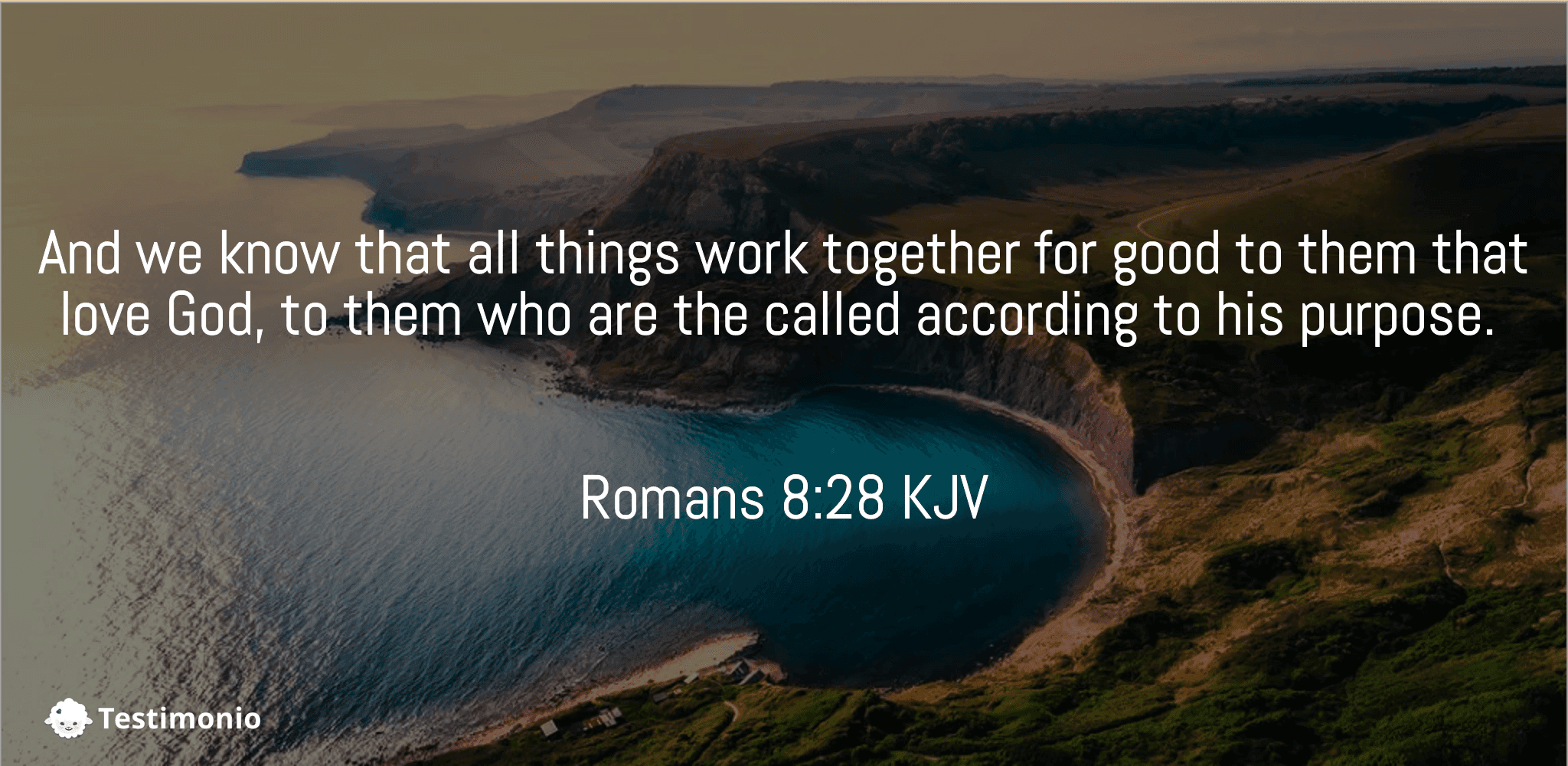 And we know that all things work together for good to them that love God, to them who are the called according to his purpose.
Even when we encounter sufferings in our lives, God can make them work together for our good and His good. This is a mark of God's sovereignty and ability to control every aspect of our lives.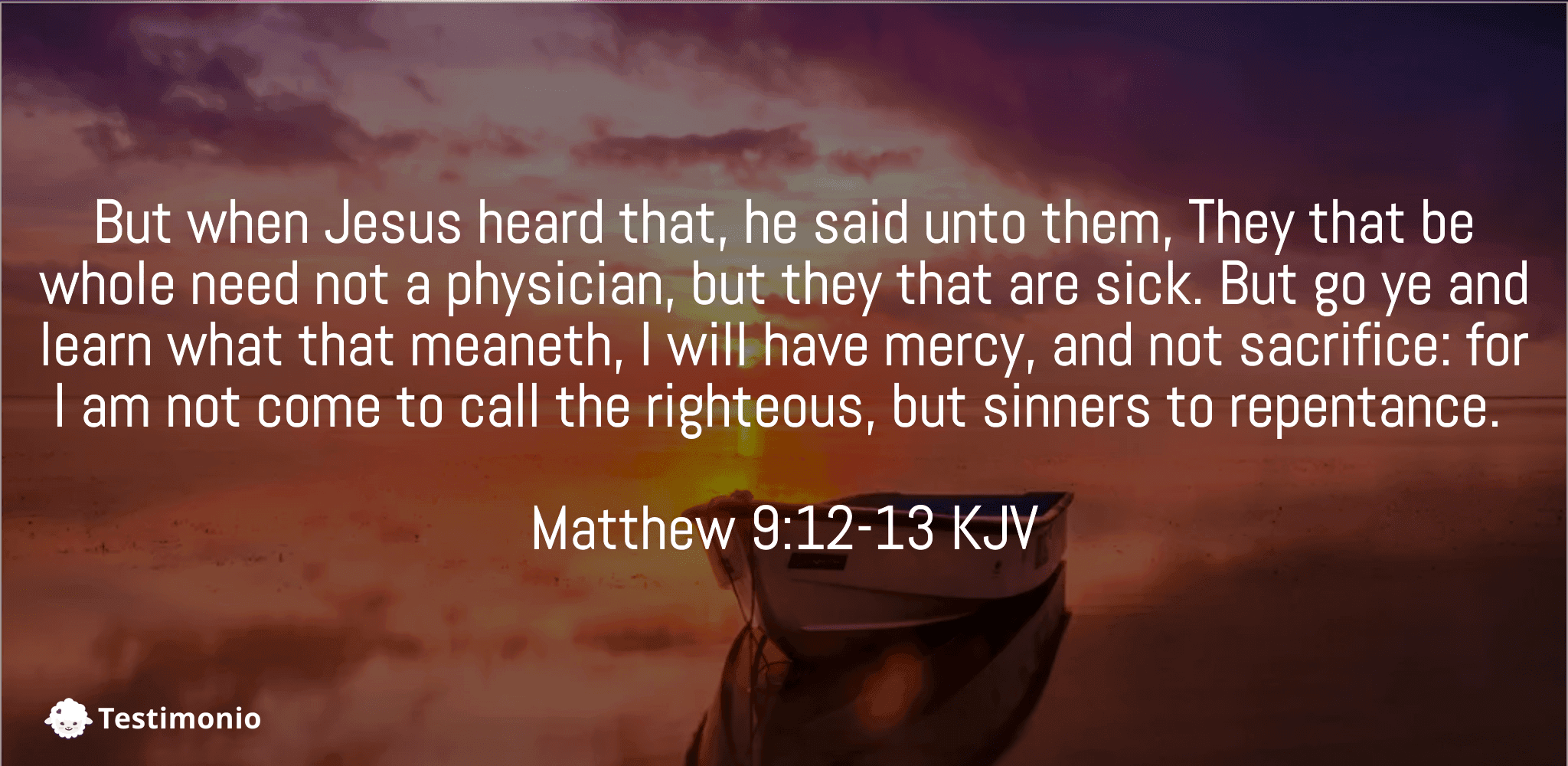 But when Jesus heard that, he said unto them, They that be whole need not a physician, but they that are sick. But go ye and learn what that meaneth, I will have mercy, and not sacrifice: for I am not come to call the righteous, but sinners to repentance.
In this passage, Jesus demonstrates that His coming was to benefit those who understood their need for Him. The Pharisees were like the doctors of that time who wanted to avoid contact with the sick. They wished that people would become healthy, but they wouldn't risk infecting themselves.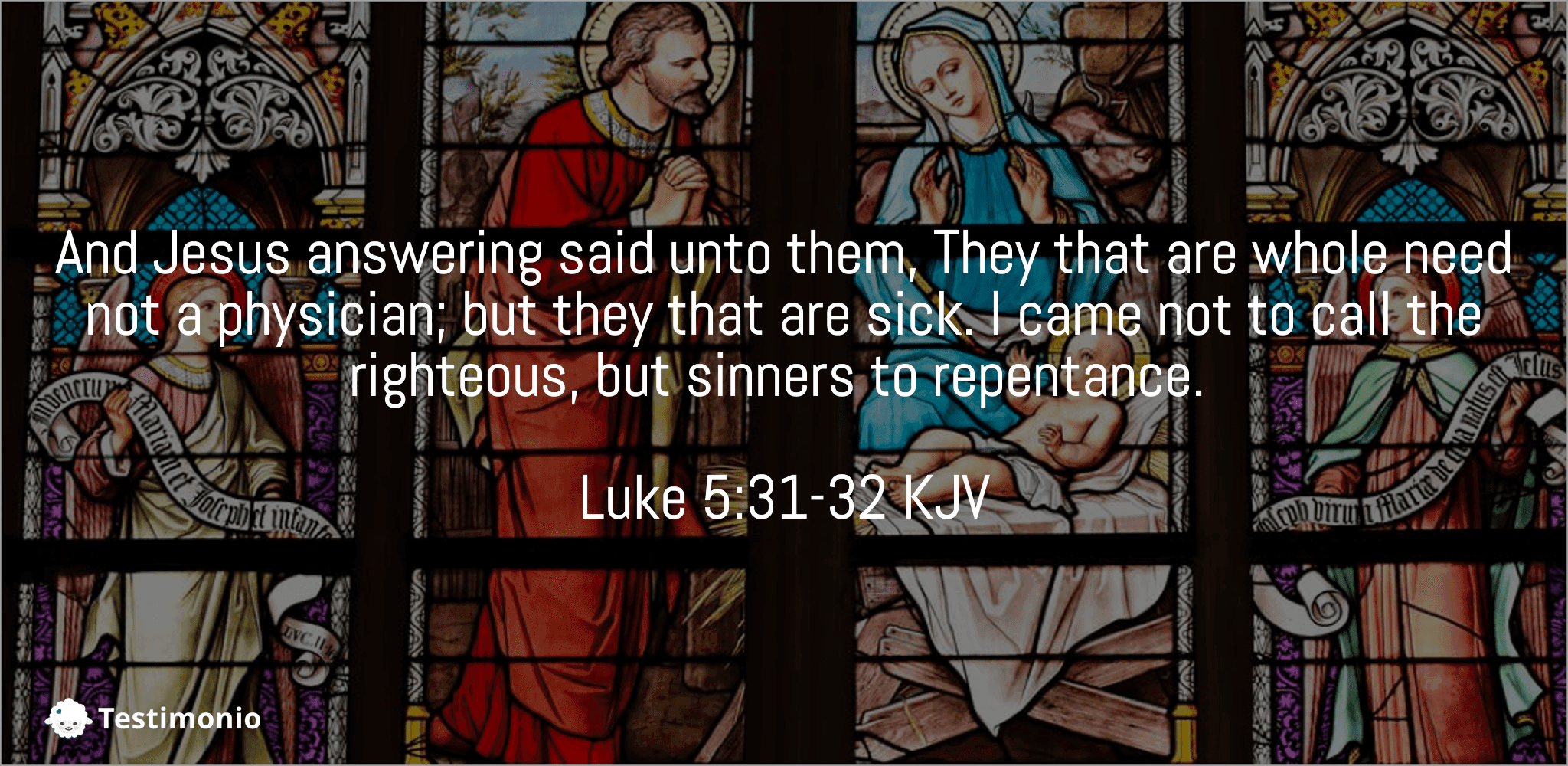 And Jesus answering said unto them, They that are whole need not a physician; but they that are sick. I came not to call the righteous, but sinners to repentance.
Jesus demonstrated that He was the physician of the soul, and it was therefore sensible for Him to be with the sick.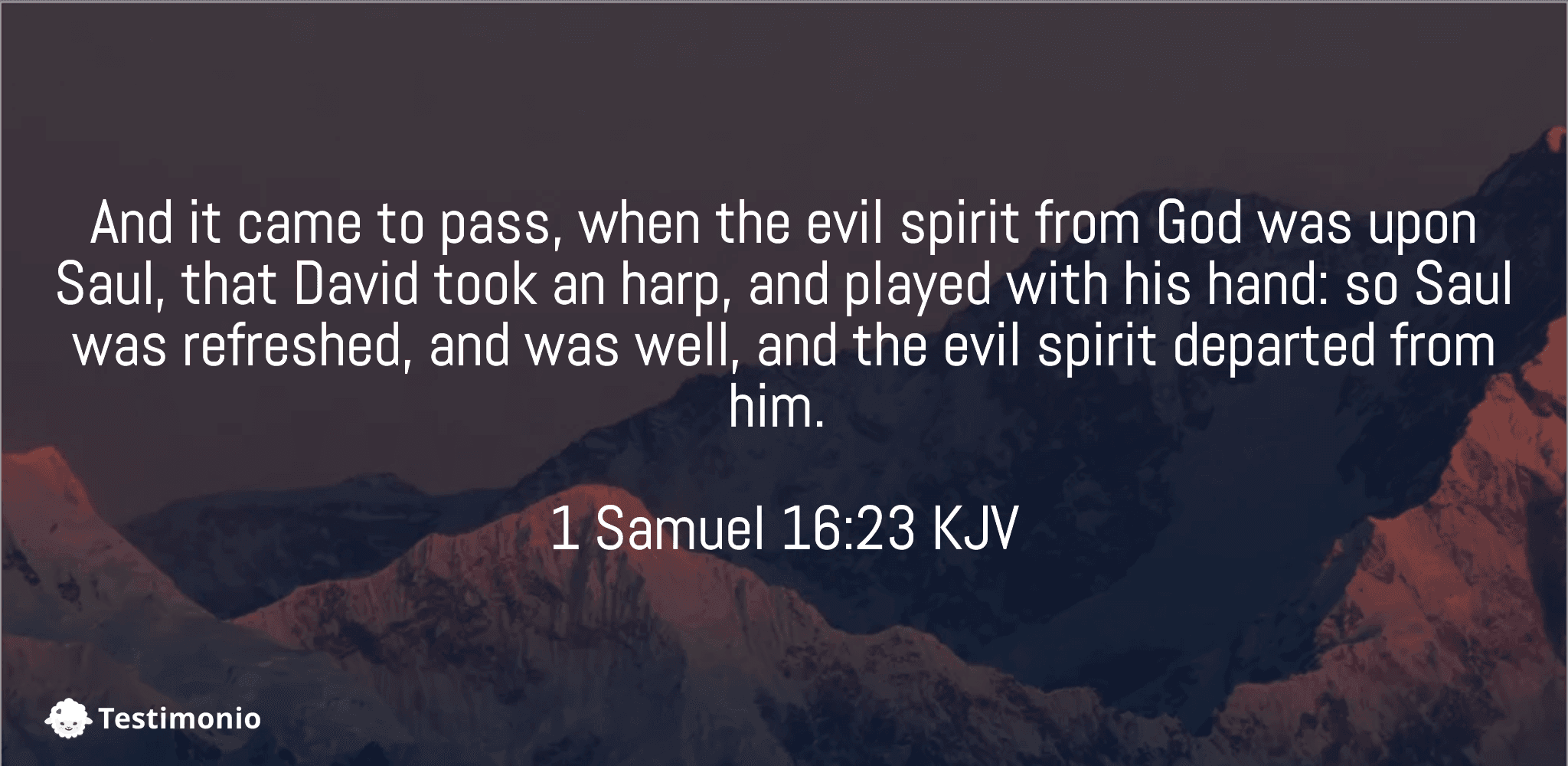 And it came to pass, when the evil spirit from God was upon Saul, that David took an harp, and played with his hand: so Saul was refreshed, and was well, and the evil spirit departed from him.
Earlier on, the Spirit of the Lord had departed from King Saul. In His place, a distressing spirit from the Lord descended on him. His servants sought a lyre's skilled player, David, and King Saul would find relief when he played.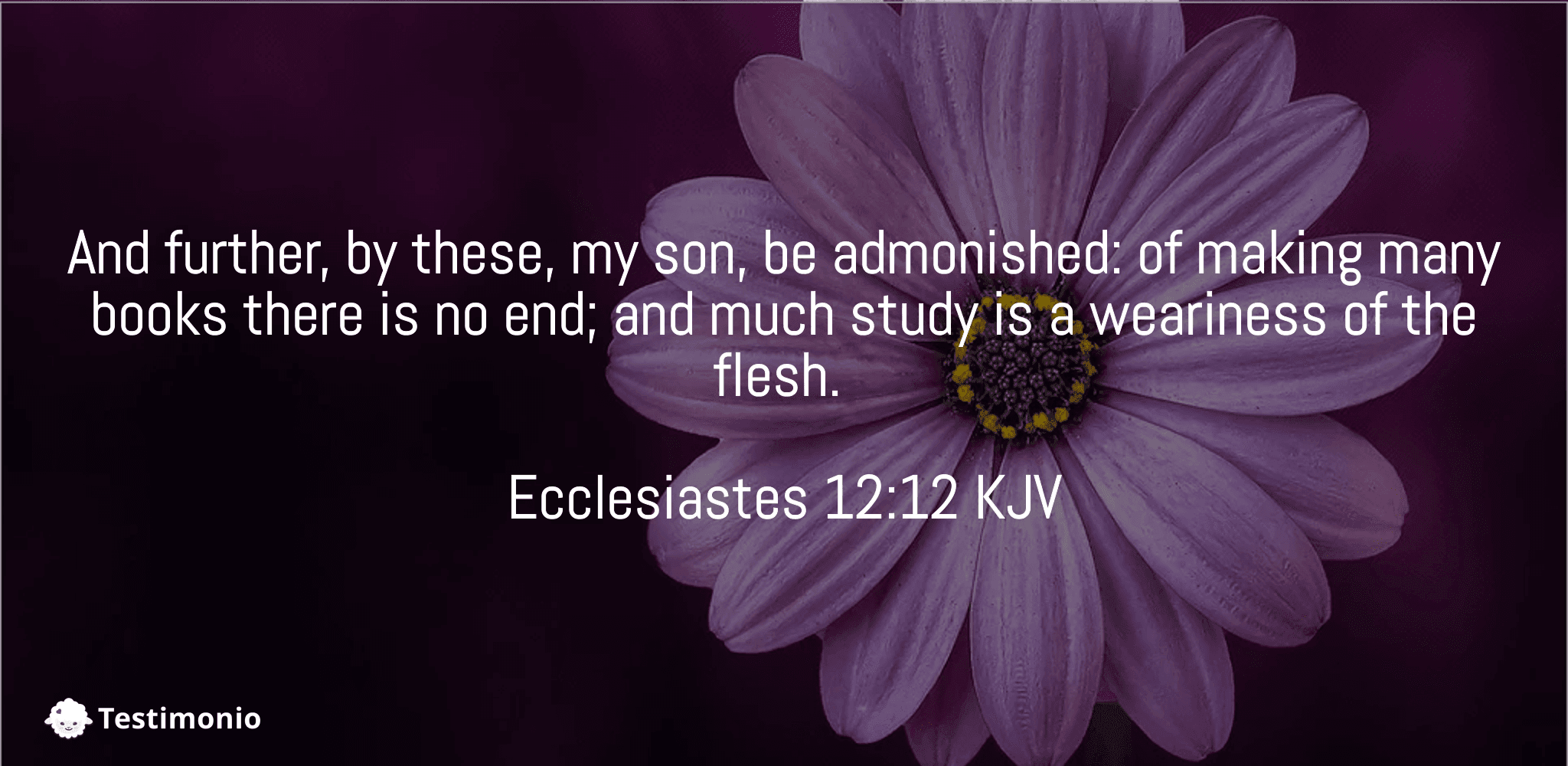 And further, by these, my son, be admonished: of making many books there is no end; and much study is a weariness of the flesh.
The Preacher cautioned us not to believe everything we read, for not all knowledge comes from the one Shepherd.
He that laboureth laboureth for himself; for his mouth craveth it of him.
Though work may be tiring and frustrating in the fallen world, the drive to meet his appetite drives the diligent person to seek productive efforts.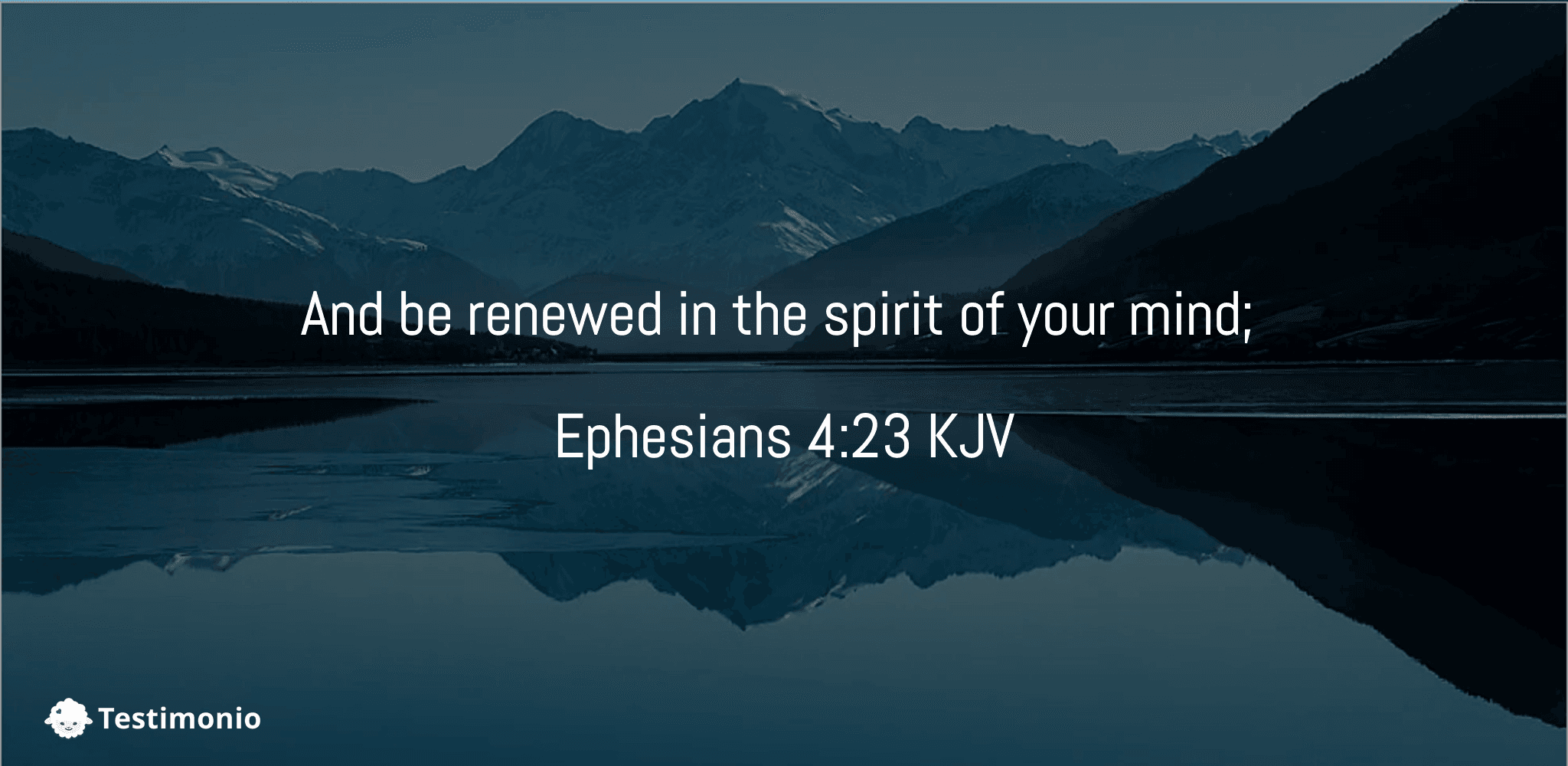 And be renewed in the spirit of your mind;
Our Christian life should transcend just by welcoming Jesus into influencing how we think, that is, setting our minds on the right things.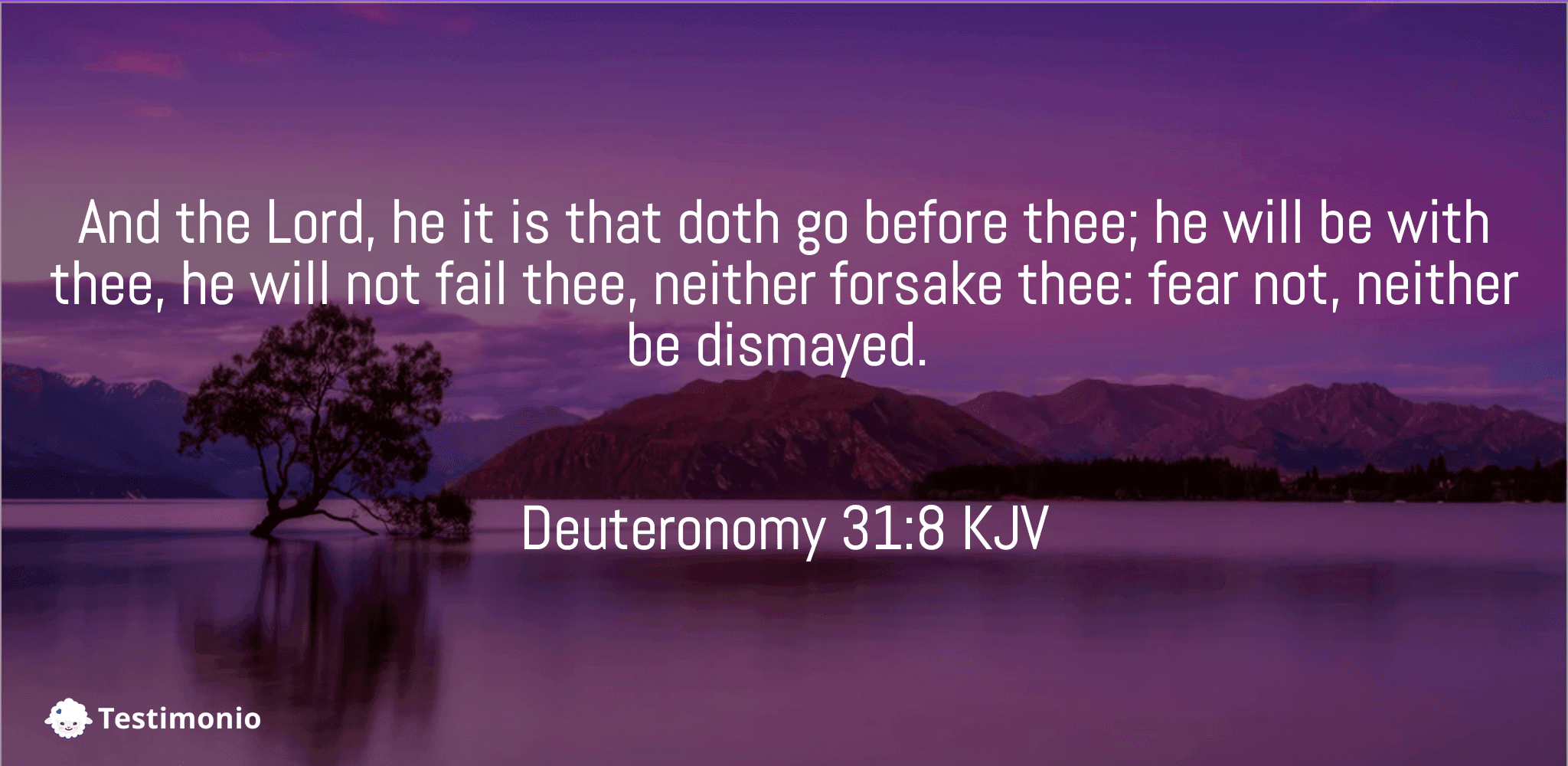 And the Lord, he it is that doth go before thee; he will be with thee, he will not fail thee, neither forsake thee: fear not, neither be dismayed.
Moses was a man of encouragement to Joshua as he knew that Joshua might become wavering. He encouraged him to be more than he possibly thought he could be.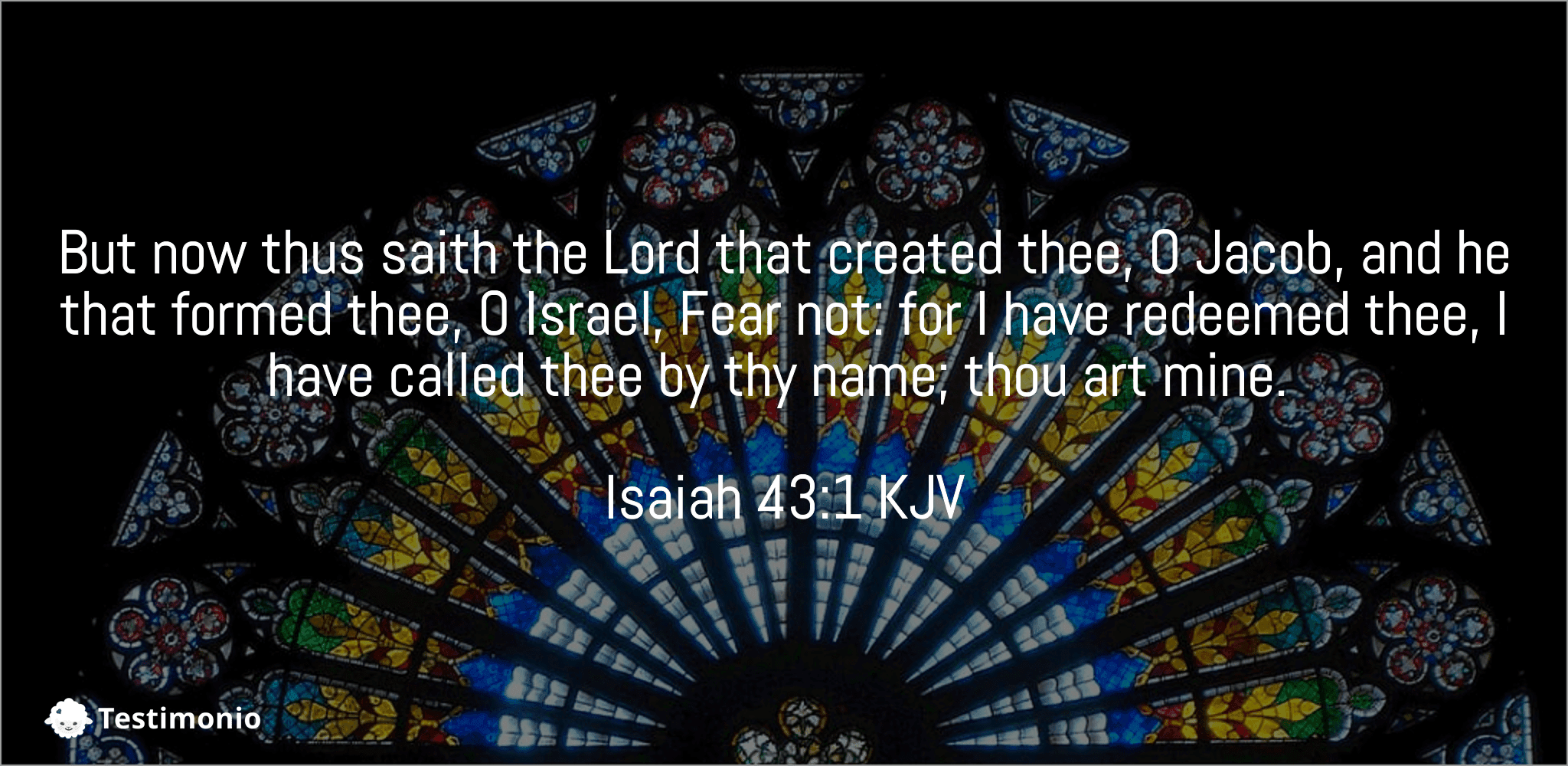 But now thus saith the Lord that created thee, O Jacob, and he that formed thee, O Israel, Fear not: for I have redeemed thee, I have called thee by thy name; thou art mine.
God commands Judah's people not to fear even though they were faced with exile and captured by the Babylon army. He reminds them that He has always been their Redeemer as he bought them from deportation and spiritual slavery.
Why art thou cast down, O my soul? and why art thou disquieted within me? hope thou in God: for I shall yet praise him, who is the health of my countenance, and my God.
As the enemy oppressed the psalmist, he would speak to himself and challenge the feeling of discouragement. He urged his soul to hope in God and to be confident that he would praise one more.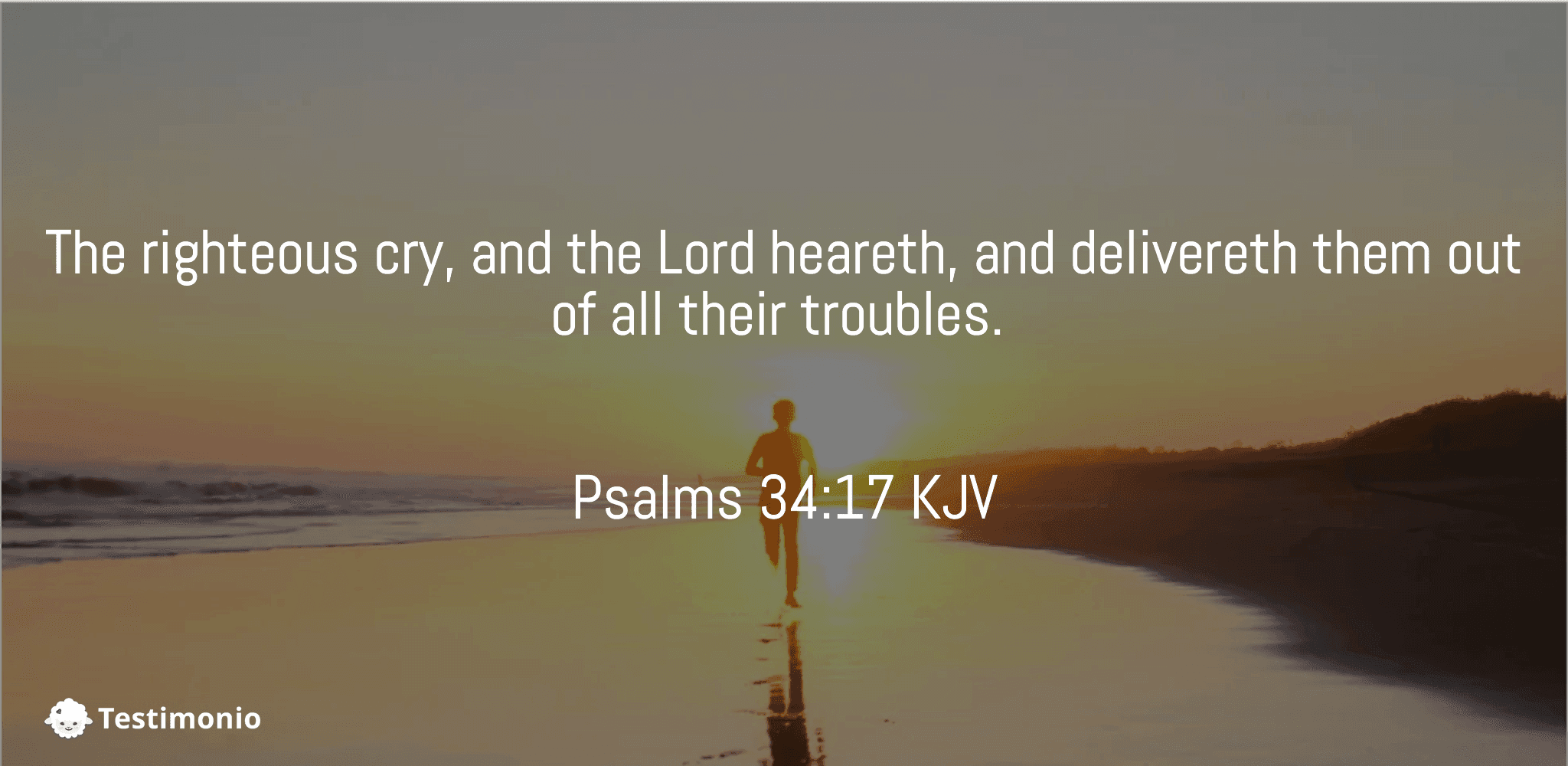 The righteous cry, and the Lord heareth, and delivereth them out of all their troubles.
This was David's reminder to his men at the cave at Adullam that God cares for the righteous. His testimony was that the Lord had delivered him before from all his troubles.
Blessed be God, even the Father of our Lord Jesus Christ, the Father of mercies, and the God of all comfort; Who comforteth us in all our tribulation, that we may be able to comfort them which are in any trouble, by the comfort wherewith we ourselves are comforted of God.
This shows that the Lord is the source of all comfort. It also shows that the Lord comforts us that we may bring comfort to others.
I waited patiently for the Lord; and he inclined unto me, and heard my cry. He brought me up also out of an horrible pit, out of the miry clay, and set my feet upon a rock, and established my goings. And he hath put a new song in my mouth, even praise unto our God: many shall see it, and fear, and shall trust in the Lord.
This passage demonstrates trust in the Lord and that trusting in the Lord leads to redemption from sin and Satan's dominion.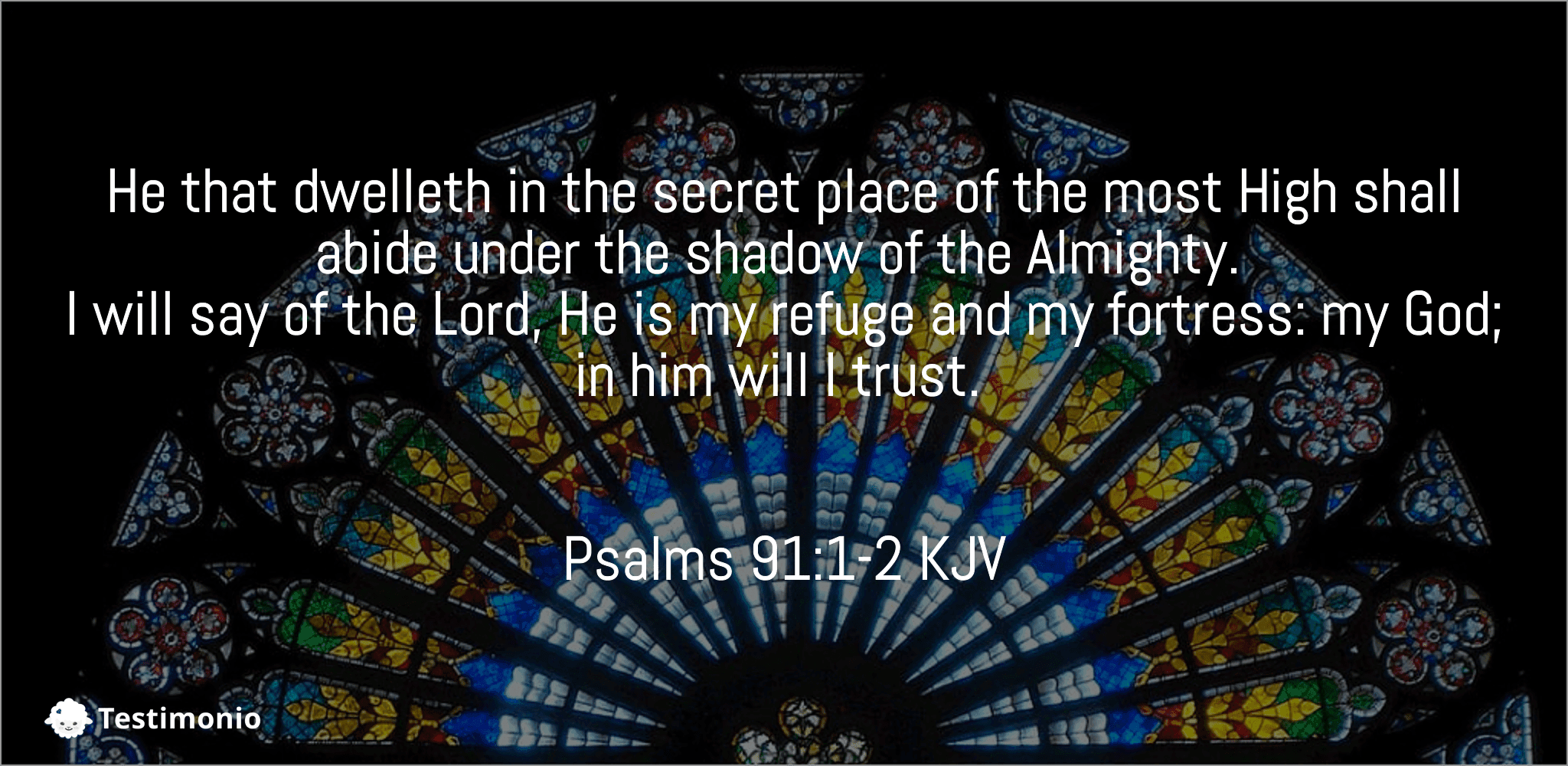 He that dwelleth in the secret place of the most High shall abide under the shadow of the Almighty. I will say of the Lord, He is my refuge and my fortress: my God; in him will I trust.
The author of this psalm is unknown, but as it has some of the themes of Psalm 90, Moses is thought to be the author.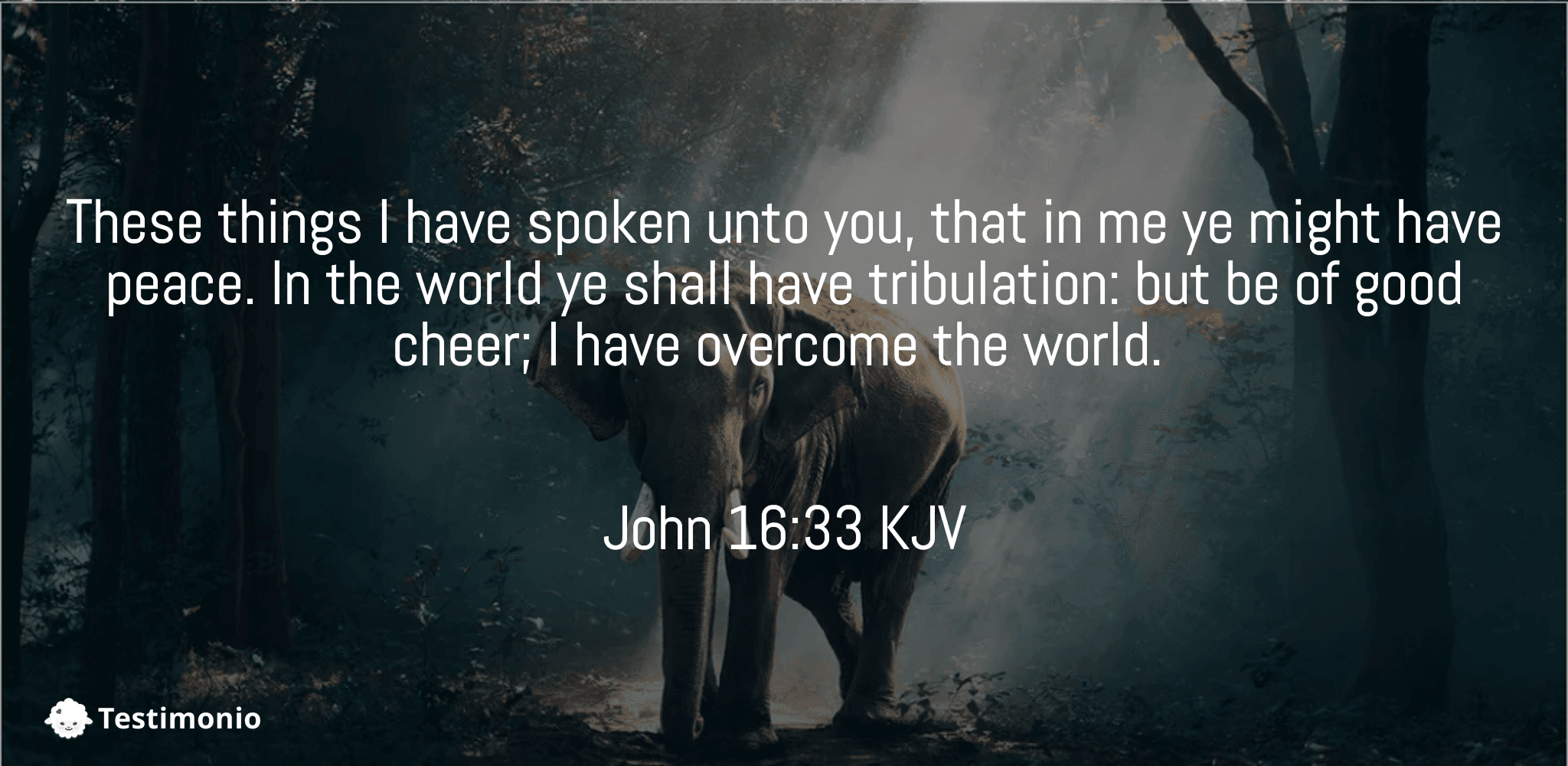 These things I have spoken unto you, that in me ye might have peace. In the world ye shall have tribulation: but be of good cheer; I have overcome the world.
Jesus promises tribulation in the Christian life, but He also offers peace as a remedy.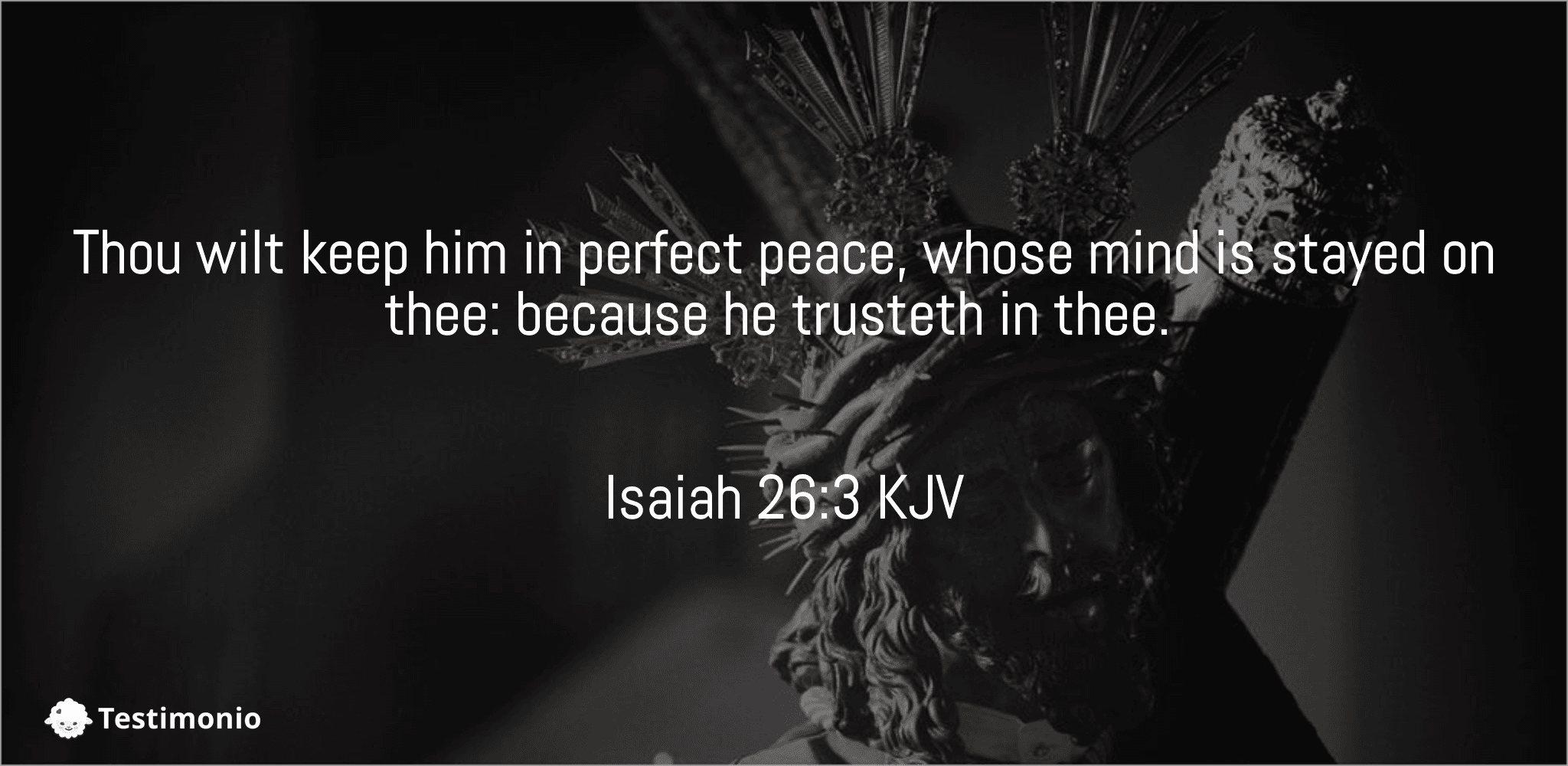 Thou wilt keep him in perfect peace, whose mind is stayed on thee: because he trusteth in thee.
When we set our minds upon the Lord, then He keeps us in His perfect peace.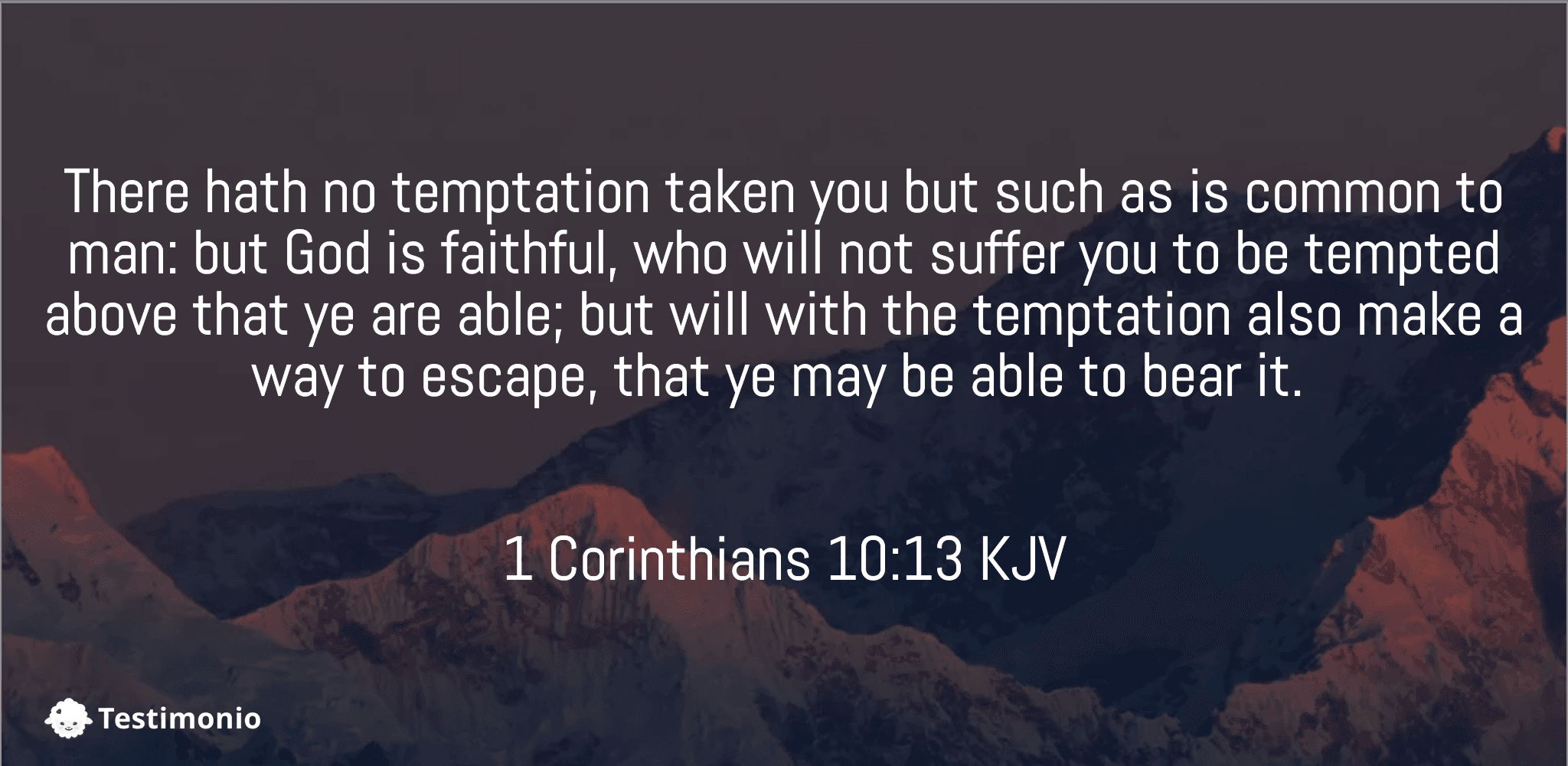 There hath no temptation taken you but such as is common to man: but God is faithful, who will not suffer you to be tempted above that ye are able; but will with the temptation also make a way to escape, that ye may be able to bear it.
We often want to excuse our particular tempting situations as unique or exceptional; this scripture reminds us that this is not so. God has promised to limit all temptation that comes our way according to our ability to overcome it.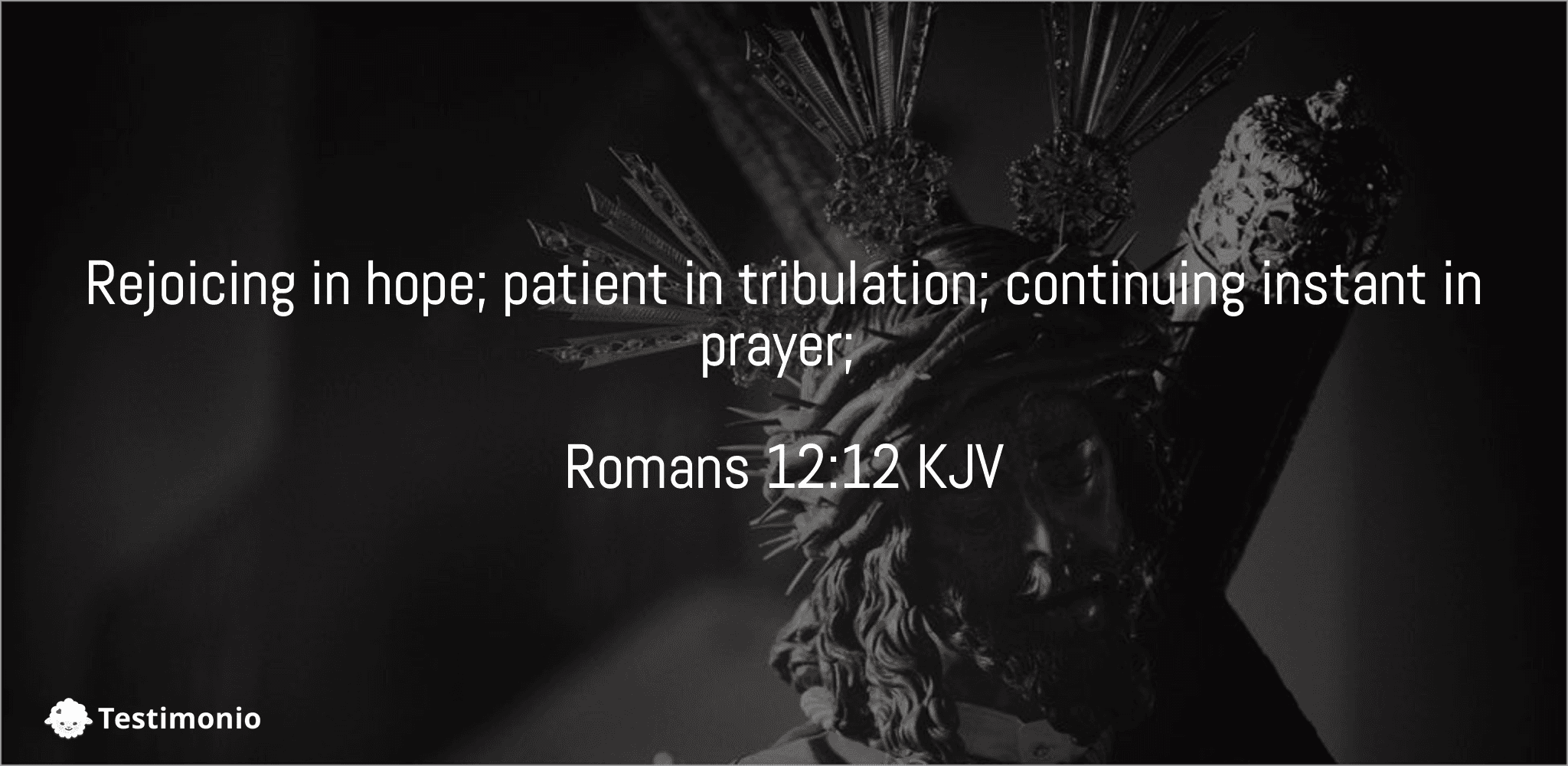 Rejoicing in hope; patient in tribulation; continuing instant in prayer;
Paul urges us not to rejoice based on results but to rejoice in hope, that is, with our eyes set towards heaven.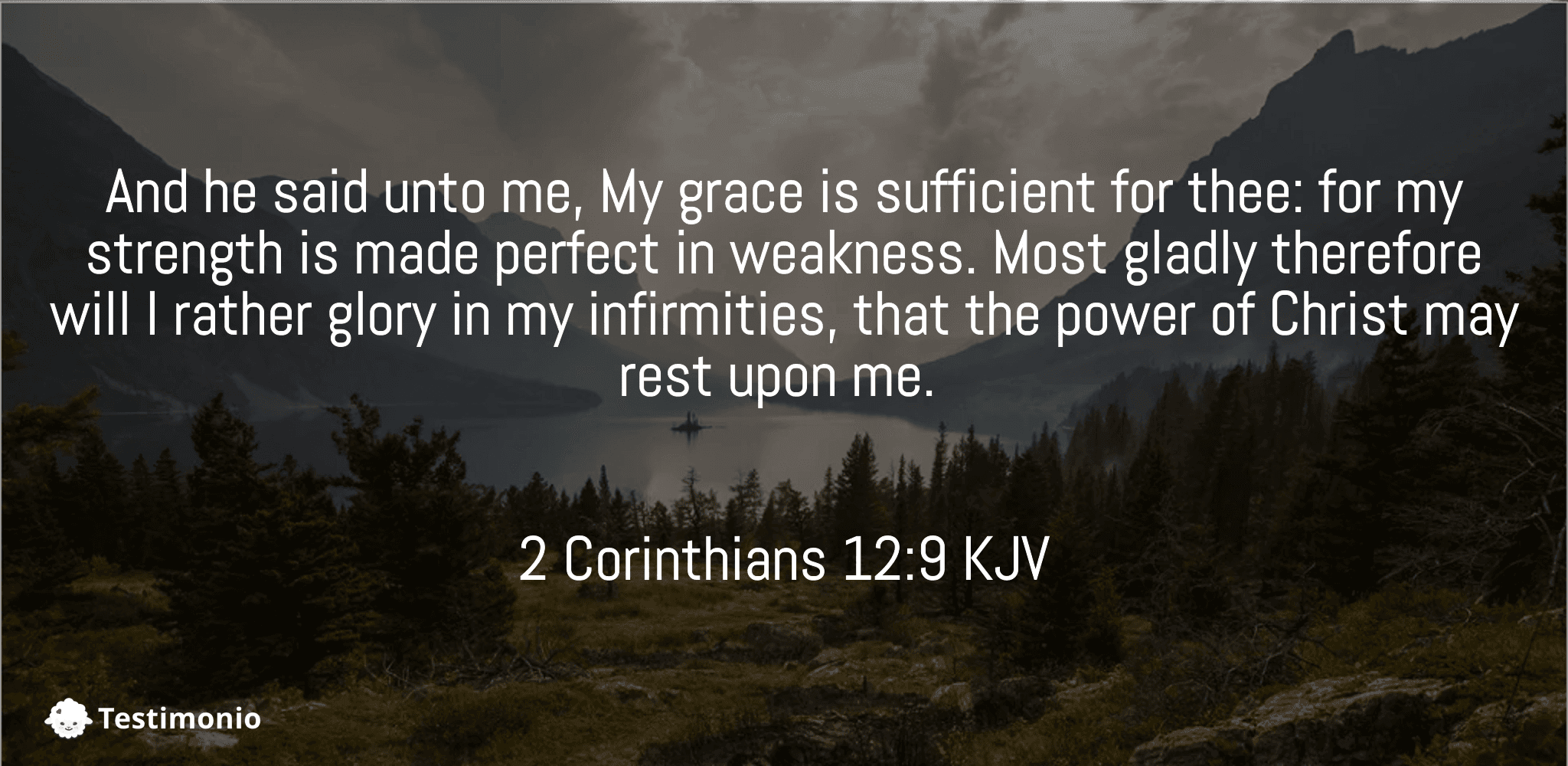 Paul had a burden in which he was desperate to find relief. Instead of taking it away, God strengthened him under it, and the Lord demonstrated His strength through Paul's weakness.
3 John 1:2 KJV
Beloved, I wish above all things that thou mayest prosper and be in health, even as thy soul prospereth.
This is John's prayer to Gaius that things may go well for him.
It is not unusual for Christians to slip into hard times and despair. However, the Lord wants us to know that He is there for us, and we should trust in His love and mercy. Always trust in the word of God as focusing on your situation as a Christian may derail you.
I pray that even as you experience the Lord's love and mercy, that His blessings may be upon you. Amen.